Social Impact Makes a Visit to Campus for Business 101 Students
Release Date: November 16, 2021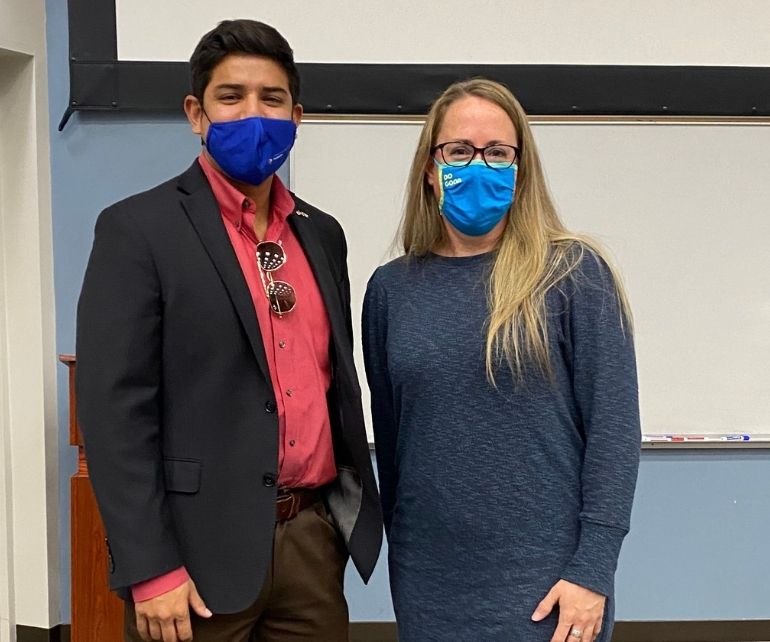 PUEBLO—Colorado State University Pueblo alum, Antonio Huerta is an adjunct professor in the Hasan School of Business and invited Stacey Burns, co-founder of National Institute for Social Impact for a guest speaker appearance. Burns spoke to the Business 101 class about what it means to be a social entrepreneur.
"It's a small taste of social entrepreneurship with this introduction, there is an opportunity to do good and to make money," said Huerta.
Huerta met Burns while working with the El Pomar Foundation and considers Burns a mentor. He then invited Burns to share about the National Institute for Social Impact with the Business 101 class so students could understand options for work and their purchasing power after graduation.
"You can seek out the companies to work for when you graduate treat humans better and make a social impact," said Burns. "This is a really big deal."
The National Institute for Social Impact was founded in 2017 and centers around four pillars to become a stronger social impact business. A Social Impact business is any organization that prioritizes doing work that consciously, systemically and sustainably serves to solve a local or global community need using entrepreneurship and a strong business model to fund their efforts.
Burns gave examples of the one-for-one marketing idea with a company like Bombas known for giving socks to homeless shelters for each pair of socks purchased by consumers and another social impact company Newman's Own which has all profits going to charity. Burns spoke of Starbucks healthcare benefits for even part-time employees and offering tuition benefits, something very outside the scope of most companies in the coffee or restaurant industry.  Patagonia has held a Certified B Corp title since 2011 with a focus on sustainability and run campaigns like, "don't buy this jacket" which encourages consumers to repair their clothing rather than filling landfills or wasting products that are still valuable.
Companies like Bombas, Newman's Own, Starbucks and Patagonia have grown exponentially in recent years, showing the value of social impact and a values-based approach to entrepreneurship. Burns went on to explain that Gen Z has taken their values a step further than Millennials and demands more transparency of impact from organizations.
"The trends show that in your generation, you'd rather take a pay cut and work for an organization that aligns with your values. Your generation wants balance and to be able to take care of your own needs while serving the needs of others," said Burns.
The CEO of BlackRock and American billionaire, Larry Fink has encouraged companies to attach themselves to a purpose over the last few years. Something Burns has seen expand even more so throughout the pandemic and with the rise of the Black Lives Matter movement in 2020.
Students were given the opportunity to ask questions about where to start and who would support their entrepreneurial efforts upon graduation or even if they want to start now.  Burns listed many resources throughout southern Colorado and briefly met with students at the conclusion of class to speak more.
For more information about the National Institute for Social Impact visit their website or call 719-985-8354.