Distinguished University Professor Ribadeneira to Present on Serving Students Well
Release Date: November 01, 2021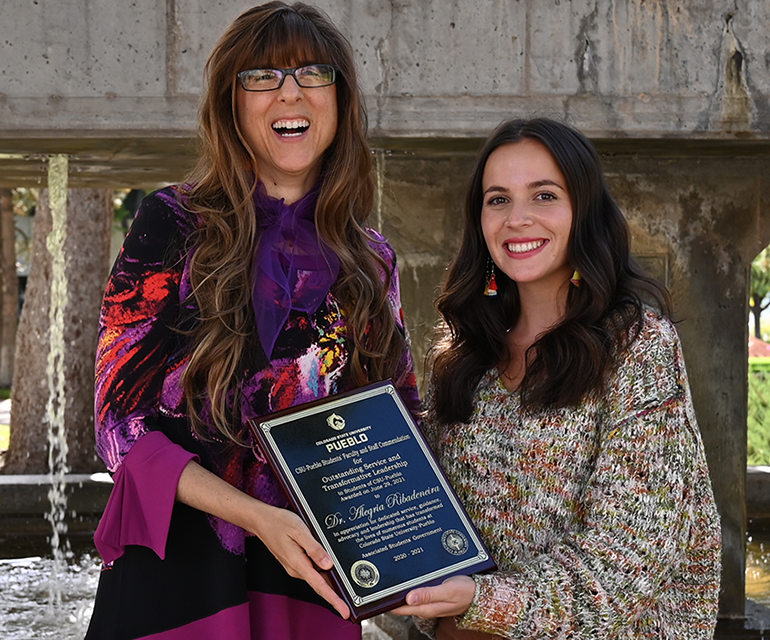 PUEBLO— Colorado State University Pueblo Distinguished University Professor Alegria Ribadeneira will present a virtual webinar, "On Serving Students Well: Insights from the Field of Heritage Language Teaching" on Wednesday, Nov. 10 from 5:30-7:30 p.m. This webinar is the Distinguished University Professor Lecture as part of the award for the university's highest honor bestowed on a faculty member.
This webinar is open to CSU Pueblo faculty, educators in the community and anyone who wants to participate in this engaging topic about better serving students. Click here to join the Zoom on Nov. 10.
A professor of Spanish and director of world languages at CSU Pueblo, Ribadeneira is the second recipient of the Distinguished University Professor Award. Introduced in 2020, this award recognizes outstanding teaching, research, scholarship, creativity and service to CSU Pueblo. 
"Alegria is a teacher scholar; she enriches her teaching and the student experience by incorporating her research process into her instruction activities," said CSU Pueblo President Timothy Mottet. "Her research-infused teaching methods can now be shared with her colleagues and community members to better serve and engage students, especially those who come from diverse backgrounds."
Ribadeniera's seminar will discuss best practices for reaching all students especially those from diverse backgrounds. As director of world languages, she has tailored her teaching methods to inspire students from a variety of countries who speak a multitude of languages.
"I think people will enjoy the webinar because not only will they learn about the fascinating field of heritage language teaching but they might find some connections and ideas that transcend this discipline and apply to serving all students well," Ribadeneira said. 
Ribadeneira will share her journey of becoming a heritage language teacher of Spanish at a Hispanic Serving Institution. During this presentation, Ribadeneira will discuss best practices for addressing the affective and pedagogical needs of Hispanic Language Learners (HLL) and challenge participants to consider how many of these approaches could be used to serve all students regardless of background.
"When I was fresh out of grad school and came to teach at CSU Pueblo, I quickly realized that much of what I had learned about being a teacher did not apply to our student population," Ribadeneira said. "For the past 15 years, I have dedicated myself to the research and practice of serving the underserved and I can't wait to share some of the lessons I have learned!"
Ribadeneira accumulated many awards over the past few years, including the Students' Choice Award Winner for Faculty by CSU Pueblo students for the 2020-2021 academic year. Ribadeneira's other awards include the 2020 International Individual Educator Award for Excellence.
Additionally, Ribadeneira earned the 2020 Post-Secondary Excellence in Teaching Award and the 2020 Colorado Excellence in Teaching Award from the Colorado Congress of Foreign Language Teachers.
"Dr. Ribadeneira is a well-respected faculty member and leader on our campus," said Executive Vice President for Academic Affairs and Provost Mohamed Abdelrahman. "Her commitment to her students and to her discipline is palpable and aligns well with our guiding principles of transforming learning, empowering students and building knowledge."
Ribadeneira received her Bachelor of Arts in Humanities from Fort Lewis College and earned both her Master's degree and Doctor of Philosophy in Spanish from the University of Florida Gainesville. Ribadeneira currently researches and presents on issues of language instruction, assessment, and program development focusing on heritage and second language learners in mixed classrooms. She is also a lead instructor for training teachers at the National Heritage Language Resource Center Summer Workshop at the University of California Los Angeles.
For more information on this webinar contact the provost's office at provostoffice@csupueblo.edu.