CSU Pueblo President's Blue and Red Gala Raises $150,000
Release Date: October 06, 2021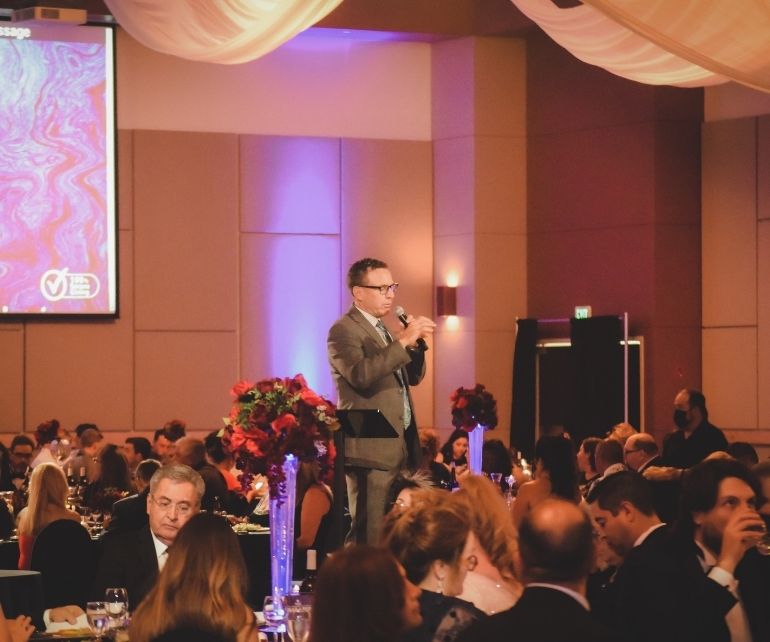 PUEBLO, Colo. – Timothy Mottet, president of CSU Pueblo, welcomed nearly 350 guests at the August 14 CSU Pueblo President's Blue and Red Gala.
Guests mingled in the Occhiato Student Center Ballroom foyer and patio with cocktails while enjoying light jazz and delectable hors d'oeuvres. Georgiann Lymberopoulos welcomed everyone to their seats in the ballroom which was decorated beautifully in navy blue with white bunting hanging from the ceiling. The tables glowed from candlelight and featured a variety of vases with ruby red roses and greenery.
Lazarus, the CSU Pueblo Jazz Ensemble, played lively jazz, while guests enjoyed petit filet Oscar, asparagus, fingerling potatoes and red wine. During dinner, 40 percent of those in attendance pledged just over $70,000 to support CSU Pueblo student scholarships, University programs and DRIVE, a Campaign for CSU Pueblo! In fact, the Gala raised more than $150,000 – this success is due, in large part, to the events many sponsors.
The late Dr. Art Gonzales and Lorraine Gonzales, Parkview Health System, Robert H. Rawlings Foundation, Colorado State University System and Board of Pueblo County Commissioners, were honored at the Gala.
The Late Dr. Art Gonzales and Lorraine Gonzales were recognized for their support of numerous programs and initiatives spanning nearly four decades. Dr. Gonzales who passed away in 2019, received the University's first honorary doctorate for his decades of support to the institution and CSU Pueblo Athletics. Dr. Gonzales established the Art Gonzales Baseball Scholarship Endowment in 1997 to provide scholarships to deserving student-athletes. In 2015, the couple created the Art and Lorraine Gonzales Scholarship Fund to help student-athletes at CSU Pueblo afford a college education. Art and Lorraine avidly fund the annual dinner for CSU Pueblo baseball alumni and "Pack the Park Night" at Runyon Field to benefit CSU Pueblo athletes and Runyon Field. In early August, the University opened the newly built indoor training facility which will bear Dr. Gonzales' name, "The ART." Ricky Gonzales and Andy Gonzales, Dr. Gonzales' nephews, accepted the award on behalf of the Gonzales Estate. Both shared that Dr. Gonzales truly believed in athletes and the power of getting a degree.
Parkview Health System was recognized for its significant investments CSU Pueblo's nursing and athletics programs. Parkview Health System in has been a supporter for more than three decades with donations totaling more than $5 million. Parkview has supported a myriad of programs at CSU Pueblo, but has made substantial commitments to nursing and athletics. In 2019, Parkview pledged $1.5 million to both nursing and the Pack Athletics program. This generous contribution provides nursing student scholarships and salary support for nursing faculty and staff, as well as funding additional staff to benefit all student-athletes. In addition to their financial support, Parkview orthopedic physicians provide their exceptional services and expertise to ensure the health and well-being of student-athletes are met in each sport. Leslie Barnes, president and CEO of Parkview Health System accepted the award and said, "We value our partnership with CSU Pueblo."
Robert H. Rawlings Foundation was honored for three decades of support. The Rawlings Foundation has supported CSU Pueblo students and CSU Pueblo Athletics with donations totaling more than $2 million. In 2019, the Rawlings Foundation pledge $1 million to renovate the Rawlings sports complex which was built in 1994. The complex provides top-notch training and game facilities for baseball and softball. The Rawlings Foundation and Rawlings and Hoag family members also support a variety of academic and athletic scholarships at CSU Pueblo. Executive Director, Andrea Aragon, A93, accepted the award and expressed her appreciation for the Rawlings Foundation's support, of which she was a beneficiary when she was awarded a scholarship while attending University of Southern Colorado, now CSU Pueblo. "I feel that their generosity has come full circle as now I am helping other students and organizations throughout southern Colorado through my position at the Rawlings Foundation."
Board of Pueblo County Commissioners were recognized for their contributions to student scholarships. Recognizing that higher education boosts the local economy and community profile, Board Pueblo County Commissioners has supported events, programs and scholarships for more than two decades. Since 2019, commissioners have allocated nearly $2 million in scholarship funding for CSU Pueblo students. Commissioners Garrison Ortiz, A12, Eppie Griego, and Chris Wiseman, A83, accepted the award on behalf of Pueblo County.
Colorado State University System, comprised of three main campuses including Ft. Collins and CSU Global, welcomed CSU Pueblo into its family in 2003 and was honored for its significant investment in CSU Pueblo's future. In 2018, The CSU System pledged $30 million over 10 years to enhance CSU Pueblo's infrastructure and programs as part of the comprehensive Vision 2028 to establish CSU Pueblo as the peoples university of the southwest United States. CSU System Chancellor, Tony Frank accepted the award and emphasized the System's continued commitment to CSU Pueblo.
The Gala is co-hosted by the Colorado State University Pueblo Foundation. CSU Pueblo Foundation is a 501c3 non-profit organization established in 1954. The mission of the CSU Pueblo Foundation is to provide sustainable financial support to CSU Pueblo through philanthropic efforts. The Foundation currently has assets in excess of $50 million and distributes over $2.5 million in scholarships annually to nearly 1,000 students.