CSU Pueblo and Arapahoe Community College Sturm Collaboration Campus Create First RN to Master's Degree in Nursing in State of Colorado
Release Date: October 27, 2021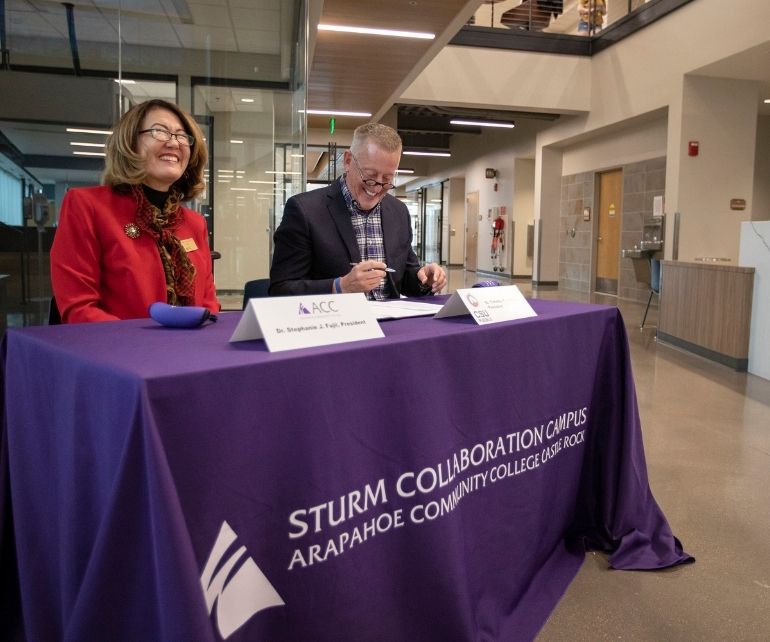 CASTLE ROCK, Colo—Colorado State University Pueblo and Arapahoe Community College (ACC) at the Sturm Collaboration Campus at Castle Rock partnered together to begin the first Registered Nurse (RN) degree pathway to a Master's Degree in Nursing (MN) in the state of Colorado. 
This unique pathway allows students to earn their Associates of Applied Science Degree in Nursing, followed by a Bachelor's of Science degree in Nursing at ACC and then seamlessly transfer to CSU Pueblo's Masters of Science-Nursing, Nurse Educator degree program. Students who have been accepted in the ACC RN-BSN Program and are in good standing at ACC are eligible for dual enrollment and follow the CSU Pueblo School of Nursing RN to MS curriculum plan.
"CSU Pueblo is proud to expand our partnership with Arapahoe Community College at the Sturm Collaboration Campus at Castle Rock by introducing the first and only dual enrollment pathway to a master's degree," said President of CSU Pueblo, Timothy Mottet. "This partnership helps to further expand our pipeline to the nursing workforce in the State of Colorado and increases access to higher education through our collaborative efforts."
This partnership is unique due to the articulation agreement that allows students with a cumulative grade point average of 3.0 or higher to transfer for the Master's degree, Nursing Educator degree which is just 48 credits beyond the associate degree. There is coordinated dual enrollment and admissions with ACC and CSU Pueblo at the Sturm Collaboration Campus at Castle Rock to assist in this process. Students must have obtained two years of RN work to become a full-time faculty per the Colorado State Board of Nursing Rules, but can still teach in a clinical section or become a nurse educator in the hospital setting.
President of ACC, Stephanie J. Fujii, Ph.D. shared her enthusiasm for the collaboration.
"We are so pleased about this partnership with CSU Pueblo," said Fujii. "This allows us to collectively create opportunities for students while addressing healthcare needs and the nursing workforce in our communities.   
The Sturm Collaboration Campus at Castle Rock is located in the fastest growing county in the state of Colorado. This also lends well to the increasing need for the nursing workforce as amidst the COVID-19 pandemic, the United States is experiencing a nursing shortage.
The MS degree is fully online to allow for maximum flexibility for the working nursing professional. This online degree is offered through the division of Extended Studies.