CSU Pueblo Announces Sixth Annual #LoveCSUPueblo Give Day on Oct. 28
Release Date: October 25, 2021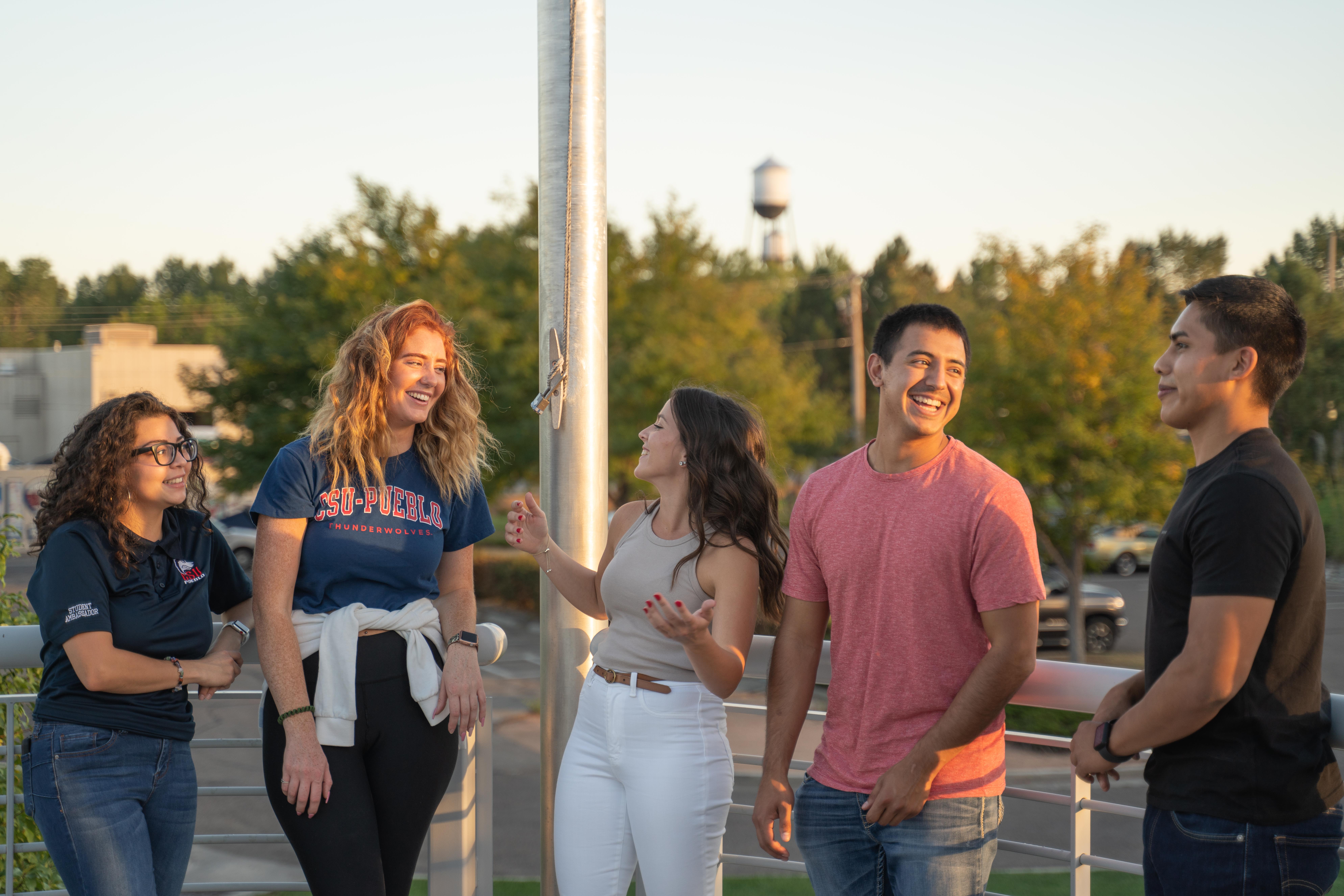 PUEBLO -- The Colorado State University Pueblo Foundation will host the sixth annual #LoveCSUPueblo Give Day on Thursday, Oct. 28. Give Day is a concentrated crowdfunding effort, allowing donors to support one or more of 30 campus-wide initiatives.
CSU Pueblo Foundation utilizes crowdfunding to raise money for CSU Pueblo students, academic programs and departments, athletic programs and student organizations. The goal of the day is to have more than 1,000 donations to CSU Pueblo within a 24-hour timeframe. The crowdfunding method allows individual projects an opportunity to increase visibility and raise small amounts of money from a large number of people.
Last year's success was amazing, considering students and departments were all working remotely, with nearly $70,000 raised through 984 total gifts. This year, the CSU Pueblo Foundation solicited interest for project fundraising from all university colleges and departments and has a record-breaking number of campaigns. Thirty individual funds have been established, seeking support for the following campus initiatives:
AIM Driven to Succeed - Driven to succeed in a highly demanding career path requires the newest technology, equipment and instruction. Through donations, Automotive Industry Management (AIM) can update these technologies and needed resources.
APC Textbook Scholarship - The Administrative-Professional Council (APC) scholarship fund is intended to support the efforts of administrative-professional employees' children, spouses and dependents to afford a college education.
ASCE Building a Stronger CSU Pueblo - The American Society of Civil Engineers (ASCE) club is raising funds for future club activities supporting both Civil Engineering Technology and Construction Management students at the concrete canoe and steel bridge competitions.
ASG Student Emergency Fund - Donations to the Associated Students' Government Student Emergency Fund aids students experiencing financial emergencies that are detrimental to their academic success.
Association of General Contractors* - The American General Contractors (AGC) club deals with Construction Management and Civil Engineering Technology majors and gives them a place to receive help and advice from their peers. Funds will offset the cost of trips and community activities to gain first-hand experience.
CHASS Helping Hands - The College of Humanities and Social Sciences (CHASS) Helping Hands fund provides financial assistance for CSU Pueblo students in the college who experience unexpected expenses. The funding is offered as a scholarship, so students are not required to pay it back.
Child Care Center Playground* - The CSU Pueblo Child Care Center is raising funds to renovate the Center's playground equipment which is more than 15-years-old.
Classified Staff Student Scholarship Fund - The Classified Staff Student Scholarship fund donates up to $4,000 per year to family members of Classified Staff who are attending classes at CSU Pueblo helping with the cost of their tuition and/or books for the year.
CSU Pueblo Alpha Psi Lambda* - Alpha Psi Lambda is a co-ed, Latinx organization that promotes education, leadership, cultural awareness and community service on campus. The funds raised will aid in cost reduction for new recruits and future conferences.
CSU Pueblo Alumni Association Scholarship Fund - The CSU Pueblo Alumni Association Scholarship Fund supports children and grandchildren of proud alumni of CSU Pueblo or any of the previous names of our institution (Pueblo Junior College, Southern Colorado Junior College, Southern Colorado State College, University of Southern Colorado).
CSU Pueblo Annual Fund* - The CSU Pueblo Annual Fund concentrates on raising unrestricted monies to support CSU Pueblo students and University priorities.
CSU Pueblo Club Baseball - The funds raised through this campaign will help the CSU Pueblo Club Baseball team with National Club Baseball Association (NCBA) dues, NCBA performance bond, team hats, baseballs, jerseys, facility costs, travel costs, umpire fees and team equipment.
CSU Pueblo Bass Fishing Club* - Donations to the CSU Pueblo Bass Fishing Club will offset costs associated with uniforms and competition entry fees for club members.
CSU Pueblo Career Closet - Funds raised will allow the Career Closet to purchase new inventory enabling students to look their best at their first interview or first day on the job!
CSU Pueblo Esports Team* - CSU Pueblo Esports team is raising money to upgrade and purchase equipment to engage CSU Pueblo students who are avid gamers.
CSU Pueblo General Scholarships* - The CSU Pueblo Foundation is raising funds to provide financial assistance to CSU Pueblo students through private scholarship awards. In fact, over the last three academic years more than $6 million has been awarded to close to 2,400 deserving students!
Go Bags for Vets - Funds raised will provide Veterans Upward Bound participants with a Go Bag. This is a full-size backpack filled with school supplies like pens, pencils, USB drives, water bottles, notebooks and more.
International Student Scholarship Fund* - Funds raised will support international students and their study costs associated with attending Colorado State University Pueblo.
Learning by Doing - Experiential Learning is the process of Learning by Doing! The funds raised in this campaign will make it possible for more students to benefit from these valuable, hands-on learning experiences.
Dr. Carol Loats Memorial Scholarship* - Dr. Loats was an avid supporter of women and families, she rejuvenated the campus Women's Studies Program and became the face of a program she initiated called the Young Women's Real World Conference. The Conference brought potentially high risk teen women to campus for a day. 
Mobile Media Technology - The Department of Media Communication has a longstanding tradition of providing practical, hands-on, real-world experiences for our students. Raising funds through this campaign will provide media communication students with up-to-date technology that will enhance their learning experience and to develop them into successful community members and thought leaders.
Pack Pantry - The Pack Pantry serves as a resource for students, faculty and staff who are experiencing food insecurity.
Search and Rescue Equipment - Your support will help the CSU Pueblo Search and Rescue Team purchase rescue equipment and ensure their continued service to Pueblo County.
Southern Colorado Association of Nursing Students (SCANS) - SCANS is a student run organization that provides extensive opportunities to CSU Pueblo nursing students. The funds raised will give SCANS the opportunity to increase student involvement activities and the amount and quality of speakers presented to the students.
The Today - Keep the Presses Running - Good, reliable and comprehensive journalism has never been more critical. Your support helps The Today serve its community on campus and beyond.
TRIO SSS Emerging Scholars – TRIO Student Support Services assists students who are first-generation, low-income or have a disability achieve their post-secondary academic dreams. Your generosity will support the program's goal of providing five $400 book scholarships for scholars who have chosen to join the Pack.
TRIO Dollars for Scholars - TRIO Youth Programs serves first-generation, low-income high school students. This funding will provide up to six $500 book scholarships for scholars who have chosen to join the Pack.
Tundra's Spirit of the Pack Scholarship* - Carol Rickman, A83, and husband Mark are known as Team Tundra on the CSU Pueblo campus and fondly called "Tundra's parents." Team Tundra recently established the Spirit of the Pack Scholarship Fund. You can give to this scholarship in memory of Tundra and her dedication to CSU Pueblo. The Rickmans will match this fund up to $1,000.
Undocumented Student Scholarship Fund - Undocumented students seeking a bright future through education should embark on their college journey supported and celebrated. Here is where we can help.
"The Wolfies" Pack Athletics Student-Athlete Banquet - 'The Wolfies' is CSU Pueblo Athletics' annual student-athlete banquet. Gifts received will help offset the cost of the meal for the student-athletes.
*Campaigns not eligible for matching funds
"CSU Pueblo Foundation is excited to host the sixth annual #LoveCSUPueblo Give Day providing an opportunity for our students, faculty and staff, and others to show their love for CSU Pueblo," said CSU Pueblo Foundation President/CEO, Todd Kelly. "Give Day will feature 30 campus-wide projects, each challenged to increase the number of donors and dollars raised from last year's Give Day totals. The CSU Pueblo Foundation will match, dollar-for-dollar, up to $1,000 per campaign for 20 eligible campaigns. Other bonus incentives promoting giving from a wide-array of donors include, most overall donors, most alumni donors, most student donors, most faculty/staff donors, and most donors outside of Pueblo County."
The crowdfunding website will be open to donors from midnight to 11:59 p.m. on Thursday, Oct. 28, in the hopes that students, alumni, faculty, staff and friends of the University will show their love of CSU Pueblo by supporting the fundraising initiatives. Give Day sponsors include, Legacy Bank, US Bank, Lobos Tacos and Tequila and ThunderZone Pizza and TapHouse.
To view campus initiatives, to donate or to obtain more information, visit https://giveday.csupueblo.edu/. All proceeds generated will fully and directly benefit the indicated project.