American String Quartet Master Class Set for Oct. 27
Release Date: October 14, 2021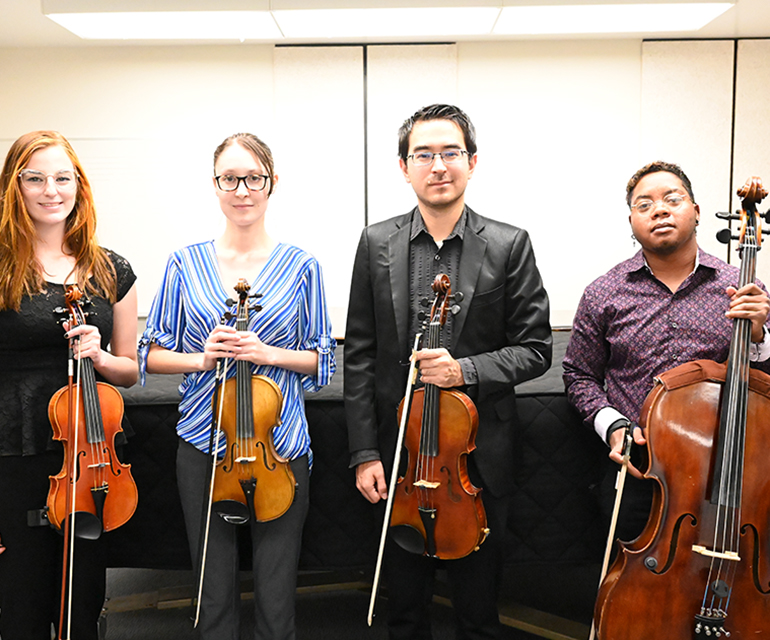 PUEBLO—The Colorado State University Pueblo Department of Music has partnered with the Pueblo Symphony to host a masterclass with the American String Quartet Wednesday, Oct. 27 from 11 a.m. until 12 p.m. in Hoag Hall at CSU Pueblo.
This event will be free and open to the public. The CSU Pueblo String Quartet and a duet of students will perform and receive immediate feedback from the American String Quartet during the masterclass.
Founded in 1974, the American Strong Quartet has performed in all 50 states and internationally. The American String Quartet has also played in some of the most famous venues and concert halls, including Lincoln Center and the New York City Ballet.
"This is pretty huge because the American String Quartet is very and famous and they've played around the world," said senior violinist Veena Fleming. "For them to show up here brings more joy and more happiness and excitement."
While this will be the group's first masterclass, some them have learned from American String Quartet members before. Fleming has worked with American String Quartet Violinist Peter Winograd in the past.
"The first time I played for him, I was incredibly nervous," Fleming said. "I'm really excited to show him my progress but also the group's progress. With his feedback, I just keep getting better and better."
Other students from the CSU Pueblo String Quartet shared their excitement for the hands-on experience.
"Performing in front of such a professional and big group is going to be very exciting and nerve-wrecking for me," said senior violinist Shania Myers. "I think I'll learn a lot."
Fleming and Myers are joined by cellist Jay Smith and viola player Joshua Skwarek in the CSU Pueblo String Quartet. The group practices individually every day and twice per week with their instructor.
"The four of us, as a quartet, we all interpret the piece differently," said Smith "Being able to have that feedback can help us interpret it differently and help us be more cohesive as a group." 
The CSU Pueblo String Quartet will have a chance to perform in front of their peers, the public and people who have achieved the highest level in string music. 
"It means a lot for me to have them come this semester because it's one of my last semesters here," Myers said. "I just really want to graduate with a lot of knowledge and I've never been in a masterclass, so I'm really excited. I expect to learn a lot about balance and how we can play together better. We can combine all of our sounds and make the best sound possible," Myers said.
The CSU Pueblo String Quartet will take the lessons learned from this masterclass and apply it to their training. The group will perform at an end of the year concert that will showcase all of the pieces they learned throughout the year. The event will be one of the first live events the music department has held since the start of the COVID-19 pandemic. 
"I am incredibly excited for our string students who will have the opportunity to perform for and receive feedback from these seasoned musicians during the masterclass," said CSU Pueblo Director of Orchestras, Timothy Hsu. "Thanks to the generosity of the Pueblo Symphony covering the expenses for the masterclass, the department and the university are able to benefit from this for free."