$5 Million Grant To Help Hispanic & Low Income Students Achieve STEM Degrees
Release Date: October 01, 2021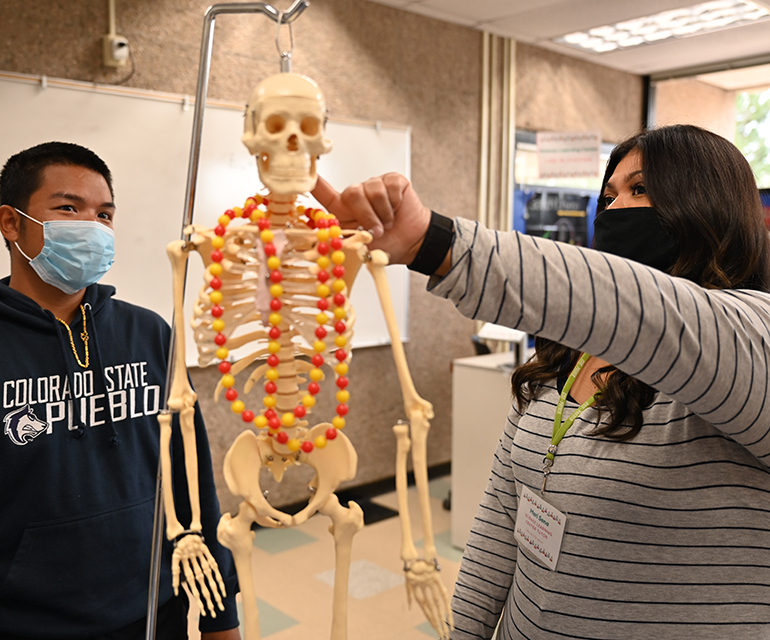 PUEBLO—Colorado State University Pueblo received a $5 million Title III grant designed to help Hispanic and low-income students achieve degrees in the fields of Science, Technology, Engineering and Mathematics (STEM). 
This grant will award $1 million annually for the next five years to help fund research opportunities, internships and student services. The grant program will be called MAPS, which stands for Mentorship, Access and Platforms in STEM.
With this grant, CSU Pueblo hopes to increase the number of Hispanic and low-income students pursuing degrees in STEM fields. The university will develop a model transfer and articulation agreements between 2- and 4-year HSIs.
"It further enhances our collaborations with community colleges in Colorado," said Provost and Executive Vice President for Academic Affairs, Mohamed Abdelrahman. "I am thankful for all the hard work and creativity that went into putting this proposal together and look forward to the experiences it will create on our campus."
CSU Pueblo will continue its partnerships with Arapahoe Community College, Pikes Peak Community College, Otero Junior College, Pueblo Community College and Trinidad State Junior College. These partnerships will provide a gateway for students who accomplish two-year degrees to continue their education and graduate with a bachelor's degree at CSU Pueblo.
CSU Pueblo will also improve collaboration with employers in southern Colorado to increase both internship and placement opportunities. As with all academic programs, CSU Pueblo will focus on providing experiential learning or work-based opportunities for student to hone their skills and gain first hand practical experience.
To help Hispanic and low-income students succeed at the university, CSU Pueblo will also enhance tutoring, counseling and student service programs. The university will create a Center for STEM Support and the Southern Colorado STEM Consortium to provide extra opportunities for students to learn and grow their careers in academia.
"The MAPS Grant funding will allow us to proliferate STEM student support and mentorship," said Director of Tutoring and Student Academic Support, Abby Davidson. "We're excited to both expand tutoring support currently in place, and also explore new avenues to expand mentorship and educational opportunities. The MAPS team will work closely with other initiatives and teams on campus, with the aim to provide a cohesive web to best care for our students." 
Awarded by the Department of Education, Title III grants assist universities in expanding their capacity to serve low-income students. Title III grants provide funds to improve and strengthen the academic quality, institutional management and fiscal stability of eligible institutions.
"CSU Pueblo's faculty and staff continue their admirable pursuit of securing funding to support a distinguished student experience on our campus with a focus on experiential learning, support for expanded student services and entrepreneurial activities," Abdelrahman said. 
With this grant and the MAPS project, CSU Pueblo will enhance its ability to attract, support, and graduate Hispanic and low-income students in STEM disciplines from the local community and Colorado region. As a Hispanic Serving Institution, CSU Pueblo is committed to helping Hispanic and underrepresented students attend and succeed at the collegiate level.