Two Biology Professors & CSU System Awarded NSF Grant for Aerobiome Research
Release Date: August 20, 2021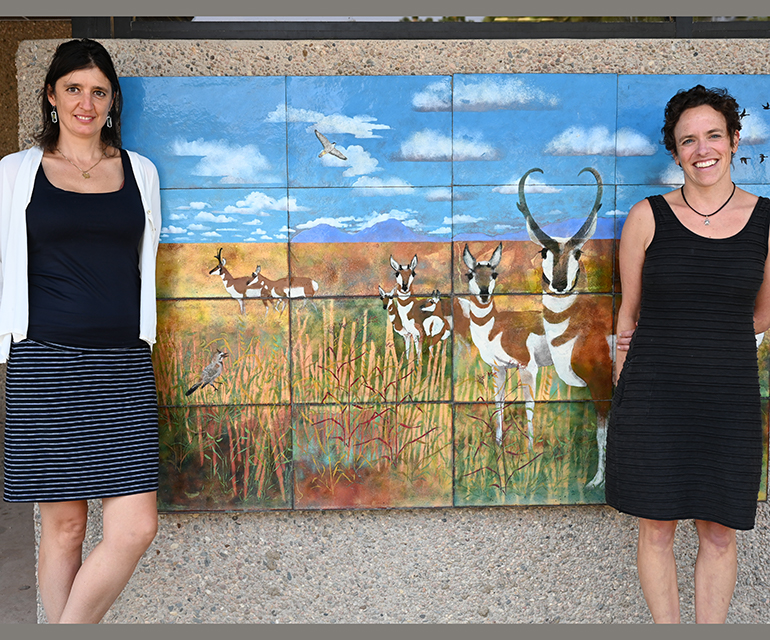 A team of Colorado State University researchers — including CSU Pueblo professors Amaya Garcia Costas and Fran Sandmeier — was awarded $12.5 million from the National Science Foundation to explore fundamental details about microbes that live in the air, or the aerobiome.
The research team will include agricultural biologists, microbiologists, atmospheric scientists and sociologists who will work together to understand how microbial communities impact global health. The project is named BROADN, or Biology Integration Institutes: Regional OneHealth Aerobiome Discovery Network.
The funding comes from the NSF Biology Integration Institutes program and will provide approximately $2.5 million in funding per year for the five-year award. The program's mission is to inspire new biotechnologies and applications to drive the bioeconomy and provide solutions to societal challenges.
BROADN project leaders will implement a novel training program for graduate students entering this interdisciplinary field, provide research opportunities for undergraduate students and create outreach programs to bring exciting findings from the project to K-12 students and the public.
The grant will help three CSU Pueblo graduate students receive full tuition and a stipend to study the aerobiome. These students will also get on the fast track towards a doctoral degree from CSU by making connections within the program's collaborators.
"The impacts of this award are huge," Sandmeier, an associate professor of biology, said. "Students will benefit from taking part in potentially ground-breaking research. This award really gives them the time and support to become successful scientists. When students have time to turn their thesis into one or two publications, that really helps them get other jobs in higher education and research."
Garcia Costas, an assistant professor of biology, said the support is similar to the help she received as a graduate student.  
"It's really nice to help a grad student get a degree without going into debt, and they're going to be a part of this really great and relevant project," she said.
 Victoria Martinez, one of the students who will help with this research, took part in the Communities to Build Active STEM Engagement (CBASE) program at CSU Pueblo as an undergraduate.
How It Started
The BROADN project gained momentum in 2019 through a School of Global and Environmental Sustainability Global Challenges Research team award, led by Dr. Angela Bosco-Lauth, assistant professor in biomedical sciences at CSU.
What is the aerobiome and why is it important to study?
During the past several decades, CSU researchers have studied the microbiome of soils, plants, animals, and humans, but microbial life found in the atmosphere has not been extensively studied.
"Microorganisms are everywhere," Garcia Costas said. "What are the microbes in the air?  Where did they come from?  How far do they travel?  Are they metabolically active?"
While researchers know that microorganisms can move through the air, the BROADN team will investigate how the aerobiome is altered by environmental stresses such as weather patterns, seasons, drought, agriculture and fire.
Research will drive solutions to airborne transmission of animal and plant pathogens and will foster understanding of the role of the aerobiome in preserving ecosystem health.
"We need special equipment to sample the aerobiome," Sandmeier said. "I can sample the respiratory tract by swabbing an animal. I can sample the soil, but it's much harder to sample the air in a consistent way. So that's a cool part of it."
Collaboration Leads to Better Understanding of Aerobiome Health
NSF's National Ecological Observatory Network, or NEON, will be instrumental in leveraging their infrastructure, expertise and ecological data for the project. NEON's engineers will offer expert data and field site support to BROADN researchers.
Collaborations with networks like NEON will allow CSU scientists a look at an invisible, critical component of the ecosystem.
Research Team Spans Multiple Disciplines
More than a dozen researchers from five colleges at CSU and other scientists from CSU Pueblo, Doane University, the University of Colorado Boulder and international organizations will participate in the project and lend expertise on the aerobiome.
"The funding will allow researchers to work at the intersection of disciplines, which is where some of the most interesting, challenging and important science problems lie," said Sonia Kreidenweis, co-principal investigator of the project and University Distinguished Professor of atmospheric science at CSU.
"The project is a fantastic opportunity to work with our partners to put our ideas into action," she added.
"It is also a very integrated collaboration," Garcia Costas said. "Our CSU Pueblo students get to be a part of the entire aerobiome research network. They get to take a class with CSU Fort Collins that brings together atmospheric science, agricultural science, and microbiology. They get to be part of the annual symposium. So they will be here in Pueblo, but also collaborating with CSU Fort Collins scientists."
The NSF award number is 2120117.