CSU Pueblo Recognizes Donors to the Center for Integrated Health and Human Inquiry
Release Date: August 05, 2021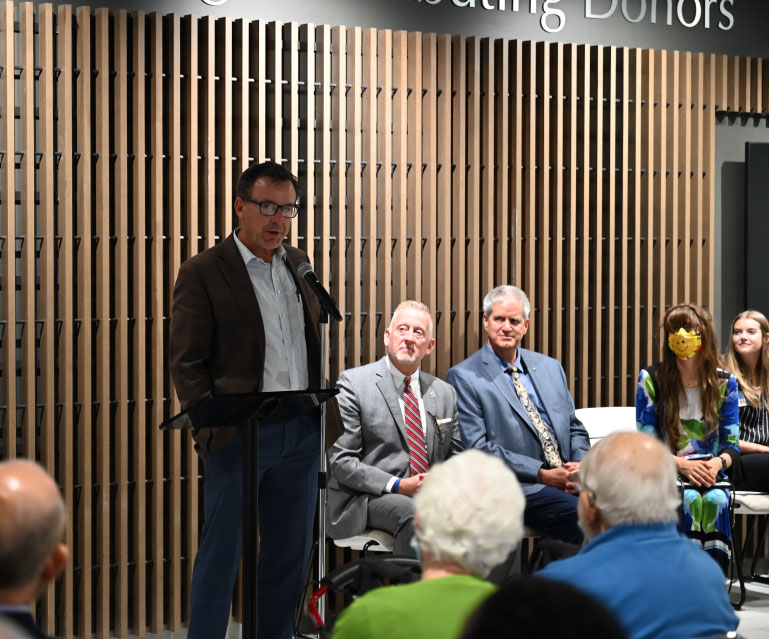 Colorado State University Pueblo Foundation hosted a donor reception to recognize the philanthropic contributions supporting the Center for Integrated Health and Human Inquiry (CIHHI) building, formerly the Psychology building which opened August of 2020.
The reception held on Aug. 3, in the foyer of the Center for Integrated Health and Human Inquiry included a short program recognizing the significant financial contributions of Parkview Health System, Dr. Jarvis and Mary Jo Ryals, the family of former CSU Pueblo President, Joseph Garcia, and other donors who have helped enhance the facility.
"Our generous donors make it possible for our students to have exceptional, one-of-a-kind learning experiences," said President of CSU Pueblo, Timothy Mottet. "Donors like Parkview Health System, Dr. Jarvis, and Mary Jo Ryals, and the Joe Garcia family allow our faculty and students to teach and learn in state-of-the-art facilities. This group of donors have elevated the academic quality on our campus allowing us to optimize student learning," said Mottet.
Parkview Health System has been a CSU Pueblo supporter for more than three decades with donations totaling more than $5 million. Parkview has supported a myriad of programs at CSU Pueblo but has made substantial commitments to nursing and athletics. In 2019, Parkview pledged $1.5 million to both the CSU Pueblo School of Nursing and the Pack Athletics program. This generous contribution provides nursing student scholarships and salary support for nursing faculty and staff, as well as funding additional staff to benefit all student-athletes.
Dr. Jarvis and Mary Joe Ryals have been supporters through the Ryals Family Foundation for more than 30 years. Their $100,000 pledge to the Nursing Enhancement Fund enabled the School of Nursing to integrate communications from the high-tech simulation labs housed in the CIHHI to Parkview Health System. The simulation labs create a realistic, simulated clinical environment to practice and demonstrate the competency of selected nursing skills. In addition to their generous contribution to the simulation labs, the Ryals also established the Jarvis and Mary Jo Ryals Endowed Scholarship, with a $25,000 donation, for Nursing at CSU Pueblo. Dr. Jarvis Ryals is a retired neurologist who practiced medicine for 31 years, 28 in Pueblo at both Parkview and St. Mary-Corwin. Mary Jo Ryals was a registered nurse who moved to Pueblo and became the patient care coordinator at Parkview.
Joseph "Joe" Garcia and family have donated funds for the John L. Garcia Language Center established in the name of Garcia's brother. Joe Garcia served as president of CSU Pueblo from 2006 through 2010. The John L. Garcia Language Center offers a place for students to improve their foreign language skills in a social setting and supports students enrolled in languages programs and their connection to the diverse Pueblo Community.
"The generosity of donors like Dr. Jarvis and Mary Jo Ryals, Parkview Health System, the family of Joe Garcia and dozens more have made transformative learning environments possible for thousands of CSU Pueblo students today and into the future," said CSU Pueblo Foundation President/CEO, Todd Kelly.
The CIHHI supports the various disciplines of Human Health, Nursing, Social Sciences, and the Humanities. Additionally, it will now host the Wolf Pack Wellness Center and the Counseling Center available for the health needs of the campus community. CIHHI offers collaborative spaces, nursing simulation labs, and distance learning classrooms which supports inclusion and access for CSU Pueblo.