2020-21 CSU Pueblo Staff Award Winners Revealed
Release Date: June 30, 2021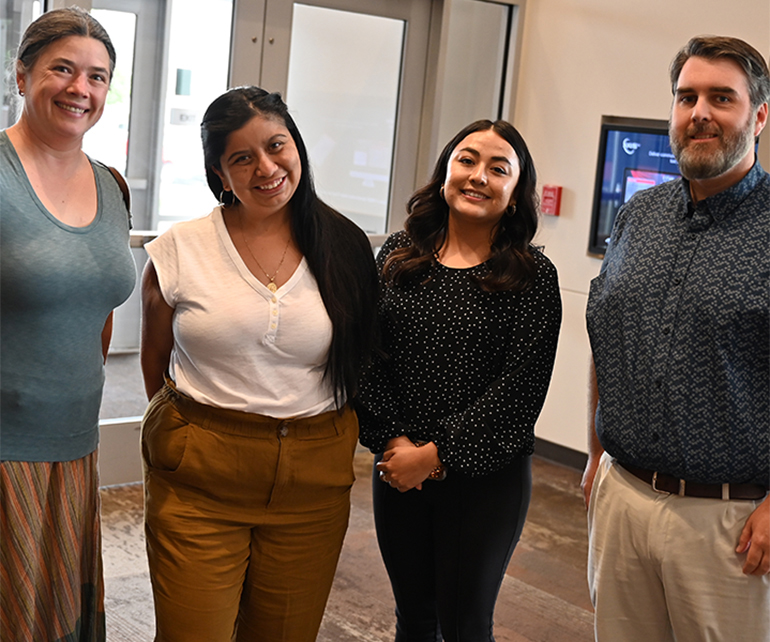 Colorado State University Pueblo recognized staff members and announced award winners at the University's annual Employee Awards Reception Tuesday June 29 in the Occhiato Student Center ballroom.
 These staff awards were created to honor classified and professional staff who go above and beyond throughout the academic year. Employees were nominated by other campus community members.
Outstanding Classified Staff Award

Mary Sandoval, Administrative Assistant III Teacher Education Program, won the Outstanding Classified Staff Award. The following employees also received a nomination for this award:
David Bartolo, IT Professional/ Database Administrator/ Programmer Analyst


Eleanor Casares, Administrative Assistant II, Extended Studies


Lynnette Leachman, Assistant to the Dean of the College of Health Education and Nursing


Makenna Rademaker, Administrative Assistant III, Exercise Science & Health Promotion
Outstanding Professional Staff Award
 Brianna Moorman, Student Information Systems Analyst, received the Outstanding Professional Staff Award. These employees were also nominated for this honor:
Carol Daugherty, Director, Student Health Services


Devin Hart, Director of Sports Medicine


 Denise Henry, Instructional Technologist


Ryan Kendall, Admissions Counselor


Laurie Kilpatrick, Director of Parking and Safety


Emily McElwain, Director of Student Recreation


Shelly Moreschini, Administrative Director, Center for Honors and Leadership


Aolany Navas-Griggs, Academic Success Coach


Korine New, Fort Carson Student Services Coordinator


Chad Pickering, Director of Gen Ed Tutoring Center/ Writing Center


Donna Souder Hodge, Executive Director of Organizational Development/ Chief Strategy Officer
 Students' Choice Award
Marie Humphrey, Senior Associate Vice President for Student Affairs and Dean of Students, was honored as the Students' Choice Award Winner for staff.
In addition to the staff recognition awards, CSU Pueblo honored the employees who reached milestones in their years of service with the University Service Awards.
Five Years of Service
Lori Blasé, Bill Bencini, Heather Cornell, Chris Cowart, Michelle Gurule, Ryan Kendall, Marisa Nava Nunn, Sean Pooley, Michael Rieger, Anthony Ruggiero, Betsy Schippers, Kayleigh Travierso and Jacob Varela all commemorated their five years of service to CSU Pueblo.
Ten Years of Service
Vicki Becker, Chris Fendrich, Shawn Gibson, John Herrera, Josh Medina, Cheryl Mincic, Victoria Obregon and Michael Simons celebrated their 10 years of service to CSU Pueblo.
Fifteen Years of Service
Rick Farrer, Stephen Hodge, Juan Morales, Deb Proctor, John Sandoval and Kevin Walda were recognized for their 15 years of service to CSU Pueblo.
Twenty Years of Service
William Brown, Carol Foust, Nebojsa Jaksic, Margie Massey, Tim McGettigan, Dennis Moore, Christine Rochester, Veronica Santisteven and Michael Wakefield all commemorated their 20 years of service to CSU Pueblo.
Twenty-five Years of Service
Helen Caprioglio, Louis Minatta, Brenda Trujillo-Aranda and Geraldine Trujillo-Martinez each celebrated 25 years of service to the University.
Thirty Years of Service
Paul Chacon, Denise Cordova, Sam Ebersole, Theresa Jimenez, Jennifer Torres, and Jonathon Valdez all commemorated their 30 years of service to CSU Pueblo.
Forty Years of Service
Judy Baca and Paul Wallace were both recognized for their 40 years of service to CSU Pueblo.
Retirees
CSU Pueblo celebrated the careers of the following employees who retired in the 2020-21 school year:
Susan Benesch, Sandra Bonetti, Anthony Bonfiglio, Carmela Bueno, Mel Druelinger, Sam Ebersole Scott Eriksen, William Folkestad, Louis Minatta, Dennis Moore, Deon Murray, Deb Proctor, Leroy Sanchez, Mark Vivoda and Cat Walkup.