State of Colorado Awards CSU Pueblo Renovation Funds
Release Date: May 20, 2021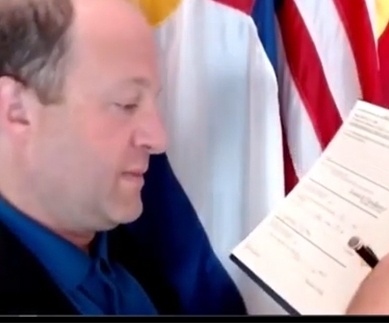 Colorado Governor Jared Polis signed State Bill 21-205 or the Long-Bill into effect on Monday. This bill will allocate over $3 million to Colorado State University Pueblo for campus improvements and approves CSU Pueblo's planned renovations to its Technology Building.
"This renovation will ensure that all of our students have access to instructional spaces that maximize experiential learning allowing them to create, design, and build projects that ultimately become a part of their portfolio of work while at CSU Pueblo," said CSU Pueblo President Timothy Mottet.
This bill awards CSU Pueblo $17.1 million dollars to renovate the Technology Building. The CSU Pueblo Technology Building currently houses engineering, automotive, construction management and education classes. Four civil engineering labs and the automotive bays are located in the Technology Building as are the educational classrooms.
"I am excited about the potential for enhancing our academic programming especially in the STEM, Education and Automotive Industry Management areas," said CSU Pueblo Provost and Excecutive Vice President for Academic Affairs, Mohamed Abdelrahman. "The renovation will allow us to create state of the art learning spaces and laboratories for students in these areas.  It will also allow us to explore new exciting programs that supports the economic development of Southern Colorado."
Originally constructed in 1979, the technology building underwent a temperature control update in 2014, but has largely remained the same for 42 years.A newly renovated Technology Building will give these academic programs more space and more advanced technology to better serve student's needs and help collaborate with CSU Fort Collins. These Technology Building renovations come as part of CSU Pueblo's Vision 2028 initiative to become the people's University of the Southwest United States by 2028.
"CSU Pueblo is focused on providing learning experiences that prepare students for successful careers," Abdelrahman said. "The renovation of the Technology building will allow us to collaborate better with industry, Community Colleges and K-12 schools and other institutions to provide our students with meaningful hands-on experiences that prepares them for Work.  The timing is ideal as it builds on the momentum from Vision 2028 and recent initiatives on campus including the creation of the College of STEM."
In addition to the Technology Building upgrades, CSU Pueblo was awarded $3 million in controlled maintenance funds. These funds will provide the campus the opportunity to make some infrastructure updates.
CSU Pueblo will use $1.19 million of this $3 million fund to upgrade its fire alarm equipment. This will increase campus safety. 
In total, the state dedicated $924,425 of controlled maintenance funds to replace the campus water lines at CSU Pueblo. The remaining $900,000 of these funds will be used to enhance elevator safety and speed. It will also increase the university's Americans with Disabilities Act (ADA) compliance.
"We are grateful to the members of the joint budget committee for supporting the $17.1 million renovation of our Technology Building and for the additional $3 million to upgrade our infrastructure including fire safety, water quality and ADA compliance," Mottet said.