CSU Pueblo Students Begin Summer Research
Release Date: May 17, 2021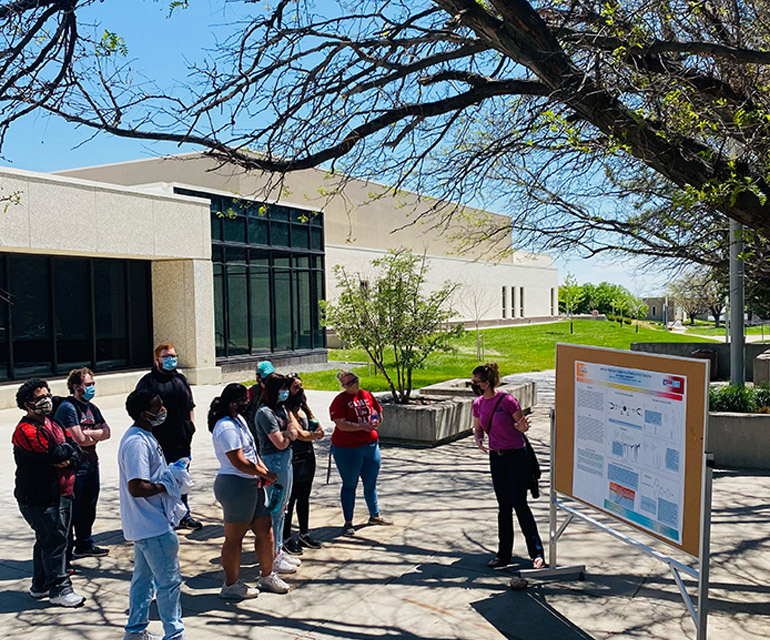 PUEBLO—Colorado State University Pueblo students in the Communities to Build Active STEM Engagement (CBASE) group met together in person, for the first time as an entire group to begin summer research programs on Friday, May 14 on campus at CSU Pueblo.
CBASE students cooperated on projects throughout the spring 2021 semester in small groups but never met as an entire group until the summer kickoff session. As CBASE students transition into the summer, they will ramp up their research activities as full-time research interns and fellows. The culmination of their research will then be showcased at the fall research symposium as part of the Homecoming festivities on campus.
"This is super exciting because it's our first time all together as a group as the 2021 cohort," said Abby Davidson, director of the Science Learning Center and assistant director of CBASE at CSU Pueblo. "We've met in small groups, but we haven't been able to get together as a full team. This marks the end of the spring semester and starts research for the summer."
The beginning kickoff sessions gave students insight of what to expect throughout the summer research process. The sessions included a research poster "gallery walk" of past research symposium posters, an elevator pitch practice session, and a campus resource scavenger hunt. The activities allowed students to network together, meet other students within the program and understand the campus resources available to them throughout the summer.
Tori Martinez, a biology major in the 3+2 program at CSU Pueblo, talked about the CBASE research program and her excitement for the summer session.
"I am working with Dr. Fran with a lab full of students, who are looking at temperature changes for ornate box turtles at the Pueblo Chemical Depot and how does a specific bacteria grow in the culture samples we work with," said Martinez. "Dr. Fran came up to me and asked if we'd want to help with this research, she's the brains behind this project and helps make this research possible."
Franziska Sandmeier, associate professor of biology, is one of many professors associated with the CBASE summer research program. Much of her work centers on reptiles with an interest in conservation biology through eco-immunology and disease ecology.
Martinez shared some of the other research work of her fellow students, which includes blood samples of the box turtles and migration patterns of the turtles.
"This is a huge opportunity for undergraduate students," said Martinez. "It gives us the opportunity to see if this is something we want to do with our life and what we want to pursue. 
The community building experience and outreach with our network is amazing."
CSU Pueblo CBASE is Title III grant-funded work that integrates curricular, co-curricular, and programmatic research opportunity for undergraduate students.  CBASE incorporates professional development, seminar series, mentorship, student services, and undergraduate research.
For more information about CSU Pueblo CBASE program please contact Brian Vanden Heuval, CBASE director and biology professor, or call the Science Learning Center at 719-549-2652.  More information can also be found by visiting here.