Colorado State University Hosting Commencement In-Person to Celebrate 2020 and 2021 Graduates
Release Date: April 27, 2021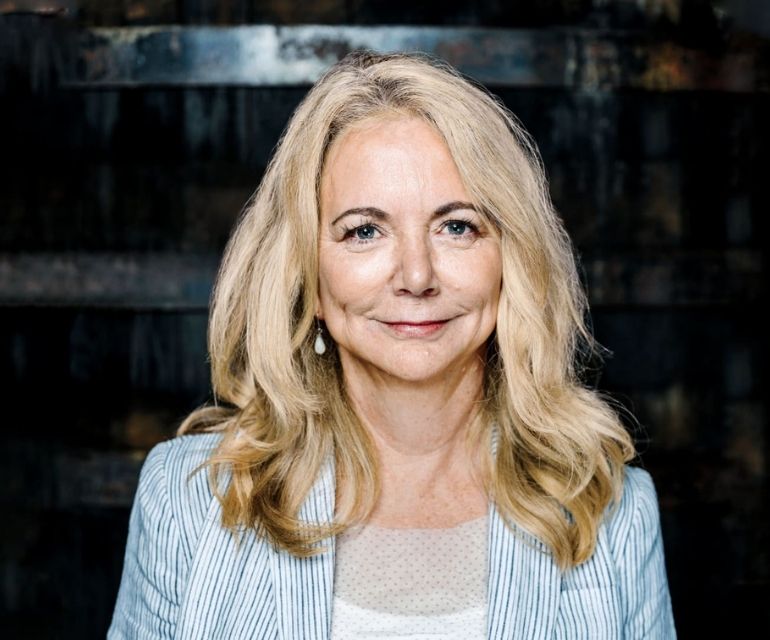 Colorado State University Pueblo plans to host multiple Spring 2021 Commencement ceremonies on campus at the Neta and Eddie DeRose Thunderbowl on Saturday, May 8.Commencement includes two in-person graduation ceremonies, each with a live-stream feed and one virtual ceremony to include all graduates who are unable to attend in person.
Kim Jordan, co-founder of New Belgium Brewing Company in Fort Collins, will be the Commencement speaker for each of the ceremonies.As a classic basement startup, New Belgium's beginnings were entrepreneurial; it's now the second largest craft brewery in the United States.New Belgium has been widely recognized for its progressive business practices which have included employee ownership, high involvement culture and a strong focus on environmental sustainability, all practices that were developed under Jordan's leadership of the company.
Jordan has served on many boards and commissions. She currently serves as the vice-chair of the Colorado State University System Board of Governors, is a member of the Colorado Supreme Court Nominations Commission, an advisor to The Smithsonian's Food History Program and is a Director on the Board of Hog Island Oyster Company. Jordan and her family have a family foundation, Mighty Arrow, where they focus on Climate Change, Land and Water Stewardship, Sustainable Food Systems and Social Justice.In addition, the foundation has a strong commitment to innovative and leading-edge impact investing.
"We're excited to welcome our graduates, their families, loved ones and those who have supported them during their time at CSU Pueblo.We're also excited to host Kim Jordan as our commencement speaker and look forward to hearing her message that I know will resonate with our graduates," said CSU Pueblo President, Timothy Mottet.
The Commencement ceremonies will be divided into two separate in-person events and one fully online ceremony. At this time, each graduate is allowed to have four in-person guests attend the ceremony. Health and safety protocols will be in place to accommodate as many guests as possible while still maintaining social distancing due to the COVID-19 pandemic. CSU Pueblo continues to work closely with the Pueblo Department of Health and Environment (PDPHE) for campus and ceremony updates.Individuals in attendance will be required to wear a mask at all times and maintain social distancing while seated.
The 9 a.m. ceremony will recognize the graduates in the College of Science, Technology, Engineering and Math and the College of Health Education and Nursing. The 1 p.m. ceremony will recognize the graduates of the College of Humanities, Arts and Social Science and the Hasan School of Business. Both in-person ceremonies include the graduates of fall 2019 and any graduates from 2020 who would like to celebrate in-person. A final ceremony will take place at 7 p.m. in a virtual format for all graduates who are unable to attend in-person.
CSU Pueblo will award its first Honorary Doctoral Degree posthumously to Arthur "Art" Henry Gonzales during the 9 a.m. commencement ceremony on Saturday, May 8.Gonzales will be represented by his nephews Ricky and Andy Gonzales to receive the degree in his honor. The Honorary Doctoral Degree is the highest honor a university can bestow on a citizen and Gonzales will be awarded the Doctorate of Humane Letters for his exemplary life of philanthropic work and support of students pursuing a college degree.
Mohamed Abdelrahman, provost and executive vice president of academic affairs, shared his excitement for the commencement ceremonies. "Commencement is a day to celebrate the academic achievement of earning a degree and in some cases for our students, multiple degrees.  The faculty and staff of CSU Pueblo are excited to be able to accommodate an in-person ceremony for our graduates. We're also looking forward to awarding our first honorary doctoral degree to Art Gonzales, a long-time donor and cherished member of our university."
For more information about Commencement please visit the Commencement website or call 719-220-9052. Additional details and updates will be communicated through student email, campus communication, the university website and official CSU Pueblo social media accounts.