Wildlife Department Earns Four Grants
Release Date: April 14, 2021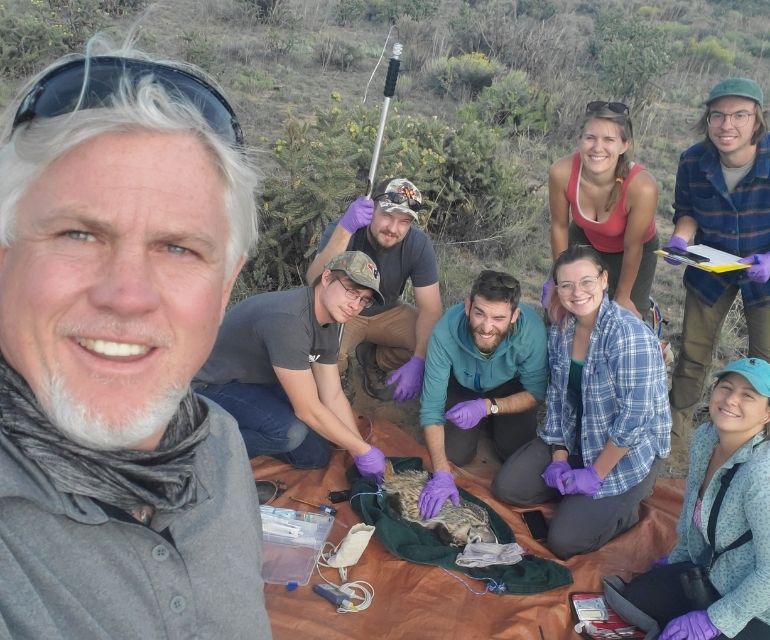 The Colorado State University Pueblo Wildlife & Natural Resources Department and Professor Nate Bickford earned four grants to help students further their education.
Bickford and the Wildlife and Natural Resources program secured grants from the Bureau of Land Management (BLM), the National Science Foundation (NSF), United States Fish & Wildlife (USFW), and Wyoming Animal Damage Board. These four grants will help create research and educational opportunities for CSU Pueblo students.
"This is a school that you can come to as a freshman and get into the field," Bickford said. "You don't have to wait until you're a junior or senior. You can get involved right away, get experience and by the time you are a senior, you will have your own project if you want it. This is very different from most schools." 
With the BLM grant, students will have the opportunity to research wildlife movement at Southern Colorado's picturesque Royal George. Bickford and CSU Pueblo have partnered with Matthew Rustand of the BLM Royal George Field Office to give students hands-on experience by learning how tourism and recreation affects the movement of wildlife.
"A lot of our undergraduate students actually get to go out and have the opportunity to do trapping and interact with wildlife," Bickford said. "That's how I build my classes."
The BLM grant is designed to give CSU Pueblo hands-on agency experience. It will also afford students an experiential learning opportunity to trap and track wildlife.
"The BLM has hired two of our students for the summer," Bickford said. "It creates a collaborative path from CSU Pueblo to the BLM. They are really excited about that project." 
Thanks to the NSF grant, CSU Pueblo students will have the opportunity to study animals who change coats for the winter. This research will delve into how global warming has affected the coat change and survival rate of these animals. This grant opens up a partnership between CSU Pueblo and the University of Montana.
"We are seeing many of the local, state, and federal agencies creating opportunities for our students to gain agency experience," Bickford added. 
Despite it being illegal to kill them, golden eagles are shot in high numbers. With the USFW grant, CSU Pueblo students will explore the reasons people shoot golden eagles in the west. The goal of this project is to help change public perception and protect golden eagles from being shot.
Joining CSU Pueblo students on this project will be Lauren McGough. McGough is a post-doctoral researcher at CSU Pueblo who was featured on 60 Minutes for her research on golden eagles. This project is also part of a collaboration with Dr. Ken Wallen at the University of Idaho.
The Wyoming Animal Damage Board grant also highlights the golden eagle. This grant will focus on relocating golden eagles away from lambing ranches to minimize human-animal conflict.
"I'm very interested in getting students out in the field and working on these projects," Bickford. "All of these grants have undergraduates and graduate students working on the projects in wildlife research."
Bickford serves as the wildlife and natural resources program coordinator. Fellow professors Dr. Clair Ramos, Dr. Fran Sandmeier, and Dr. Brian Vanden Heuvel have undergraduate and graduate students researching a wide range of exciting wildlife topics.
"I'm just one of many people doing amazing work in the wildlife department," Bickford. "Those folks are spectacular. They are doing amazing research as well."