CSU Pueblo International Food and Cultural Extravaganza Returning to Campus to Celebrate Virtually
Release Date: April 12, 2021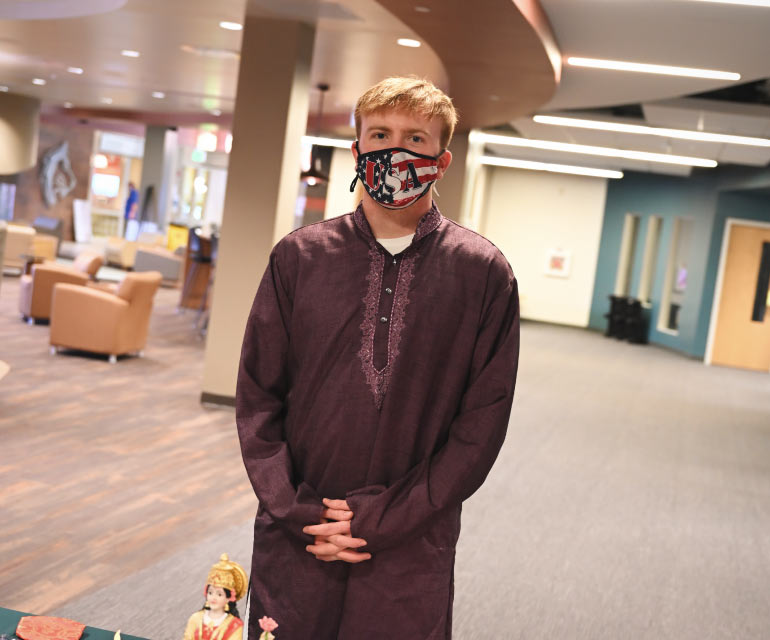 Colorado State University Pueblo will host the International Food and Cultural Extravaganza virtually this year on Friday, April 16. This is the first occurrence for this event since 2018, yet it is the longest running student-ran event at CSU Pueblo with 80 years total for its existence.
The International Food and Cultural Extravaganza is presented by the Center for International Programs and Inclusive Excellence, the CSU Pueblo International Students' Association (CISA) and the office of Student Engagement and Leadership.
"We are excited to host the 80th International Food and Cultural Extravaganza," said Lilia Myers Van Pelt, associate director for English Language Institute at CSU Pueblo. "Due to the COVID-19 restrictions, this year's Extravaganza will be smaller online, but we are working hard to make an exciting and fun celebration of the international students at CSU Pueblo and the cultures they represent," said Myers Van Pelt.
The International Food and Cultural Extravaganza includes a boxed meal provided in a drive-thru for COVID-19 safety protocol, a pre-recorded international fashion show via YouTube and the International Supporter(s) of the Year and Special Contribution Awards.
The boxed meal can be picked up from the Occhiato Student Center (OSC) between 4:30 p.m. and 5:30 p.m. on CSU Pueblo's campus on Friday, April 16.  Choices for the meal feature cuisine from around the world including artichoke and spinach casserole, Brazilian beef and tomatoes or Chana Masala. Individuals are invited to pick up their meal prior to the fashion show which will be streamed at 6 p.m. MST on YouTube.
The fashion show's host is Matt Millar, a freshman international student from Devon, England. Millar, master of ceremonies of the awards ceremony and fashion show, shared his excitement about the event.
"I am thoroughly looking towards the Extravaganza, it should be a fun and exciting event and I feel very humbled to the master of ceremonies," said Millar. "I believe it will be great for the international community to get together virtually before we leave for spring break."
The International Supporter of the Year Awards included in the event are presented to community members in Pueblo who serve international students and the international community at CSU Pueblo in an exceptional way.  John and Karen Zondlo, Johnathan and MaryBeth Heisey, Jodi L. Allen-Dixon and Stephanie Vasquez all earned the award of Support of the Year.
The Special Contribution Award is presented to a CSU Pueblo student who exceptionally serves the international student community at CSU Pueblo during the 2020-2021 academic year. Amy Sutheran, Matt Millar, Nathan Yarnell and Jesse Vido are all students of CSU Pueblo that are being honored with the Special Contribution Award.
To reserve your meal with the International Food and Culture Extravaganza or for more information about the events contact Talha Qureshi-Krauth, graduate office assistant in the Center for International Programs and Inclusive Excellence at mt.qureshi.se@csupueblo.edu or 719-549-2329.