First Systemwide Study Highlights CSU's Importance in Statewide Talent Retention, Jobs, Revenue
Release Date: February 11, 2021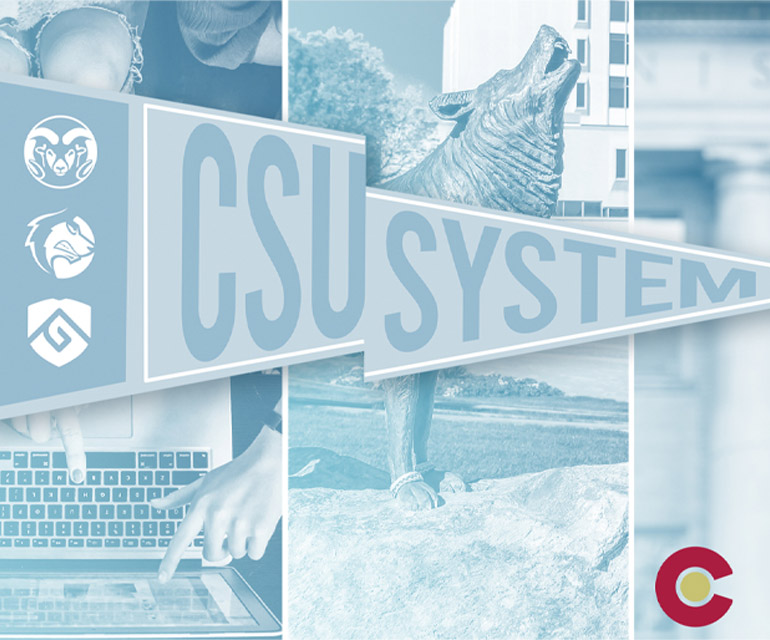 Denver, Colo. – The three Colorado State University System campuses and the out-of-state students attract nearly 23,000 Colorado jobs and more than $237.74 million in state income and sales tax revenue annually.
In its first-ever Systemwide economic impact study, a team of economists quantified the System's unique contributions to the Colorado economy in terms of jobs, research, and the contributions of the System's more than 112,250 living alumni who are currently working in Colorado.
Among the report's key findings: the CSU System is an important factor in Colorado's workforce talent retention. About 50 percent of the students who moved to Colorado to attend a CSU campus since 2005 have stayed here after graduating. And 86 percent of Colorado residents who attended CSU institutions are still in the state. Nearly 1 in 25 Colorado workers has a degree from a CSU System campus, and their alumni income translates into more than $209 million in state income tax revenue and $128 million in sales, use, and excise tax revenue. In other words, about 3 percent of the state's total collections can be attributed to CSU graduates.
The three CSU System campuses – the flagship research university in Fort Collins; CSU Pueblo, a regionally focused Hispanic-serving institution; and the fully online CSU Global – together enroll more than 60,000 new and returning students each year. The CSU System has nearly 300,000 living alumni worldwide.
"Clearly, CSU plays a critical role in our state's future productivity and ability to remain an innovation hub in economically important industries," CSU System Chancellor Tony Frank said. "We're not manufacturing a product; we're educating people who contribute to society in all the ways educated people do – as teachers, scientists, doctors and nurses, business leaders, manufacturers, technologists, artists, engineers, and the countless other roles that are typically filled by people with higher education."
The study was conducted by CSU Fort Collins faculty Drs. Rebecca Hill of Agricultural and Resource Economics and Harvey Cutler and Martin Shields of Economics. They were supported by graduate research assistants Lauren Mangus and Kevin Crofton.
"The CSU System's economic impact is felt statewide by bringing in money from federal agencies, out-of-state students, and by transferring knowledge to businesses and industries across Colorado," the authors wrote in the report. "The CSU System's economic impact in Fort Collins and Pueblo includes factors considered in the statewide impact, plus money injected into the region from both state government and students from across the state."
Among the report's other highlights:
112,250 CSU System alumni working in the state earned an estimated $7.57 billion from their jobs in 2019 – roughly $2.9 billion more than they could have expected in wages if they'd only finished high school.
The overall statewide economic impact of the CSU System translates to roughly 22,785 Colorado jobs and $237.74 million in-state income (individual and corporate) and sales tax revenue that the state would not otherwise have
CSU Fort Collins' massive mobilization around COVID-19 research has ranked it in the Top 10 universities in the world working on research and cures related to the virus. Last year, the university's technology and intellectual property licensing office reported 23 COVID-related
In total, business spin-off and increases in regional productivity stemming from CSU Fort Collins translate into an additional 645 jobs and $25.3 million in household income for the Larimer County economy.
The study noted data from the American Community Survey showing that the average annual earnings for employed Coloradans with a four-year degree were around $70,000, compared to $36,000 average earnings for those with a high-school diploma. College-educated workers are also less likely to be unemployed, less likely to have seen their jobs impacted by the recession, less likely to access public assistance programs, and more likely to have employer-sponsored health insurance.
The study highlighted the tremendous impact CSU campuses in Fort Collins and Pueblo have on their local economies.
Fort Collins
The Fort Collins area receives more than $36 million in local sales and uses tax revenues from economic activity related to CSU's operations, student spending, and university-related start-ups, and business assistance. Total direct and indirect city employment impacts are estimated at more than 17,300 jobs, out of a total of 84,000 jobs in the city. 
CSU Fort Collins students not originally from the city spend about $319.1 million dollars a year in the community, which supports 2,700 jobs and $7.9 million in local sales and use tax revenue, either directly or through multiplier effects. This represents about 5 percent of Fort Collins sales and uses tax revenue.
CSU Fort Collins is an innovation incubator. In 2020, funded research exceeded $400 million for the first time ever. Start-ups and knowledge spillovers related to CSU Fort Collins generate significant additional local economic activity, translating into an additional 645 jobs and $25.3 million in household income. 
 Pueblo
CSU Pueblo enrolls more than 3,700 students, mostly undergraduates, and many first-generation. With 33 percent of its students identifying as Hispanic, CSU Pueblo is federally designated as a Hispanic Serving Institution. Looking back over 75 years, the institution has graduated more than 30,000 students, with nearly 20,000 alumni living in Colorado.
The City of Pueblo receives about $2.4 million in local sales- and use tax revenues from economic activity related to CSU Pueblo's operations and student spending. Total direct and indirect city employment impacts are estimated at nearly 1,500, out of about 43,500 total Pueblo jobs.
CSU Pueblo directly employs 712 workers, with a payroll of $42.5 million. After accounting for multiplier impacts, approximately 1,230 jobs are supported in the community. Related economic activity provides the city with approximately $1.68 million in local sales and uses tax revenue.
In Pueblo, student spending for the 2019-20 academic year is estimated at $61.43 million (excluding tuition). Of this, about $30.53 million comes from students who would not otherwise have been contributing to the local economy in 2019-20. That means that "out-of-city" student spending supports 261 jobs and $712,200 in local sales and use tax revenue for Pueblo. 
Global
CSU Global, a fully online campus, employs 119 people throughout Colorado, including 66 at its headquarters in Aurora. The university has been a game-changer for the state by helping to create innovative, nontraditional pathways for people to earn and complete degrees and certificates. Even as an online, globally accessible university, 40% of CSU Global students are in Colorado -- working adults whose Global credentials will position them and their Colorado employers for financial gains. Likewise, thousands of Global alumni are state residents. 
Demand for CSU Global programs has exploded: The university had 208 students when its classes began; a dozen years later, it has conferred more than 21,000 degrees, and about 20,000 students are currently enrolled. Forty percent of CSU Global graduates live in Colorado. 
CSU Global offers more than 50 certificates and bachelor's and master's degree programs, with dozens of optional specializations. The university has accomplished all this without any state funding while paying off a start-up loan early, and climbing into the Top 10 ranking among "Best Online Bachelor's Programs" and "Best Online Bachelor's Programs for Veterans" in S. News & World Report.
The taxpayers of Colorado invest in-state colleges and universities, Frank said. This report is a testament to the value those institutions give back.
"Universities contribute to the economy as employers and by spending money to keep our operations functioning, as well as by graduating skilled workers," Frank said. "We also attract people to Colorado from out of state who spend their dollars here, whether as students, conference attendees, or visiting parents and family members. Thousands of jobs across Colorado that aren't directly connected to a college or university still depend on these institutions to survive."
Public colleges and universities can be islands of stability and sustained employment for communities statewide, he added. "We learned from the Great Recession that communities that are home to a college or university rebounded more quickly -- and that is a strength for all of Colorado, which has built a system of higher education that is geographically diverse and designed to serve all corners of the state."
Note: Details and the full report are available here.