Colorado State University Pueblo Announced 2021 Distinguished University Professor Award
Release Date: January 11, 2021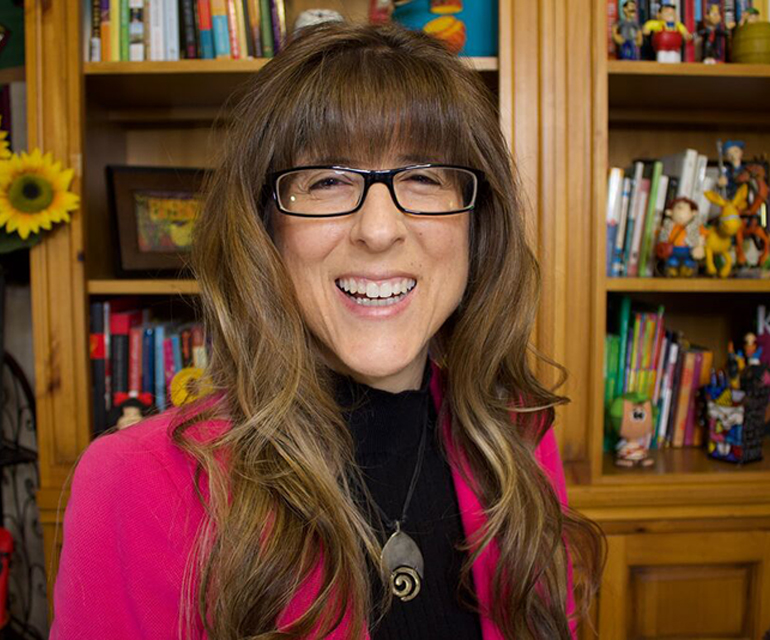 Pueblo—Colorado State University Pueblo announced the 2021 recipient of the Distinguished University Professor award, Alegria Ribadeneira, Ph.D., professor of Spanish and director of world languages at CSU Pueblo. Ribadeneira is the second recipient of this award, the honor was announced Monday, January 11 at spring convocation.
The Distinguished University Professor award is the university's highest honor bestowed on a faculty member. The award recognizes teaching, research, scholarship, creative activity and service to CSU Pueblo and the community.
"Alegria is a teacher scholar; she enriches her teaching and the student experience by incorporating her research process into her instruction activities," said CSU Pueblo President, Timothy Mottet. "Her research-infused teaching promotes deep approaches to learning and shows students how research and teaching inform each other."
Ribadeneira was selected by the Distinguished University Professor Selection Committee from a pool of nominated faculty members. The committee members included last year's recipient, Kevin Duncan, Ph.D., professor of economics in the Hasan School of Business, Rhonda Gonzales, Dean of Library Services, Neb Jaksic, Ph.D., professor in the Department of Engineering and Mechatronics Programs director, Tim Peters, Ph.D., assistant professor of education, Jeff Piquette, Ph.D., associate dean of the College of Education, Abhay Shah, Ph.D., professor and associate dean of the Hasan School of Business, and Leticia Steffen, professor and associate dean of the College of Humanities, Arts and Social Sciences.
Ribadeneira expressed her gratitude for the receipt of the award and acknowledged the work of many others on the CSU Pueblo campus. "It is a great privilege to serve alongside my amazing colleagues who like me, want to upskill and self-develop in order to address the unique pedagogical needs of our student population," said Ribadeneira. "Many of our collective questions have inspired my research and teaching innovations."
Ribadeneira received multiple awards in 2020 including an Open Education Global Educator Award, a Southwest Post-Secondary Excellence in Teaching Award and a Colorado Excellence in Teaching Award. Other awards include Outstanding Faculty Member, Students' Choice Faculty and Staff award, and CSU Pueblo Excellence in Teaching and Service awards during her tenure at the university. Ribadeniera began her career with the university in 2006 as an assistant professor, became an associate professor in 2012, and recently earned the full professor title in 2020. She has directed the World Languages program since 2008.
Ribadeneira received her Bachelor of Arts in Humanities from Fort Lewis College and earned both her Master's degree and Doctor of Philosophy in Spanish from the University of Florida Gainesville. Ribadeneira currently researches and presents on issues of language instruction, assessment, and program development focusing on heritage and second language learners in mixed classrooms. She is also a lead instructor for training teachers at the National Heritage Language Resource Center Summer Workshop at the University of California Los Angeles.
A monetary award will be given to Ribadeneira to assist with research over a three-year time period to pursue instruction improvement innovations or to support research, scholarship, or creative activity. As part of the award, the recipient is asked to conduct a workshop on the topic of their choice for faculty during the year and will serve on the selection committee for next year's award recipient. Ribadeneira will deliver the Distinguished University Professor Lecture during the fall semester of 2021, which is open to the public.
"For my fall lecture I plan to present some ideas regarding project-based learning and open educational practices," said Ribadeneira. "I look forward to the conversations we will have regarding these approaches across disciplines."
The Distinguished University Professor distinction will be part of Ribadeneira's formal title and will remain until her retirement, at which time she will become Distinguished University Professor Emeriti.
Colorado State University Pueblo is a comprehensive state university with an enrollment of nearly 4,000 students. With 34 percent of its students Hispanic, it is a designated Hispanic Serving Institution (HSI), and a military friendly university. The university is dedicated to interdisciplinary learning and entrepreneurship that elevates its people and community, creates educational opportunities, fosters unique collaborations, and supports inclusion, access, and affordability as a gateway to the world.