Colorado State University Pueblo Professor Receives Joy of Effort Award
Release Date: November 20, 2020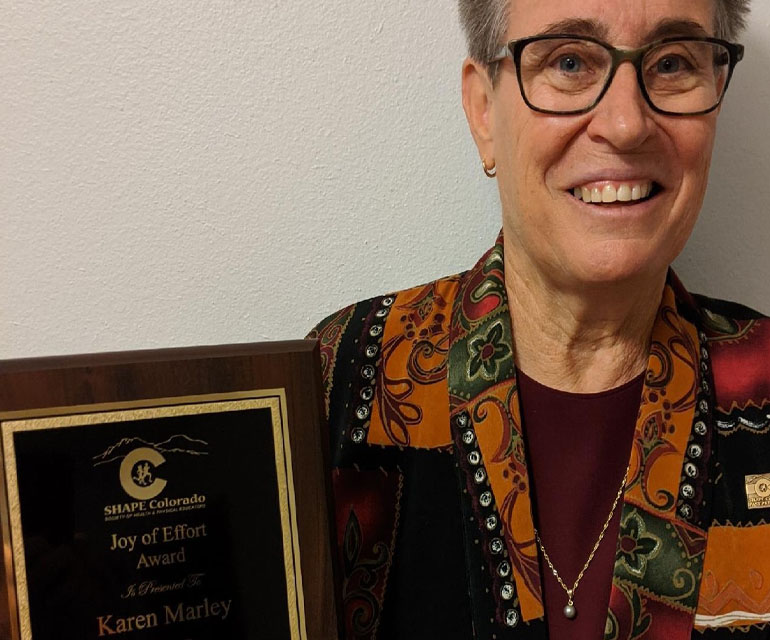 Colorado State University Pueblo lecturer in the School of Health Science and Human Movement, Karen Marley received the 2020 Joy of Effort Award from the Society of Health and Physical Educators (SHAPE) America. The Joy of Effort Award is given to individuals who, by performance and style, have personified the concept that the effort made to enrich the goals and objectives of physical education and sport is a labor of love, inspired by commitment and dedication.
"Professor Marley is an influential faculty member on this campus for the work she does with our students in the classroom and through their development to become physical education professionals themselves," said Mohamed Abdelrahman, provost and executive vice president of academic affairs at CSU Pueblo. We are proud of the recognition she's received for her work and know our students at CSU Pueblo will continue to benefit from her innovation, enthusiasm, and commitment." 
Marley holds multiple masters degrees in athletic administration, supervision, and administration, and also health and physical education. Marley's career of over 20 years in sports and education, contributions to sports statewide, and involvement in state, regional and national professional association more than qualified her for this recognition.
The Joy of Effort Award requires letters of recommendation from colleagues and students. Former students of Marley mentioned her enthusiasm, energy in the classroom, and encouragement for others.
Marley reflected on earning the award and the significance of being recognized for her work. "This is a really special award to me because it shows that my passion comes out in my work on an everyday basis," said Marley. When I was president of SHAPE Colorado in 2009 my motto was practice your passion. That's what I do, I'm living my passion every day."
As a member of SHAPE America and Marley's commitment to teaching, coaching, and administration, she has brought physical education students to multiple conferences both statewide and nationally during her ten years at the university. Additionally, Marley's students in her classroom facilitate the Let's Move event each spring, which brings hundreds of students to the CSU Pueblo campus. Students at CSU Pueblo have the opportunity to put their knowledge and teaching skills with physical education in practice with children in the Pueblo community.
Marley is also the faculty representative for the Physical Education Club on campus at CSU Pueblo. Her memberships and accolades include the United States Field Hockey Association with USA Field Hockey, was an appointed member of the Colorado Governor's Council for Physical Fitness 2013-2017, is a member of the American Alliance for Health, Physical Education, Recreation and Dance and is a member of the Positive Coaching Alliance among many other organizations within the field.