CSU Pueblo Shows Campus Changes and COVID response to Executive Director of Higher Education During On-Campus Visit
Release Date: September 01, 2020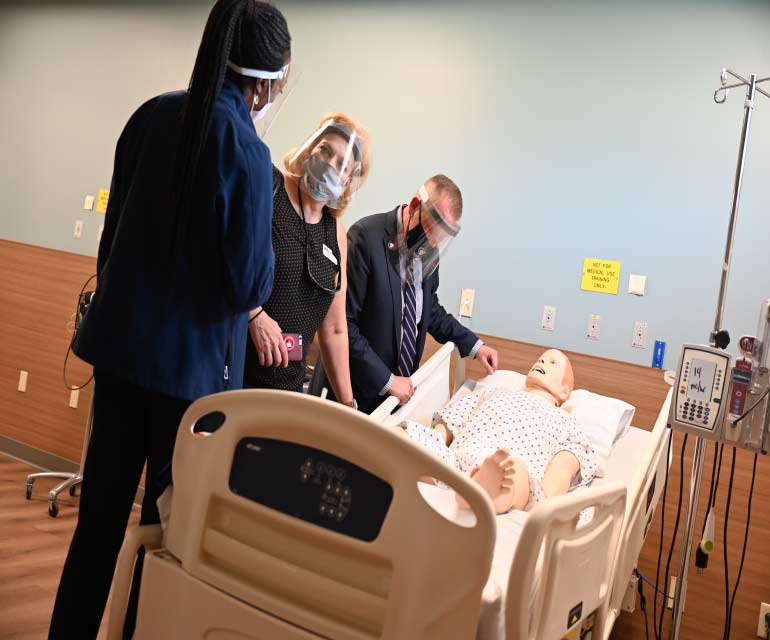 Colorado State University Pueblo hosted Angie Paccione, executive director of the Colorado Department of Higher Education, on Thursday, Aug. 28. as she visited with students, toured the new Center for Integrated Health and Human Inquiry (CIHHI) and met with the university COVID-19 Response and Planning Team (RPT) during her campus visit.
"Dr. Paccione was able to see first-hand the protocols and safeguards we have in place to protect our students and employees," said CSU Pueblo President Timothy Mottet. "She had the opportunity to meet with university leaders, students, faculty, and our COVID-19 Response Team, which is a cross functional group of employees who provides 'boots on the ground' support to ensure that all students and employees remain safe."
CSU Pueblo was one of five Colorado higher education institution visits that Paccione made during the week.  While meeting with the university COVID-19 RPT Paccione discussed protocols and legislation to support higher education at the cabinet level with Governor Jared Polis. 
Paccione also shared with campus leaders an interaction she had with a first year student. "I've been asking students at all the campuses I've visited, what about the institution made you want to come back to campus?" asked Paccione. "The student's response was communication."
The university COVID-19 RPT meets for six or more hours each week and sends out weekly communication to the campus community for updates about protocol, resources or confirmed cases. Paccione expressed continued support for CSU Pueblo and urged leaders to invest in communicating available mental health resources throughout the pandemic.  
"It makes a difference, even if you don't hear it from them, I'm hearing it from students," said Paccione. "This student said she heard from her professors before the semester began and there's been outreach. It was the communication that made her feel good."
Paccione met with students in the Occhiato Student Center where she asked about coronavirus related signage and visited modified classrooms required for social distancing because of the pandemic. With university leaders, she also toured the newly renovated Center for Integrated Health and Human Inquiry (CIHHI) with its state-of-the-art nursing simulation lab, all made possible because of the $16.8 million in state funding. 
Paccione asked university leaders to keep her apprised of the accolades about the school of nursing and the interdisciplinary academic programs available to students who use the facility. The CIHHI is host to psychology, political science, world languages and health sciences. President Mottet underscored the importance of Paccione's visit to the campus as crucial to meeting the needs of CSU Pueblo students. 
"Dr. Paccione's understanding of what's happening at the local level also enhances how she advocates for our students," said Mottet.