CSU Pueblo Faculty and Staff Receive Facial Mask Donation for COVID-19 Protection
Release Date: June 08, 2020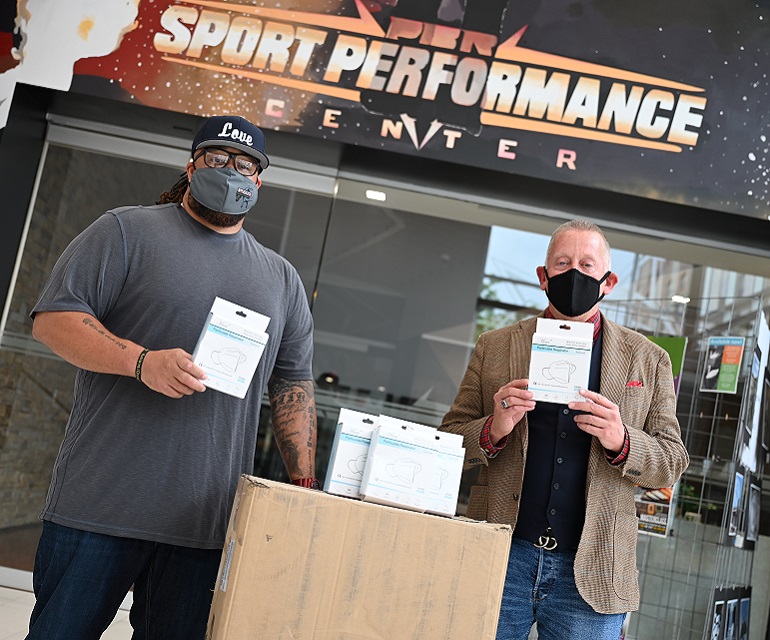 Colorado State University Pueblo received a donation of masks to outfit faculty and staff as they transition to working on campus again amidst the coronavirus, COVID-19 pandemic. Citizens' Advisory Group member, Antwon Burton offered to facilitate this donation through his professional role with PBR (Professional Bull Riders).
Burton is the Executive Director of the PBR Sport Performance Center located inside the Pueblo Convention Center. The facility features over 4600 square feet of weight and cardio equipment, multipurpose classrooms, video review stations, Buck Rite drop barrels for training, a fueling station and more to meet the needs of athletes. Burton is a former National Football League player, owner of Next Level Performance and active member of Pueblo Rotary.
"The relationship with the citizens' advisory group helped facilitate this donation," said Burton.
President of CSU Pueblo, Timothy Mottet shared a conversation with Burton about the upcoming needs of the University. Some of those needs included personal protective equipment for faculty and staff, as employees transition to working on campus again. Employees have been working in a remote environment since mid-March. Burton shared with Mottet that he had a way to help facilitate this request through his position with PBR. 
The University looks to adhere to social distancing guidelines and protocols set forth by the Office of the Governor of Colorado and the Pueblo Department of Public Health and Environment. Not all faculty and staff will be on campus as the University plans to operate at roughly 50 percent capacity with employees during this time.
"I've always looked to Antwon for guidance, which is why he's on the citizens' advisory group," said President Mottet. "He keeps CSU Pueblo connected to the city of Pueblo. I'm grateful for his willingness to help us meet our needs."
For more information about PBR Sport Performance Center, please visit www.pbrspc.com. The partnership with the PBR Sport Performance Center and Pueblo Convention Center is one of the first of its kind. The PBR Sport Performance Center is a destination facility for athletes from all of the world.