Southern Colorado Consortium Receives $2.5 Million Award for STEM-Cyber Security
Release Date: May 07, 2020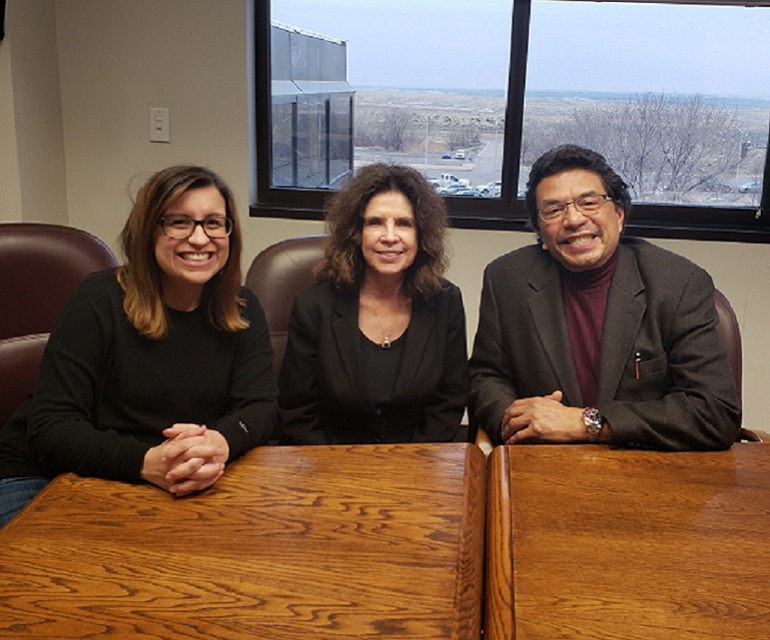 A consortium of Southern Colorado Institutions lead by professors Roberto Mejias and Margie Massey at Colorado State University Pueblo won a $2.5 million award from the National Science Foundation (NSF) to increase cyber security and technology pathways for students specifically at Hispanic Serving Institutions. 
The consortium includes Colorado State University Pueblo, Pikes Peak Community College and Pueblo Community College.
The NSF grant, entitled "Project PUENTE": Partnerships in Undergraduate Education for Transferring Estudiantes" will focus on the technology aspect of STEM, particularly, cyber security, as a gateway to attract, recruit and increase the retention and graduation rates of undergraduate Hispanic, underrepresented student groups and females pursuing B.S. degrees in STEM.
The grant was awarded to provide an innovative and seamless Associate of Applied Science (AAS) to Bachelor of Science (BS) degree pathway for students transferring from community colleges to universities to pursue BS degrees in science, technology, engineering and mathematics (STEM).
"This grant is vital to solidifying the pipeline between high schools, community college, and 4 year institutions," said Alberto Teixeira, Special Assistant to the Vice President, PPCC Instruction Services.
This project will facilitate the assimilation of STEM coursework at two-year institutions, and decrease the transition hurdle for students ramping up from lower to upper-division coursework. 
Project PUENTE will allow Pueblo area students who are dual enrolled in STEM classes to enroll in college credit but can do so, at a significantly lower cost to them and their families.
"I am truly happy for CSU-Pueblo that all the hard work over the past few years in writing and improving this NSF grant proposal has finally paid off," said Roberto Mejias, associate professor of computer information systems, director of center for cyber security education and research and principal investigator for the NSF award. "I am excited that we can now more aggressively pursue recruiting and retaining Hispanics/Latinos, under-represented students groups and females into the exciting fields of technology and cyber security that will contribute to our U.S national security."
This grant offers the unique opportunity for CSU Pueblo, PCC and PPCC to work with local high school in obtaining Pathways in Technology Early College High Schools (P-TECH) distinction. The importance of P-TECH designation remains high in Colorado with an increased need for individuals working in STEM and with jobs requiring an associate degree or more.
P-TECH partnerships allow for students to graduate with a high school diploma and an associate degree along with the necessary skills to enter the workplace or pursue a four year degree.
"I am looking forward to working with CSU-Pueblo and area high schools in creating additional pathways in STEM," said Mike Krakow, manager of PCC computer information systems and health information technology programs.
"This grant will help add to the computer science talent pipeline in Pueblo and may help us attract new tech companies to the region. PCC is a Pathways in Technology Early College partner with Cañon City High School. With this grant, we will look to develop P-TECH programs in the Pueblo area," said Krakow.
Improving transfer to four-year institutions is a major emphasis for PCC. Many transfer pathways are in STEM fields, enabling the college to collaborate closely with CSU Pueblo and other regional universities.
"I am so excited to see the fruits of our labor manifest itself into this incredible opportunity for CSU Pueblo," said Margie Massey, associate professor of education and co-principal investigator for the NSF award. "As a female in the area of STEM, I am so excited to recruit other females in this area. Serving underrepresented populations is a passion of mine and this grant, provides an excellent vehicle for this to happen."
While statistics indicate that the Hispanic/Latino population in the U.S. has grown quickly, the Hispanic demographic makes up less than ten percent of the STEM workforce. Only two-thirds of Hispanic/Latino students nationwide have access to advanced math and science offerings within their schools and approximately 25% of Hispanics/Latinos are underrepresented in higher education.
Project PUENTE will target low income, Hispanic/Latino and first generation students who may have limited awareness for opportunities in STEM and specifically cyber security.
"It will help all PPCC cyber students, particularly underrepresented students, build awareness of important career opportunities that are flexible, marketable anywhere in the country, and pay well," said PPCC's Teixeira.
The attraction and recruitment of underrepresented student group populations remains important for all three institutions of CSU Pueblo, PPCC and PCC as the fields of technology and cyber security meet the needs of the acute global shortage. 
Over 2.93 million cyber security jobs are unfilled, of which 500,000 are located in North America.  As industry requirements relating to the STEM disciplines have accelerated particularly with regard to new and evolving technologies, the U.S. job market continues to experience a critical shortage of required STEM and technology job skills.
About Colorado State University Pueblo
Colorado State University Pueblo is a comprehensive state university with an enrollment of nearly 4,000 students. With 34 percent of its students Hispanic, it is a designated Hispanic Serving Institution (HSI), and a military friendly university.
The university is dedicated to interdisciplinary learning and entrepreneurship that elevates its people and community, creates educational opportunities, fosters unique collaborations, and supports inclusion, access, and affordability as a gateway to the world.
About Pikes Peak Community College
Established in 1968 and accredited by the Higher Learning Commission, PPCC offers associate degrees, certifications in career and technical fields and two bachelors' degrees. 
With three campuses, various off-campus locations, two military education centers, and hundreds of online classes, PPCC provides access to a quality, affordable and flexible education to more than 20,000 students annually with both credit and non-credit classes.
About Pueblo Community College
Founded in 1933, Pueblo Community College is a premier teaching institution focused on providing academic and service excellence, without discrimination, to help its students acquire the 21st-century skills needed to better their lives. 
An educational and technological leader, PCC fosters economic development and utilizes strong partnership in the communities it serves through its Pueblo, Fremont and Southwest campuses.