CSU Pueblo Students Amidst Front Lines of COVID-19
Release Date: April 22, 2020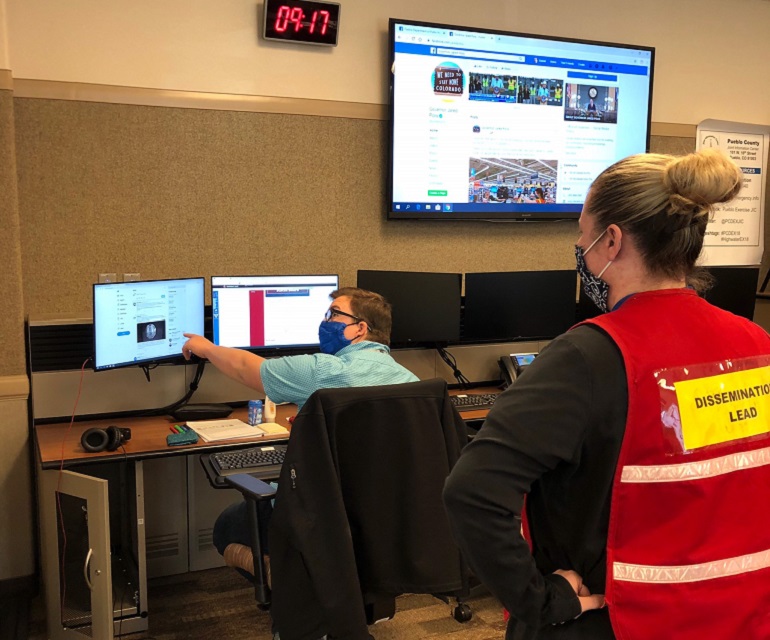 Two media communication students are lending their talents to the Pueblo Department of Public Health and Environment during the COVID-19 pandemic.
Audra LeTurgez, media communication student with a minor in homeland security and women studies, has worked at PDPHE for nearly ten years as an administrative assistant.  When COVID-19 struck the nation, LeTurgez was called upon to change roles and work with the Public Information Officer team as the dissemination lead in the joint information center with the Pueblo County Sheriff's Office.
Incident command is a joint effort with the Sheriff's office and PDPHE with Sarah Joseph, Public Information Officer of PDPHE, as the lead PIO. 
"I was concerned that moving from an administrative assistant to a lead role that people wouldn't respect me," said LeTurgez. "But people do trust me and know that I'll take their questions up the chain of command."
LeTurgez was designated part of incident command because of her experience on the public information and social media team as well as her experience with the Beulah Hill fire. She also holds a certificate in homeland security that has prepared her for the current situation.
"Audra's experience and skills prompted her to be a Lead in the Joint Information Center during Pueblo County's Emergency Operation response to COVID-19 managing the gathering and dissemination of community information for the health and safety of Pueblo," said Joseph. "Audra's knowledge from Mass Communication classes, public relations from the Health Department and trainings over the past five years provided her the skills to fill a leadership role in the communications response for COVID-19."
LeTurgez, a wife and mother of two, is taking three classes this semester at CSU Pueblo in addition to her full time position with PDPHE. In a high demand time like the COVID-19 pandemic, she has been able to take advantage of coursework being moved to a distance learning and online format.
"What's helped me with COVID-19, is that they suspended all face-to-face classes which has been a benefit," said LeTurgez. "I don't know how I would have finished the semester has we not suspended classes in person."
LeTurgez has a fellow media communication and CSU Pueblo student to work with at PDPHE, Daniel Minich.  Minich's role with PDPHE has evolved due to the coronavirus pandemic. What started as an internship in January became a part-time position as Social Media Coordinator due to COVID-19. 
"Daniel helped the Public Information Officer Team test the Public Health Joint Information Center in January, review and update the Crisis Communication's Response Plan, and create social media communication goals and strategy in February," said Joseph.
PDPHE approached Minich about staying to assist for increased communication needs with PDPHE as the lead organization for information dissemination with COVID-19 in Pueblo. Minich upon graduation would like to pursue an opportunity as a PIO. 
"This experience has definitely reaffirmed that I'm in the correct work field with this umbrella," said Minich. "There's a difference in what a PIO looks like, this gives crisis command experience that not many people get to deal with.  Not that I get to actually practice what I was taught, I definitely want to be a PIO."
Minich's duties now include running all the social media platforms of Facebook, Twitter and Instagram.  He is required to monitor all comments and questions and the push out information. Any unanswered or new questions then go to the chain of command, where LeTurgez and Minich work together to communicate to the public.
"Daniel brought many social media strategy video editing, and graphic design skills into Pueblo's Joint Information Center to convey health and safety information to the Pueblo community with a goal of preventing illness and saving lives," said Joseph. "Daniel volunteered over 40 hours during his Spring Break continuing to manage three social media platforms for Pueblo's Unified Command assisting with the COVID-19 response with emergency messaging for the community."
For more information about Pueblo Department of Public Health and Environment please contact Sarah Joseph, Public Information Officer, at 719-583-4300 or visit pueblohealth.org. For coronavirus related questions, please use the Pueblo COVID-19 hotline 719-583-4444.