CSU Pueblo Has 'Moore' to Offer the Pueblo Food Project
Release Date: April 15, 2020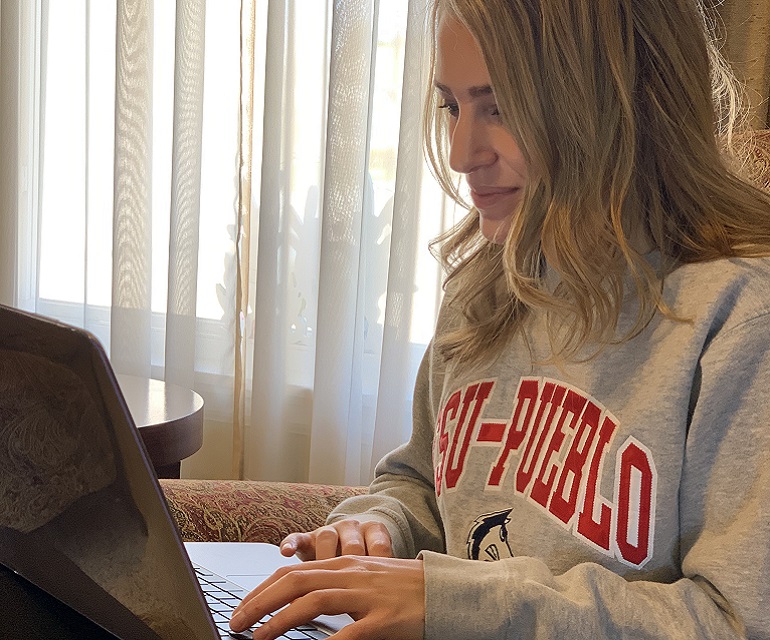 The food system in Pueblo County is a priority investment for Colorado State University Pueblo. A student and two professors of the CSU Pueblo campus are highly involved in the outcomes for Pueblo Food Project.
Pueblo Food Project, a joint effort between the city and county of Pueblo began a year ago with a citizen's leadership council called Pueblo Food Council. This council was appointed by Mayor Nick Gradishar and Pueblo County Commissioners. 
There are five key values Pueblo Food project focuses on, including food economy, food environment, food advocacy, food literacy and food access. 
Megan Moore, senior media communication student at CSU Pueblo, began an internship with Pueblo Food Project in January. What started as an opportunity to focus on the Pueblo food environment, quickly turned into utilizing her talents in communication and marketing. 
Monique Marez, Pueblo Food Project coordinator, began with the organization in January and has provided oversight for Moore's internship. Marez encouraged Moore to begin working on the only marketing material Pueblo Food Project currently owns, which was presented to legislators in February.
Moore has assisted Marez with three main projects, specific to COVID-19 efforts here in Pueblo. The first project was the Community Resource Guide compiled by the Pueblo Food Project.
This document outlines food pantries, pharmacy hours, food safety information related to COVID-19, grocery distributions, local farm food store hours and more. 
"This will help with business and agriculture updates," said Moore. "We have a really robust small business community and we don't want that to leave."
In addition to this resource guide, Marez and Moore have collaborated on two other projects related to coronavirus, including the emergency hunger relief grant which was awarded in early April.
The Colorado Blueprint to End Hunger COVID-19 Emergency Relief Grant Fund was executed with 1,000 bags of groceries for Pueblo School District 60 families. Marez and Moore were required to coordinate 10,000 pounds of food distribution, with the majority of the product being local. 
With this coordination came a strong need for organization of volunteers as only 10 people are allowed to congregate with one another at a time. Marez looked to Moore to help with execution.
"I asked Megan what her capacity was to help me with this," said Marez. "I really leaned on her for the core development of our volunteer guide. We used that guide to review before each volunteer shift and she knocked it out of the park with that communication piece."
The next project Marez and Moore find themselves focused on is another guide for food systems businesses. This resource guide will break down the programs covered by the Coronavirus Aid, Relief and Economic Security (CARES) Act passed by the House of Representatives on Friday, April 3.
The guide Pueblo Food Project is gathering will highlight resources for business owners, farmers and ranchers and specific individuals with a tie to food. 
There are other CSU Pueblo ties to the Pueblo Food Project than just Moore. Jonathan Rees, professor of history at CSU Pueblo, serves a dual role as a council member and also as the facilitator for the research study to prescribe and assess the food system in Pueblo County.
Rees and colleague, Jonathan Poritz, associate professor of mathematics and Director for the Center for Teaching and Learning at CSU Pueblo, are executing the survey, data and study for Pueblo Food Project.
In addition to the new resource from Moore and Marez being available, Professor Rees acknowledged the surveys Pueblo Food Project will administer for the community can be anticipated soon for Pueblo residents.
"It is clear from my work on the council that the university has a role in facilitating the development of a better food system," said Rees. "We're trying to determine what that role should be by talking to members of the community to find out their needs."
For more information about Pueblo Food Project and how to be involved, please contact Monique Marez, Pueblo Food Project Coordinator at mmarez@pueblo.us or by calling 719.553.2643. The project as a whole is open to anyone interested within the Pueblo community.