Fourth Annual Give Day - A Tremendous Success for CSU-Pueblo
Release Date: November 25, 2019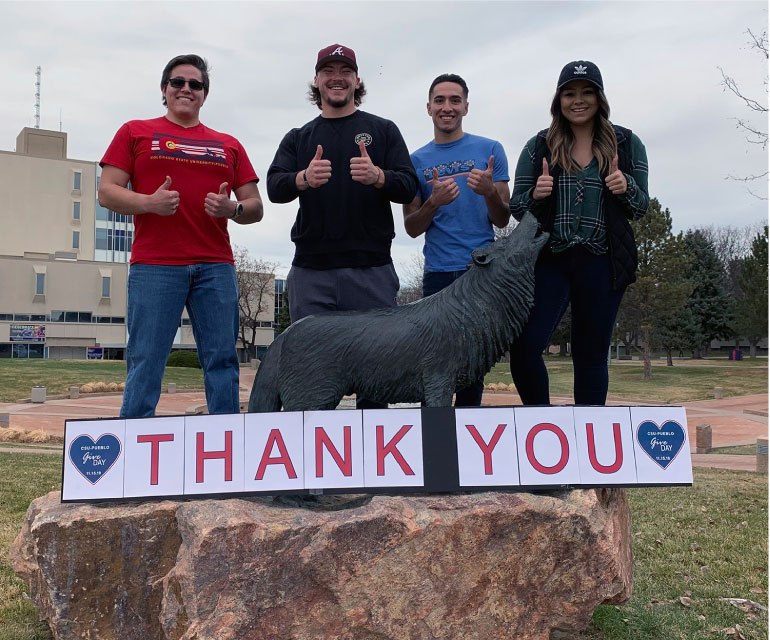 Another record-breaking day of support for Colorado State University-Pueblo wrapped-up at 11:59 p.m. on Nov. 15. The Fourth Annual Love CSU-Pueblo Give Day exceeded expectations raising a record number of dollars for 26 cross-campus campaigns, making it the most successful one-day event to-date.
The Fourth Annual Love CSU-Pueblo Give Day was a tremendous success. As of the morning of Saturday, Nov. 16, the 24-hour give-a-thon to support CSU-Pueblo causes large and small had raised $74,335 from 1,470 gifts. Gifts came from across the country, with gifts received from 28 states, District of Columbia, Mexico and China. Gifts ranged in size from $1 to $5,000.
"We are overwhelmed by the success of the Fourth Annual Give Day," said Todd Kelly, President/CEO for the CSU-Pueblo Foundation.  "Once again, our loyal donors and fans showed us their love for CSU-Pueblo.  Each gift we received, from the one dollar investment to the $5,000 donation is meaningful and makes a tremendous impact on our campus. We cannot thank our students, alumni, friends, faculty and staff enough for showing their love and tipping the scales on our goals set for this day."
Donor numbers are the focus on Give Day and donors turned out in droves to show their love. Of the 1,470 gifts received 38.8 percent came from students, 29.5 percent from University faculty/staff, and 13.7 percent from alumni of the University.
The CSU-Pueblo Foundation provided five fundraising incentives for campaigns to work for: most overall, most faculty/staff, most student, most out-of-town and most alumni donors. These incentives allowed donors to receive an additional $1,000 or $500 to their cause, and were able to be paired with the Foundation's dollar-for-dollar match up to $1,000 for each eligible campaign.
The winners of each incentive were:
Most overall donors – "The Wolfies" Pack Athletics
Most student donors – "The Wolfies" Pack Athletics
Most faculty/staff donors – Undocumented Student Scholarship
Most out-of-town donors – Southern Colorado Association of Nursing Students
Most alumni donors – Undocumented Student Scholarship
Gifts are still being accepted at giveday.csupueblo.edu. Love CSU-Pueblo Give Day is held the third Friday of November each year. For more information, please call Amber Shipley, Communications and Events Manager of the CSU-Pueblo Foundation, at (719) 549-2380.