CSU-Pueblo Receives $7.8 Million System Investment in Vision 2028
Release Date: August 19, 2019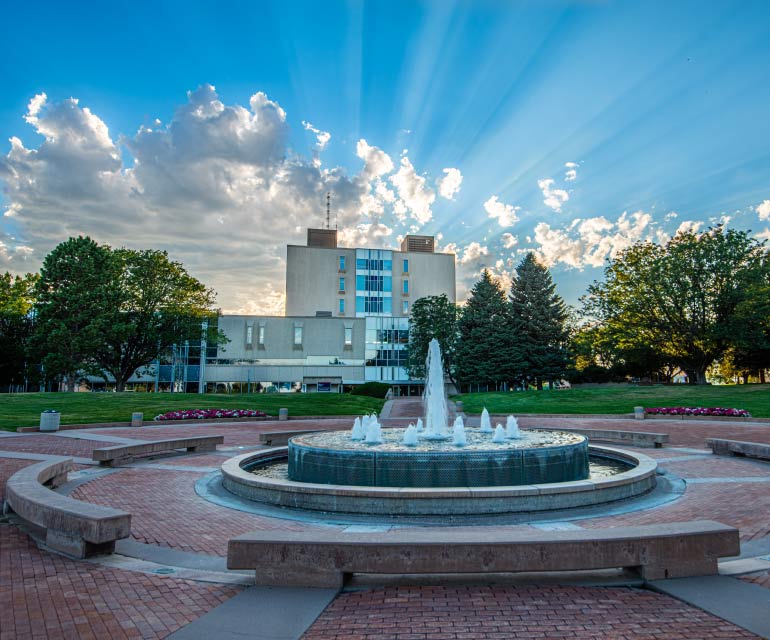 The Colorado State University System has unanimously voted in support of the implementation of CSU-Pueblo's Vision 2028 with an initial 2-year investment of $7.8 million. CSU-Pueblo's vision, to become the people's university of the southwest United States by 2028, honors regional histories, a commitment to hard work, and the need to establish new and innovative campus learning and support systems to better serve students and southern Colorado.
"I am incredibly proud of our campus and this community. Our visioning process consisted of 18 months of research, conducting surveys, and collaborating with our system partners. During this same time, we held numerous workshops and information sessions on campus and in the community," CSU-Pueblo President, Timothy Mottet, explained. "Today, this investment signals the CSU System's belief in CSU-Pueblo's future, but it also represents the commitment the system has to Pueblo and the southern Colorado region."
According to Donna Souder Hodge, Executive Director of Organizational Development and the Chief Strategy Officer behind the vision process, several primary drivers informed campus wide research. "Developing new opportunities for access and affordability, the student experience, and the environments in which our students learn is key to our vision launch. Most importantly, we know that developing our own people, focusing on academic quality, expanding our role as a flagship Hispanic Serving Institution, and building relationships with the community must drive every step of the project."
The first two years of Vision 2028 implementation will include a focus on external partnerships and new revenue streams that will continue to drive innovation on the Belmont campus. A new coaching model for student advising, redesigned general education and capstone courses, an investment in athletics facilities, and a new financial aid model — a model that creates an apprenticeship program for early career exploration — provide a strong foundation for change on campus. Enrollment initiatives will be tailored to create quality programming that appeals to traditional high school graduates from the region, adult learners with some college and no degree, and graduate students who may want to upskill or reimagine their professional lives through certificate programs and an online suite of graduate programs.

"Engaging the community, local business leaders, and regional industries is crucial to Vision 2028. We know that students who have an opportunity to explore work that is closely linked to academic outcomes are more likely to persist and ultimately graduate. There is incredible expertise in Pueblo and across this region. Our goal is to bring that expertise to campus and build pathways that put our students to work solving problems, creating opportunities, and making a difference in their lives, the lives of their families, and right here in our community — right here in downtown Pueblo," Mottet explained.
Vision 2028 establishes a downtown presence for CSU-Pueblo at Watertower Place, an emerging downtown Pueblo project spearheaded by Ryan McWilliams, a CSU-Pueblo alum, and a member of the CSU-Pueblo President's Citizen's Advisory Board. Mottet explains that a downtown office will create an opportunity to expand campus collaborations with local businesses, industry, and ongoing economic and social innovations for the region.
"This campus is a Colorado treasure–a place that serves hardworking, energetic students who are building their dreams piece by piece. It's a university whose faculty know their students and their community and work every day to reward curiosity and inspire new ways of looking at the world. This campus is the heart of its community, in the heart of Colorado, and it's well-positioned as a cultural cornerstone and economic engine for the region and the people it serves," Chancellor Tony Frank shared in a campus communication.
For media requests, please contact Haley Sue Robinson, Director of Communication and Public Information Officer at 719-549-2284, or via email at haley.robinson@csupueblo.edu.  
To find out more about #VISION2028 contact Dr. Donna Souder Hodge Chief Strategy Officer and Executive Director for Organizational Development, Office of the President, Administration 301, at 719-549-2282, or via email at vision@csupueblo.edu.