Chamber Choir Performs at Prestigious International Festival in Columbia
Release Date: July 18, 2019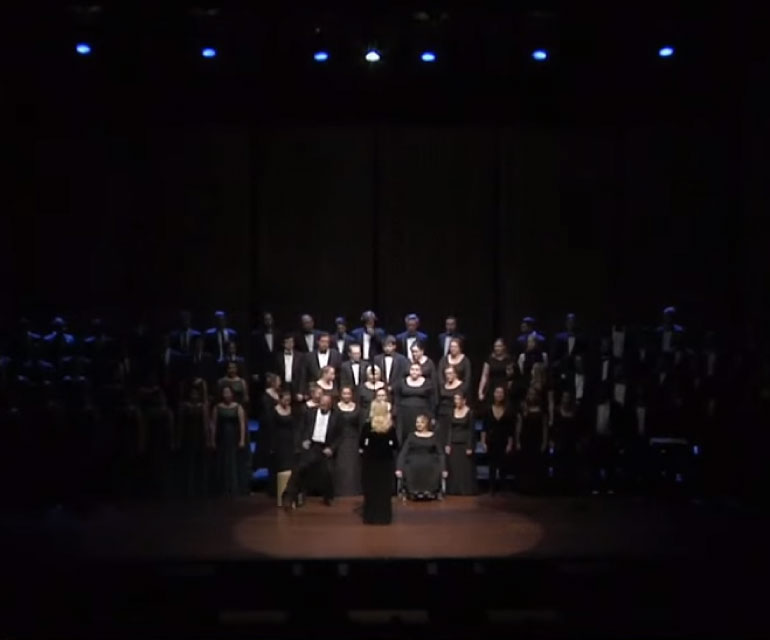 The CSU-Pueblo Chamber Choir was invited to be one of five featured international choirs on the XVIII Festival Coral Internacional de Medellin Jose Maria Bravo held July 3-7, 2019, in Medellin, Colombia. Annually, the festival involves 30-40 choirs.
The five invited featured choirs performed in a final concert, which aired on national television in Colombia.
CSU-Pueblo's Chamber Choir performed each night in a different venue sharing the concert with one of the other choirs participating in the festival. The festival concluded Sunday, July 7, with the final, joint concert. The concert was held in the 1,788-seat Teatro Metropolitano in Medellin and broadcast on Colombian national television.
"It was a great honor for the Chamber Choir to have been an invited, featured ensemble at an international festival, said Dana Ihm, Chair of CSU-Pueblo's Department of Music and Director of Choral Activities. "It is a first for a music ensemble from the CSU-Pueblo Department of Music."
"This trip provided great outreach for our university and advanced its status as a Hispanic Serving Institution," said David Volk, Professor of Music and Director of Honors and Leadership.
The CSU-Pueblo Chamber choir held numerous fundraising efforts including a crowd funding initiative hosted by the CSU-Pueblo Foundation before they left. These efforts helped defray the cost of airfare for the 35-member chorus.