Foundation Receives Gift to Benefit Nursing and Athletics Programs
Release Date: February 27, 2019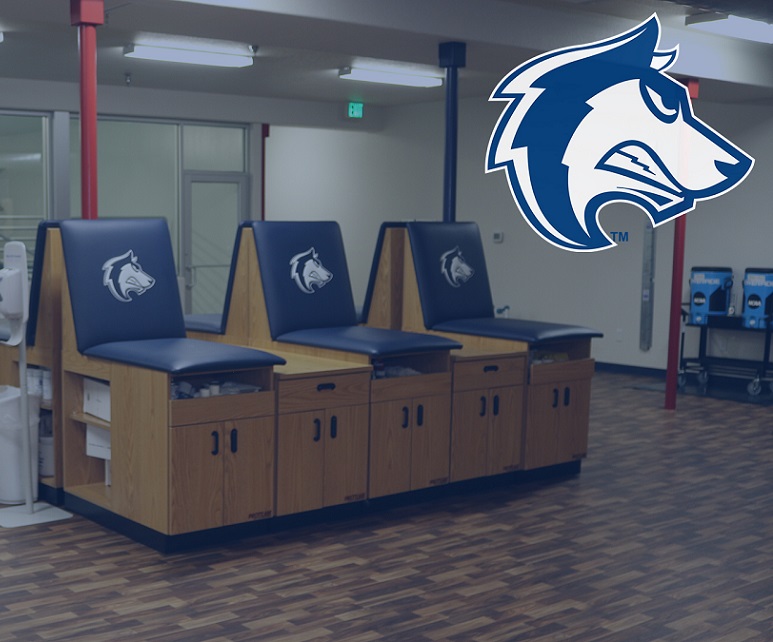 The Colorado State University-Pueblo Foundation received a combination of gifts from the Parkview Health System. Proceeds from these gifts will go towards helping increase the number of nurses with advanced degrees in Southern Colorado and making Parkview Medical Center the exclusive medical provider of CSU-Pueblo Athletics.
Parkview Medical Center will provide CSU-Pueblo Foundation with a three-year gift to support the CSU-Pueblo School of Nursing and Health Sciences. Funds will go towards student scholarships, and faculty and staff salaries needed to provide additional nursing programming.
"Parkview Medical Center is proud to continue this investment into the development of nurses in Pueblo and Southern Colorado," said Parkview President and CEO Mike Baxter. "Training nurses and keeping them here in our community is good for the local health industry and Parkview Medical Center, it's good for the university and it's good for the Pueblo economy."
The goal of this collaborative effort between CSU-Pueblo and Parkview Medical Center is to increase graduates with advanced training in nursing specialties. This will be accomplished by converting two part-time faculty positions to full-time, providing faculty development for doctorate nursing faculty, funding a simulation technician for the simulation lab, and nursing student scholarships. This gift allows the University to train, educate and ultimately graduate more nurses with advanced degrees in the Pueblo community and Southern Colorado.
"We are very proud of and grateful for our partnership with Parkview Medical Center that allows us to optimize our ability to develop and place high-quality nurses and health professionals in our community," said CSU-Pueblo President Timothy Mottet. "Together, we are working hard to address the nursing shortage in our region,".
"Parkview Medical Center recognizes the importance of fostering strong community partnerships in Pueblo and Southern Colorado and what better way to back the Pack than to support CSU-Pueblo athletics with our outstanding orthopedic surgeons," said incoming Parkview CEO and President Leslie Barnes. "We look forward to strengthening the ties between our two Pueblo institutions."
CSU-Pueblo Associate Dean of Nursing Joe Franta said, "Parkview Medical Center's generous support continues to be a driving factor in excellence in nursing at Colorado State University-Pueblo. RegisteredNursing.Org ranked Pueblo's RN program as one of the top five best in Colorado. A key factor of receiving this ranking is the collaboration between CSU-Pueblo and Parkview Medical Center for ongoing quality improvement initiatives that focus on better healthcare for the Southern Colorado region. Parkview Medical Center's support to CSU-Pueblo is a gift that truly carries forward to excellence in the healthcare profession."
The partnership with CSU-Pueblo Athletics ensures student athletes have top-quality medical providers at the newly branded Parkview Medical Center Sports Medicine Facility, formerly the Massari and ThunderBowl Athletic Training Rooms.
"Our continued partnership with Parkview also ensures that our athletes get the health care they need while also elevating the profile of CSU-Pueblo Athletics in the region," said Mottet.
The three-year gift to CSU-Pueblo Athletics will fund additional staff to benefit all student athletes. Parkview Medical Center physicians will continue their outstanding services and support to ensure the health and well-being of student athletes is met in each sport.
"We are very excited to announce this elevated partnership with Parkview Medical Center," said CSU-Pueblo Director of Athletics Paul Plinske. "This sponsorship will enable us to build on a long-standing partnership that will help us expand the services provided to our student-athletes," added Plinske. "This is an essential part of our strategic plan which will yield a combination of financial support and medical expertise that will benefit our 22 varsity programs while ensuring that student-athlete health and well-being are paramount in all we do."
Colorado State University - Pueblo is a regional, comprehensive university emphasizing professional, career-oriented, and applied programs. Displaying excellence in teaching, celebrating diversity, and engaging in service and outreach, CSU-Pueblo is distinguished by access, opportunity, and the overall quality of services provided to its students.