CSU-Pueblo CIS CyberWolves Continue National Cyber Security Performance Rankings
Release Date: January 25, 2019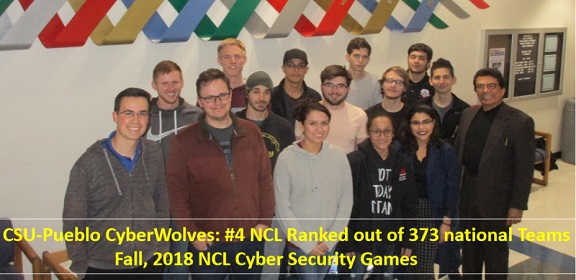 CSU-Pueblo CIS CyberWolves Continue National Cyber Security Performance Rankings
For the third straight season, nationally ranked CSU-Pueblo CyberWolves continued their "howling success" in the Fall National Cyber League (NCL) cybersecurity games by once again placing among the top 10 cyber security teams in the nation. The CyberWolves competed on two major NCL challenges: The NCL Regular (Individual) games and the NCL Post-Season (Team) game with great success.  
In the NCL Team Games, CSU-Pueblo entered three cyber security teams. Out of the three-teams entered, the "Red Team" finished No. 4 in the nation and No. 3 in the Gold Bracket. "Every member of the CyberWolves performed outstandingly with some of the best NCL teams in the nation. It was a fight to the finish with three other national cyber security teams!" added Mejias. The CSU-Pueblo CyberWolves were only 10 points away (out of 3,000 pts.) from the No. 1 rank in the nation.
For the Individual games, the CSU-Pueblo CyberWolves placed five players among the top 175 positions out of 3,320 NCL players from 373 different University teams. Mark Detrick was ranked No. 34 in the nation followed by No. 57 Alex Marck. Ryan Garbars, Joseph VonFeldt, and Josh Greer also placing among the top 175 national NCL Players. 
The CSU-Pueblo "Red Team" finished with a three-way tie with two other University NCL teams for second place in the nation but came in fourth place as the CyberWolves were only 1.22 percent lower in the "Accuracy" Index (87.59 percent) than the other two schools with 88.81 percent and 88.19 percent.
According to the National Cyber League, which was founded in 2011, its mission is 'to provide an ongoing virtual training ground for participants to develop, practice, and validate their cybersecurity knowledge and skills using next-generation high-fidelity simulation environments.'
Categories for the Fall 2018 NCL competition included open source intelligence, cryptography, password cracking, log analysis, network traffic analysis, wireless access exploitation, scanning, web application exploitation and enumeration and exploitation.
The CyberWolves team members included (1st row: David Salay, Brandon Carlsen, Sophia Montoya, Rochelle Henry, Gabrila Garcia-Greer, Dr. Mejias, (2nd row: Jared Streed, Eric Tifanny, Joseph VonFeldt, Ryan Garbars, Max Diaz-Soto, (3rd Row: Mark Hedrick, Raul Reyes, Alex Marck, Hunter Stevens). Not pictured, are Josh Greer and Steve Ullman (now at the University of Arizona's nationally ranked graduate program in Cyber Security).
"We could not be prouder of our CSU-Pueblo CyberWolves," said CSU-Pueblo Associate Professor of Computer Information Systems and Director of the Center for Cyber Security Education and Research (CCSER) Dr. Roberto Mejias.
To learn more about the study of cybersecurity at Colorado State University-Pueblo, visit www.csupueblo.edu or call 719-549-2155.
Colorado State University - Pueblo is committed to excellence, setting the standard for regional comprehensive universities in teaching, research, and service by providing leadership and access for its region, while maintaining its commitment to diversity.