CSU-Pueblo Foundation to host 3rd Annual Give Day as part of Homecoming activities
Release Date: September 18, 2018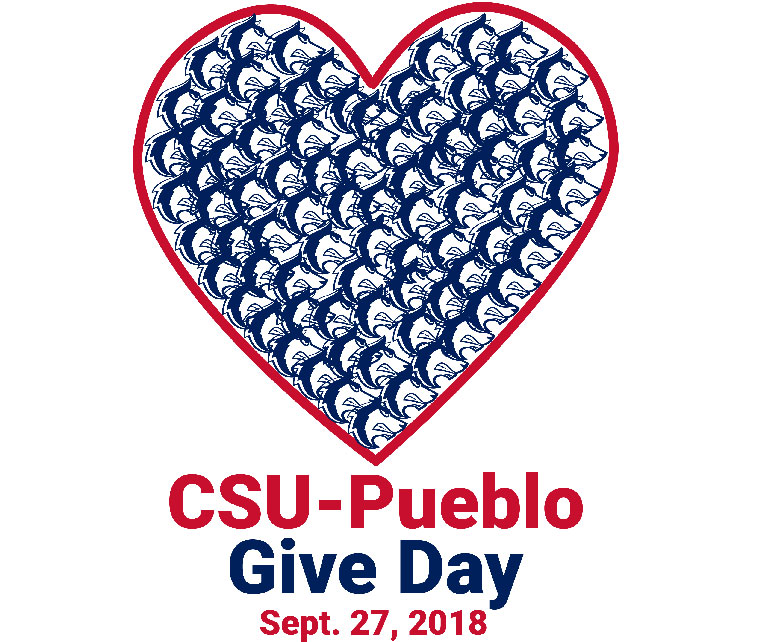 CSU-Pueblo Foundation to host 3rd Annual Give Day as part of Homecoming activities
PUEBLO -- The Colorado State University-Pueblo Foundation will host the Third annual #LoveCSUPueblo Give Day as part of Forever CSU-Pueblo Homecoming week activities on Thursday, Sept. 27. Give Day will be a concentrated crowdfunding effort, allowing donors to support one or more of 23 campus-wide initiatives.
CSU-Pueblo Foundation utilizes crowdfunding to raise money for CSU-Pueblo students, academic programs and departments, athletic programs, and student organizations. The goal of the day is to have 700 individuals donate to CSU-Pueblo within a 24-hour timeframe. The crowdfunding method allows individual projects an opportunity to increase visibility and raise small amounts of money from a large number of people.
CSU-Pueblo Foundation solicited interest for project fundraising from all university colleges and departments. Twenty-three individual funds have been established, seeking support for the following campus initiatives:
Administrative Professional Council Textbook Scholarship Fund - The Administrative-Professional Council (APC) scholarship fund is intended to support the efforts of administrative-professional employees' children, spouses, and dependents to afford a college education.
ASCE Concrete Canoe Competition - The students of The American Society of Civil Engineers (ASCE), are attempting to design and construct a concrete canoe. It will be a life-size canoe, capable of racing, made completely of concrete. Donors are encouraged to give through financial donations, or offering a helping hand in the construction phase of the project.
Voices of the Colorado Chicano Movement Oral History Project - Donations will make Chicano activist oral histories available as streaming video on the CSU-Pueblo website.
Associated Student Government Emergency Fund - This campaign will help fund the ASG Emergency Fund. This fund takes student applicants who have experienced unexpected financial situations.
 "The Wolfies" Pack Athletics Student-Athlete Banquet - "The Wolfies" is a department-wide student-athlete banquet. Gifts received will help offset the cost of the meal for the student-athletes.
Automotive Industry Management - Driven to succeed in a highly demanding career path requires the newest technology, equipment and instruction. Through donations, AIM can update these technologies and needed resources.
Chemistry Club Scholarship Fund - Support chemistry students ability to participate in scientific meetings and conferences to help transform a student's career trajectory.
Classified Staff Student Scholarship Fund - The Classified Staff Student Scholarship fund donates up to $4,000 per year to family members of Classified Staff who are attending classes at CSU-Pueblo. This scholarship will help students with the cost of their tuition and/or books for the year.
Career Closet - Career Closet is a program established by the Career Center that allows CSU-Pueblo students to obtain business attire from a wide selection of clothing donated by CSU-Pueblo faculty, staff, alumni, and other professionals. Students will get tips on how to dress to impress.
Observatory: Gateway to Space - The CSU-Pueblo Observatory is a unique resource to students, astronomy laboratories, faculty and the community that is seeking funds to complete needed maintenance and updates.
Search and Rescue Equipment - Financial support will help the CSU-Pueblo Search and Rescue Team purchase rescue equipment and ensure continued service to Pueblo County.
Hasan School of Business Study Abroad Opportunity Fund - The Hasan School of Business believes that our students should travel and experience other countries, cultures, and business practices.
Academic Excellence: Bob Mitchell Memorial Scholarship - Contribute to student success through history internships and honor Bob Mitchell, co-founder of the Colorado Mental Health Institute at Pueblo Museum.
International Scholarship Fund - Funds will be raised in support of international students and their study costs associated with attending Colorado State University-Pueblo.
Lambda Chi Alpha Philanthropy Project - Funding raised through this campaign will go towards philanthropic efforts and projects initiated by the fraternity.
Mass Communications: Student Journalism - The Today, the student-run newspaper and online news site at CSU-Pueblo, must raise printing costs for its bi-weekly publication.
Southern Colorado Association of Nursing Students (SCANS) - SCANS gives back to nursing students through a variety of events including; speakers, workshops, and educational opportunities. This fundraising initiative enables SCANS to provide beneficial services to student nurses and the medical community.
Pack Pantry - The mission of the Pack Pantry is to alleviate food, hygiene, and school supply hardship on the CSU-Pueblo campus by providing emergency food, hygiene items, and school supplies to CSU-Pueblo students, faculty and staff in need.
Smithsonian Internship - The Smithsonian Internship allows CSU-Pueblo students to experience hands-on learning at the Smithsonian Institution in the summer.
Student Veterans of America Home of Heroes Scholarship - Student Veterans of America at CSU-Pueblo are raising money for the "Student Veterans of America Home of Heroes Scholarship."
CHASS Helping Hands Fund* - The CHASS Helping Hands Fund provides monetary assistance to students in the college who face unexpected financial hardships.
CSU-Pueblo General Scholarships* - Raising funds to provide financial assistance to CSU-Pueblo students.
CSU-Pueblo Annual Fund* - The CSU-Pueblo annual fund concentrates on raising unrestricted monies to support CSU-Pueblo students and University priorities.
* Campaign not eligible for matching funds
"Once again, CSU-Pueblo Foundation is very happy to host Give Day to our students, faculty and staff, and provide individuals an opportunity to show why they love this great University," said CSU-Pueblo Foundation President/CEO Todd Kelly. "This year, Give Day features 23 campus-wide projects, each striving to increase the number of donors and dollars raised from last year's Give Day totals, which were unprecedented. The first 20 initiatives submitted for Give Day, thanks to the financial support of the CSU-Pueblo Foundation Board of Trustees, will once again be matched dollar-for-dollar up to $1,000 per campaign, with other bonus incentives intended to promote giving from a wide-array of donors, including, most overall donors, most alumni donors, most student donors, most faculty/staff donors, and most donors outside of Pueblo County."
The CSU-Pueblo Give Day will be the third time the CSU-Pueblo Foundation has utilized crowdfunding as a fundraising tool. The crowdfunding website will be open to donors all day, in the hopes that students, alumni, faculty, staff, and friends of the University will show their love of CSU-Pueblo by supporting the highlighted fundraising initiatives.
To view campus initiatives, to donate, or to obtain more information, visit https://giveday.csupueblo.edu/. All proceeds generated will fully and directly benefit the indicated project.
Colorado State University-Pueblo is committed to excellence, setting the standard for regional comprehensive universities in teaching, research, and service by providing leadership and access for its region, while maintaining its commitment to diversity.
--CSU-Pueblo--