Six students to intern with Smithsonian Institution
Release Date: April 23, 2018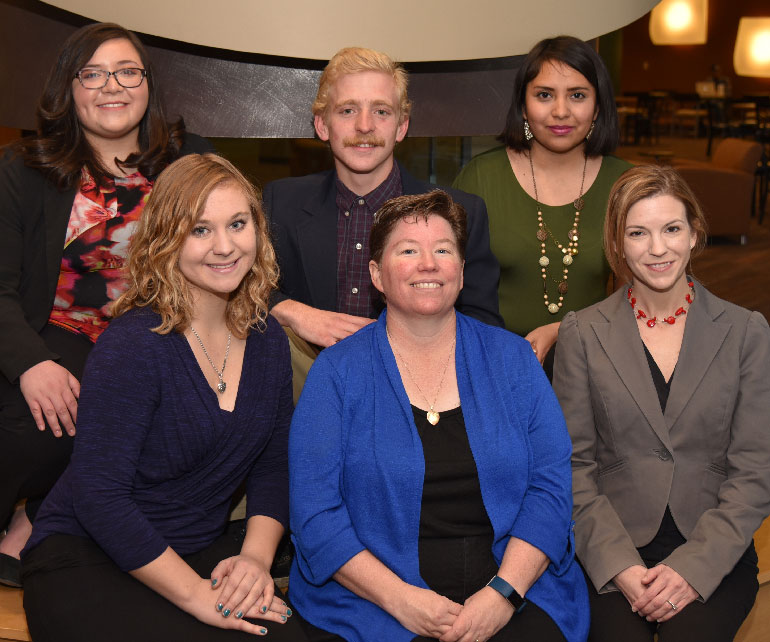 2018 Smithsonian Interns Announced at Colorado State University-Pueblo
PUEBLO –Six Colorado State University-Pueblo students will spend a month or more this summer in Washington, D.C. as interns with the Smithsonian Institution. Students will intern at the National Museum of Natural History, National Museum of American History, the Natural Portrait Gallery, as well as the Hirshhorn Museum & Sculpture Garden, and the Smithsonian's Office of Advancement. Three of the six interns have been invited to expand their stay for an additional 4-6 weeks.
Diana Rios Martinez, a junior political science and Spanish major from Brighton, will work with the Program in Latino History and Culture and Civic Engagement Projects at the National Museum of American History as a facilitator of Interactive Carts on Latino Immigration. Martinez is a first generation student who serves as secretary of the Political Science Club and a member of the English Club. While at CSU-Pueblo, she has held a work study position since 2015 as an office assistant with the TRiO programs. She hopes eventually to work with individuals on their naturalization process, inspired by her own parents' journey to become U.S. citizens. At the Smithsonian, Martinez will engage in conversations with the public about the objects in the carts, make connections to the visitors' own family immigration experiences and facilitate learning about the rich diversity of immigrant communities. In addition, she will assist with the web production of a new nationwide curricula project, identify online collections, and assist with research, editing, and outreach. She will assist with producing naturalization ceremonies, citizenship seminars, and creating new teaching resources for new citizens.
"My parents traveled far, so I could travel further," Martinez said.
Michele Bedard, a senior graduating in August, is a mass communications major with a minor in non-profit administration. This non-traditional, first generation student is a wife and the mother of four young boys. Originally from Paris, Texas, she has lived in Pueblo for the past decade. Bedard is a former adjunct instructor at Pueblo Community College and current Pastry Chef operating the dessert program for local restaurant Twenty One Steak. Bedard also works as an office assistant for the Center for International Programs and managing editor for the Global Leader's newsletter, Pack Global News. While at CSU-Pueblo, Bedard has earned the Virginia E. Ullmann Academic Scholarship and maintained a 4.0 GPA. This spring, she will be inducted into two honor societies, Sigma Alpha Pi and Pi Gamma Mu.                
She has presented and had published her undergraduate research on "Fake News in the Media," with Professor Dr. Samuel Ebersole. She plans to pursue a master's degree in communications and media management. Bedard is an active volunteer in the community, assisting with the Pueblo Chili and Frijoles competition chili judging for the past five years. She also participates in fundraisers such as the YWCA's Chocolate Indulgence and Posada's Juleps and Jodhpurs in various capacities. Bedard has been offered an internship in Online Marketing and Fundraising in the Office of Advancement, which oversees fundraising efforts for the entire Smithsonian. Bedard will learn how an Online Fundraising team is run - from the day-to-day fundraising and cultivation messages, to running long-term acquisition, cultivation, and fundraising campaigns from start to finish.
Spencer Little is a sixth-generation Cañon City resident studying history with a minor in anthropology. Little will be interning at the National Museum of Natural History. This Spring, Spencer is an intern at the El Pueblo Museum, after working the previous semester with State Archaeologist Dr. Holly Norton on the excavation of the trading post. A founding member of the Indigenous Student Association on campus, Spencer boasts diverse hobbies, including paleontology, painting, and driving. After graduating in December, he will pursue a master's degree in Public Archaeology from the University of New Mexico. At the Natural History Museum, he will work on Q?rius: a first-of-its-kind interactive and experimental learning space for the natural sciences. Q?rius will be used to connect the Smithsonian's natural science resources to visitors. Little will learn best practices of education collections management and communicating science concepts through collections based interactions.
Dawn Carver, a senior history major and Italian minor from Reno, Nev., will attend graduate school studying Classics following graduation in May. Carver will intern with the Recovering Voices Program, working with the Assistant for Collections in the Department of Anthropology at the National Museum of Natural History. A non-traditional, first generation student, she served in the Air Force for six years. Her Air Force service in Germany, Saudi Arabia, England, Italy, and Romania brought about a  love of history. For the last two years, she has been the President of the CSU-Pueblo History Club and the Alpha Theta Kappa Chapter of the National History Honor Society (Phi Alpha Theta). At the Smithsonian, Carver will assist with a community research visit and create a follow-up digital packet. The community group is coming from Hawai'i and New Zealand as part of the Community Research Program. The Recovering Voices Community Research Program makes the collections and archives of the Smithsonian accessible to indigenous communities who are working on language and/or knowledge revitalization projects. Most community visits are video recorded to document the research for the community's purposes. The packet the intern will be responsible for creating centers around processing of the video and associated research materials. Carver will assist during the research visit and create content for the web about the visit.
Pueblo native  Alyssa Vargas-Lopez  graduated from Dolores Huerta Preparatory High while simultaneously earning an Associate of Arts degree from Pueblo Community College in May of 2017 with cum laude honors. She is studying sociology at CSU-Pueblo pursuing a double minor in anthropology and honors. She will intern with the Youth and Family Programs and the National Portrait Gallery (NPG). She will gain firsthand experience with in-gallery teaching, planning and executing public programs, working with multi-generational audiences and immigrant communities, and developing lesson plans for family programs based on art in the National Portrait Gallery collection.
She began her college career at the age of 14 in the early college program and now at 19 years old, she has decided to continue her education at CSU-Pueblo and is a first semester senior. Alyssa's extracurricular activities include participating in the Pueblo Police Explorers, representing the CSU-Pueblo Sociology/Criminology Club as their Treasurer, partaking in the CSU-Pueblo Indigenous Student Association, interning at the El Pueblo History Museum, working at the Buell Children's Museum as an educational assistant, and is collaborating with members of the Rawlings Library, El Pueblo History Museum, and CSU-Pueblo community to create an exhibit about women at the Pueblo Chemical Depot in the 1940s. After graduation, Vargas- Lopez aspires to continue her education by obtaining her graduate degree in museum studies.
Hannah Higgs is a Liberal Studies major with minors in Education and Leadership Studies. Higgs will serve as an Art Mentor Apprentice in the ARTLAB Drop-in center at the Hirshhorn Museum & Sculpture Garden (HMSG). She will help to supervise and guide teen participants on creative arts projects and support staff with planning special events. She will acquire skills in the following areas : project management, lesson plan development, Adobe Creative Suite, behavioral management strategies, event planning, adolescent development, mentoring and teaching multiple students of varying learning levels as well as digital media genres: film, videography, music production, photography, illustration, 3D printing, coding and studio recording. Higgs served as a Senator for the College of Engineering, Education, and Professional Studies for the Associated Students' Government and a member of the President's Leadership Program and Teacher Education Association. She teaches sixth grade math in La Junta while finishing her bachelor's degree. Once completed, she plans to pursue a master's degree at West Texas A & M.
The Smithsonian partnership provides a tremendous option for donors and potential donors to the CSU-Pueblo Foundation, who are seeking to directly impact students. Individuals interested in contributing to this fund should call the Foundation at 719-549-2380.
For more information on the interns or the Smithsonian partnership, contact Dr. Fawn Amber Montoya, director of the Honors Program, at fawnamber.montoya@csupueblo.edu, or Dr. Jonathan Rees, professor of history, at jonathan.rees@csupueblo.edu.
Colorado State University-Pueblo is committed to excellence, setting the standard for regional comprehensive universities in teaching, research, and service by providing leadership and access for its region, while maintaining its commitment to diversity.
--CSU-Pueblo--