Bass Fishing Team wins state title, qualifies for nationals
Release Date: March 29, 2018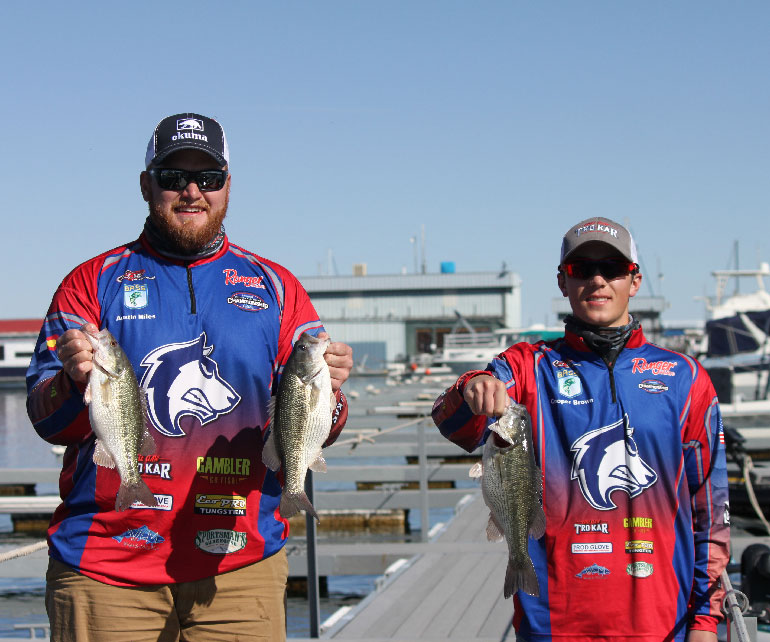 CSU–Pueblo Bass Fishing Team qualifies for 2018 Bass Pro Shops National Championship
PUEBLO, CO -The Colorado State University-Pueblo Bass Fishing Team qualified for the 2018 Carhartt Bassmaster College Series National Championship presented by Bass Pro Shops for the first time since the team's inception in 2015. The championship will be held on Lake Tenkiller in Tahlequah, Oklahoma from July 19-21.
Team President Austin Miles, senior exercise science major from Durango, and Cooper Brown, club vice president and freshman business major from Pueblo West, secured the team's top ranking in the 2018 Colorado B.A.S.S. Nation College tournament held on Pueblo Reservoir on March 17-18.
The home field advantage helped the CSU-Pueblo Bass Fishing team land a two-day total of a whopping 14 lbs. 6oz. Second place CSU-Fort Collins netted a two-day total of 2 lbs 6 oz. They also defeated anglers from Fort Lewis College and Colorado Mesa University.
"Even on our home lake, it was not easy to catch (fish) with water temps ranging from 39 to 43 degrees. . . but with hard work, and good teamwork, we figured out a pattern," Miles said. "It was a huge honor being a part of the first ever college tournament in Colorado. To come away with the win is truly awesome."
In order to fund their trip to Oklahoma for the national championship, Miles and his teammates created a GoFundMe with a goal of $2,000 to pay for the trip's expenses. The page can be found at https://www.gofundme.com/csu-pueblo-bass-team-travel-cost or on the team's Facebook page.
"Whether it is a $1 donation or $100, anything helps, and our team will be thankful for your donation!" Miles wrote on the GoFundMe page.
For more information about the CSU-Pueblo Bass Fishing team, contact Bill Moorman, assistant director of student recreation, at bill.moorman@csupueblo.edu. 
Colorado State University-Pueblo is committed to excellence, setting the standard for regional comprehensive universities in teaching, research, and service by providing leadership and access for its region, while maintaining its commitment to diversity.
--CSU-Pueblo--