Plinske to lead Department of Athletics
Release Date: March 27, 2018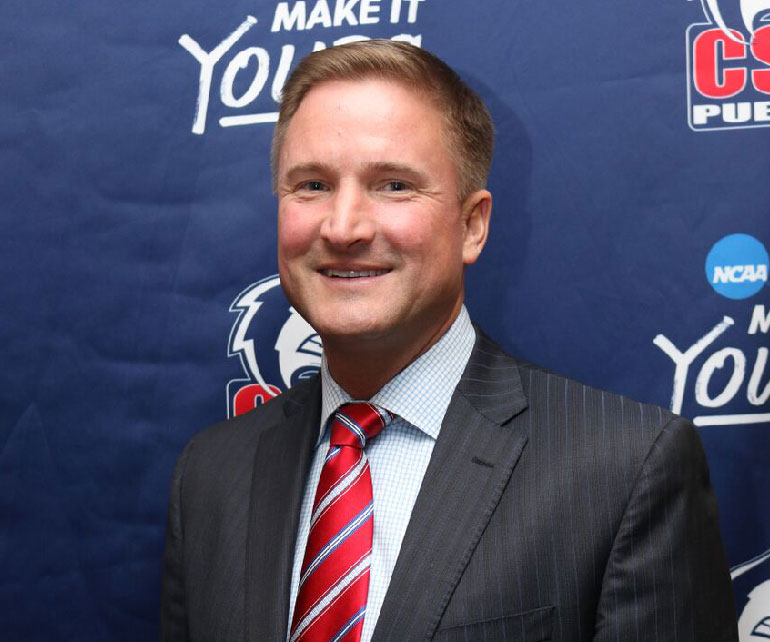 Dr. Paul Plinske to lead Department of Athletics at Colorado State University-Pueblo
PUEBLO – A respected leader in NCAA Division II and III athletics with more than 15 years of experience managing collegiate athletic programs has been named the next Athletic Director at Colorado State University-Pueblo. CSU-Pueblo President Timothy Mottet has announced that Dr. Paul Plinske, current Director of Athletics at the University of Nebraska-Kearney, will oversee the athletics program at CSU-Pueblo beginning May 20.
"Plinske emerged as the clear front runner in a competitive national search," said Mottet. "He is nationally recognized as a leader in DII athletics who bridges athletic and academic cultures into a singular university culture of excellence. He has enhanced the athletic profile of each university where he has had the opportunity to lead."
A search committee of nine individuals including faculty, staff, coaches, student athletes, and two community members vetted more than 100 applications from across the country. Since 2013, Plinske has been the Director of Athletics at the University of Nebraska-Kearney, a 17-sport NCAA Division II program with 55 coaches and staff and 435 student athletes. From 2004-2013, he led the Department of Athletics at the University of Wisconsin-Whitewater, an NCAA Division III program serving 650 student athletes. He also served as Associate Director of Athletics at the University of Wisconsin-La Crosse for five years.
In his 15 years managing collegiate athletics, Plinske has a record of enhancing student athletes' academic success through increased GPAs and improved graduation rates as well as attracting, developing, and retaining award-winning coaches. As athletic director, he has experienced nine national championships, nine national runner-up finishes, 13 national coach of the year honors, and 36 conference coach of the year honors. In addition, Plinske has shown the ability to increase corporate sponsorships and partnerships, as well as increase attendance by enhancing spectator engagement and the fan experience. At both Nebraska-Kearney and Wisconsin-Whitewater, he raised more than $20 million in private donations and corporate sponsorship support and managed major athletic facility renovations.
"I am honored to be named director of athletics at CSU-Pueblo," Plinske said. "I will work tirelessly to establish a unified culture that will proudly represent a first-class institution while bolstering student-athlete academic performances, competing for championships, and engaging in meaningful community endeavors."   
Plinske thanked search committee chair and Vice President for Finance and Administration Karl Spiecker, the search committee and members of the campus and community for thoroughly engaging in search process. He also expressed his appreciation of President Mottet for his commitment to elevating CSU-Pueblo athletics.
"President Mottet's vision for the University and his commitment to the future success of ThunderWolves Athletics makes this opportunity incredibly appealing," Plinske said. "I look forward to working collaboratively with University faculty and staff, the Pueblo community, and all Pack alumni and fans to establish a high impact student-athlete experience in one of the best Division II athletic departments in the country."
Mottet described Plinske's leadership as disciplined and principled.
"Dr. Plinske develops people to their fullest potential and inspires others by setting high standards, holding others accountable to expectations, supporting and developing them, and celebrating and rewarding their success," Mottet said.   
A published researcher, Plinske serves as a board member on the DII Athletic Directors Association (D2 ADA) and is an active member of the American Football Coaches Association (AFCA), National Football Foundation (NFF), National Association of Collegiate Directors of America (NACDA), and Women Leaders in College Sports.
He earned a bachelor's degree in physical education at Bethel University (St. Paul, Minn.), a master's degree in kinesiology/athletics administration from the University of Illinois, and a Ph.D. in kinesiology/athletics administration from the University of Minnesota.   
"Our Department of Athletics is ready for Dr. Plinske's leadership," Mottet said. "We have evolved in many positive ways under Athletic Director Joe Folda, but we are ready for punctuated evolution under Dr. Plinske's leadership."
Plinske signed a four-year contract with an annual salary of $135,000, which ranks third highest in the Rocky Mountain Athletic Conference. He will lead a Department of Athletics that serves more than 500 student athletes and 22 athletic teams, including a $7.7 million budget.  
Colorado State University-Pueblo is committed to excellence, setting the standard for regional comprehensive universities in teaching, research, and service by providing leadership and access for its region, while maintaining its commitment to diversity.
--CSU-Pueblo--