1974 Alumnus Roni Rivera-Ashford to be honored at President's Gala
Release Date: March 23, 2018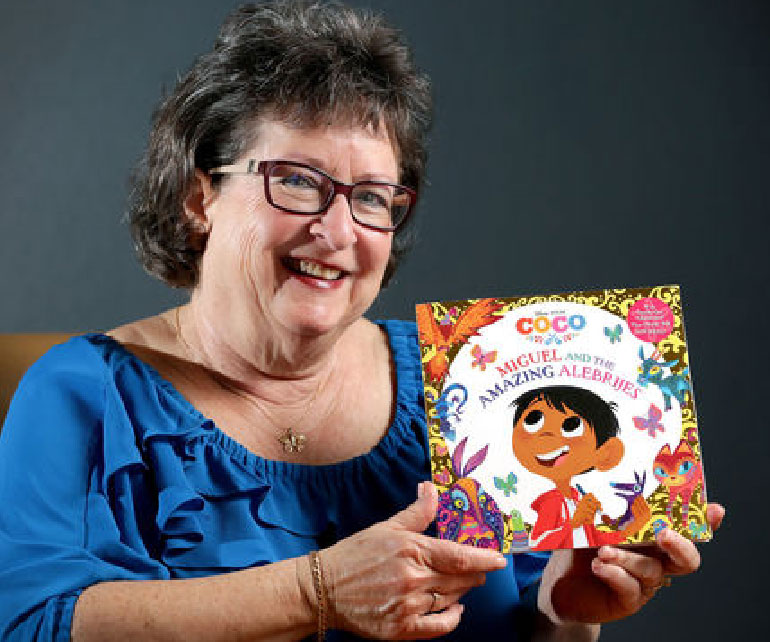 CSU-Pueblo to Honor Rivera-Ashford as Distinguished Alumnus at President's Gala
PUEBLO – An award-winning international bi-lingual author who recently penned a book based on the Pixar movie, Coco, will receive the President's Medallion for Distinguished Alumni Achievement as part of the President's Gala on May 19. CSU-Pueblo graduate Roni C. Rivera-Ashford, A74, will join long-time basketball coach and athletics director Joe Folda and Parkview Medical Center as President's Medallion recipients at the 2018 President's Gala on Saturday, May 19 in the Occhiato Student Center (OSC) Ballroom. Donors underwrite the evening's expenses, guaranteeing that all proceeds directly benefit current and future CSU-Pueblo students through scholarships and programs.
A Tucson, Arizona resident, Rivera-Ashford earned a bachelor's degree in foreign languages in 1974 at then Southern Colorado State College.  Born to a pioneering Jewish family, she grew up in Nogales, Arizona, on the U.S.-Mexico border. Roni's great-grandparents came to the U.S. as immigrants from across the ocean: France, Poland, Romania and Russia. Her stories come from her childhood days growing up in the Sonoran Desert, in a bilingual, multicultural world where she still lives and writes. During her May visit, Rivera-Ashford will participate in several literacy outreach events with the local school districts as well as book signing appearances.
Rivera-Ashford has spoken Spanish and English from birth and sometimes dreams in Spanish, too. She was a bilingual pre-school and elementary teacher and translator/interpreter for nearly 30 years. She also taught Pima College Extension night courses, earned her Librarian's Endorsement at the University of Arizona. Roni now spends some of her time presenting family literacy, cultural awareness and diversity appreciation workshops in connection with her writing.
Her stories and books have been connecting and preserving families, generations, cultures and their histories for many years. Her ability to relate to children and adults, in English as well as Spanish, is another of her gifts as evidenced by the over 75,000 books already sold. Roni's newest book, My Tata's Remedies / Los remedios de mi tata, as well as her first two, My Nana's Remedies / Los remedios de mi nana and Hip, Hip, Hooray, It's Monsoon Day! / ¡Ajúa, ya llegó el chubasco! are frequently used by teachers from Kindergarten through 8th grades, even high school. 

Roni was selected as the 2009 Winner of the Judy Goddard / Libraries, Ltd. Award for an Arizona Children's Author. Published in 2015, My Tata's Remedies received nearly a dozen national, international, and state awards, including two first-place bilingual awards from the International Latino Book Awards. It was this award that brought her children's books to the attention of Disney editors.
The 2018 President's Gala will feature classical guitar and mariachi performances as well as traditional dance from the regions of Veracruz, Sinaloa, and Jalisco by the Leyenda Dance Company's Ballet Folklorico from California. Tickets for the 2018 President's Gala are $125 per person or $1,500 for a corporate table of 8. Information on tickets, sponsorships, and corporate tables is available through the CSU-Pueblo Foundation, 719-549-2380 or at www.csupueblo.edu/gala 
About the Award:
The CSU-Pueblo Alumni Association's President's Medallion for Distinguished Alumni Achievement recognizes the outstanding accomplishments of our alumni.  Their outstanding service to their alma mater and professional achievements are considered in the nomination and selection process. Nominations are reviewed by the Distinguished Alumni Achievement Award Committee and recommendations are made to CSU-Pueblo President, Dr. Timothy Mottet for his final approval.
For a list of past distinguished alumni award recipients:  https://www.csupueblo.edu/alumni/events/distinguished-alumni-awards.html
Colorado State University-Pueblo is committed to excellence, setting the standard for regional comprehensive universities in teaching, research, and service by providing leadership and access for its region, while maintaining its commitment to diversity.
--CSU-Pueblo--