Student "Fake News" Researchers to present in France, Indiana
Release Date: February 20, 2018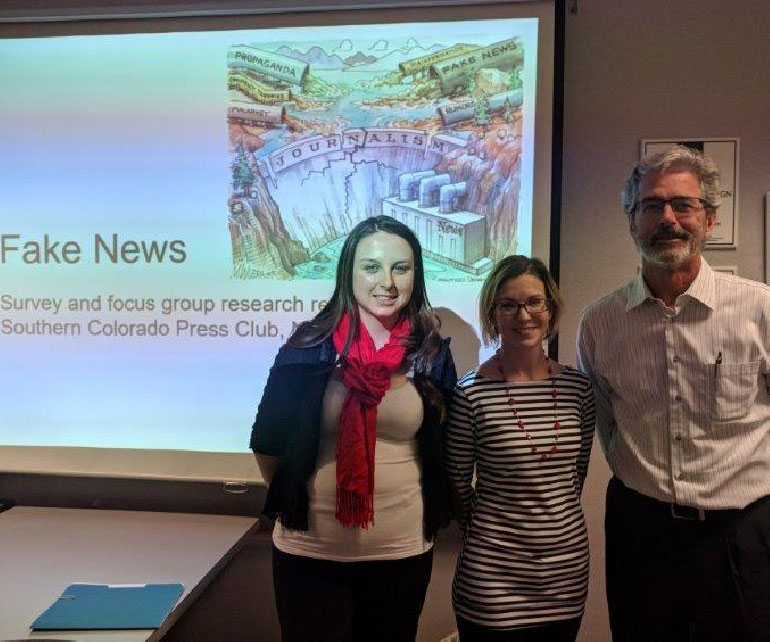 CSU-Pueblo Students to Present Fake News Research in France, Indiana in April
PUEBLO – Chianna Schoenthaler, Strasburg, Colo., and Michele Bedard, Paris, Texas, both senior mass communications majors at Colorado State University-Pueblo, have been selected to present their original research on fake news at two conferences in April -- The Web Conference 2018 in Lyon, France, and at the DePauw University Honors Research Conference in Indiana.
Schoenthaler and Bedard were members of Dr. Samuel Ebersole's Spring 2017 Audience Research and Methodologies course, which focused on fake news as a central topic for multiple research projects. Six teams of students conducted primary research (surveys, focus groups, experiments) with participants that ranged from students at CSU-Pueblo to social media contacts and members of professional communications organizations.
Their research proposal was one of 12 (out of 43) selected for oral presentation by the Misinformation Track Chairs committee for the Web Conference. Their submission also will be published in the companion volume of the Web Conference 2018. The convention is organized by the International World Wide Web Conferences Steering Committee (IW3C2). The conference provides a forum for discussion and debate about the evolution of the Web, the standardization of its associated technologies, and the impact of those technologies on society and culture.
The Journalism, Misinformation and Fact Checking track at the Web Conference accepted research papers and perspective pieces to identify new approaches to detect misinformation and propaganda on the Web and social media, as well as proposals to improve fact checking, critical thinking, information and media literacy, crowdsourcing, and societal decision-making processes. More information on the conference may be found at: https://www2018.thewebconf.org/
In addition to being selected for the convention in Lyon, the two students have also been invited to present their research at the DePauw University Honors Research Conference in Indiana. This conference gathers exemplary scholars in communications studies to share ideas with leading scholars and support undergraduate research.  https://www.depauw.edu/academics/departments-programs/communication-theatre/undergraduate-honors-conferenc/
"To say that I was shocked and amazed when we found out that the two papers had been accepted would be an understatement," Ebersole said. "The fact that their research will be published as part of the proceedings is a major accomplishment for Chianna and Michele. I don't know how often CSU-Pueblo undergraduate research is accepted to international conferences and published alongside top researchers in their field, but when it happens it is a really big deal."
Ebersole said Schoenthaler and Bedard expanded their research over the summer with four additional groups of college students, University staff members, and local media professionals. This brought their total responses to 38 focus group participants and more than 400 surveys. After analyzing the survey and focus group data, Ebersole said the project team realized it had interesting findings and began looking for opportunities to share the results. They began with a presentation to the Southern Colorado Press Club in November and then submitted to the two conferences: The DePauw University Honors Research Conference in Indiana as well as the Web Conference.
Schoenthaler is a member of the President's Leadership Program, the assistant editor-in-chief and social media content manager for the CSU-Pueblo Today, a member of the National Society of Leadership and Success, and a member of the Alpha Lambda Delta-National Honors Society. She will graduate in May 2018. Bedard is owner and executive pastry chef at Twenty-One Steak. She will graduate in August 2018.
Colorado State University-Pueblo is committed to excellence, setting the standard for regional comprehensive universities in teaching, research, and service by providing leadership and access for its region, while maintaining its commitment to diversity.
--CSU-Pueblo--