Professor Jordan Steel Earns National Award for Teaching Biology
Release Date: October 02, 2017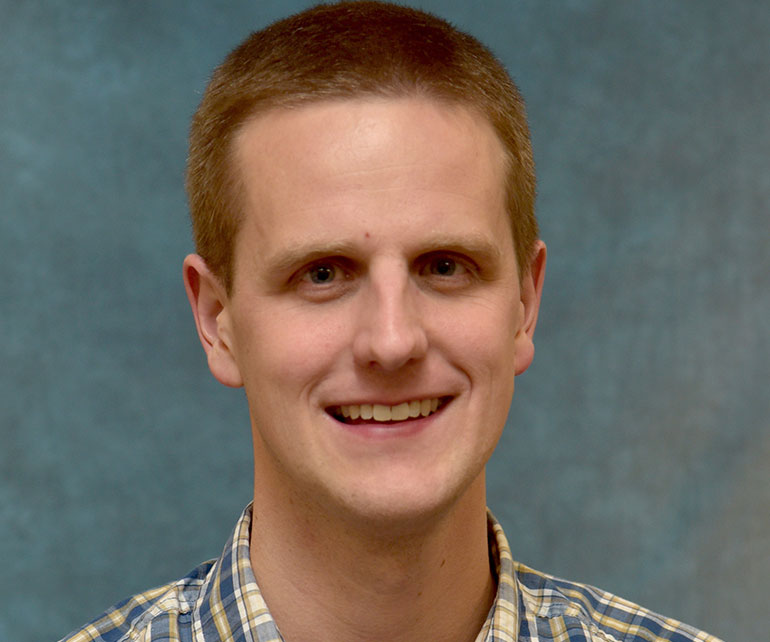 CSU-Pueblo Professor Jordan Steel Earns National Award for Teaching Biology
PUEBLO – A Colorado State University-Pueblo faculty member has been named the recipient of the 2017 National Association of Biology Teachers (NABT) Four-Year College & University Biology Teaching Award. Dr. Jordan Steel, assistant professor of biology, will receive the award as part of the 2017 NABT Professional Development Conference, November 9-12, in St. Louis, Mo. The award recognizes creativity and innovation in undergraduate biology teaching and includes a $500 honorarium, a recognition plaque, and the opportunity to present a 30-minute session about his teaching at the conference.
The National Association of Biology Teachers is the "leader in life science education." Since its inception in 1938, thousands of educators have joined NABT to share experiences and expertise with colleagues from around the world, keep up with trends and developments in the field, and grow professionally.
The four-year college and university section biology teaching award recognizes creativity and innovation in undergraduate biology teaching, which may include, but are not limited to, curriculum design, teaching strategies, and laboratory utilization; they must have been implemented and demonstrated to be effective.
According to nominator David Lehmpuhl, dean of CSU-Pueblo's College of Science and Mathematics, in Steel's first few years at CSU-Pueblo, he has taught nearly 400 students in his classes, has had nine new course preparations, and has developed a strong research program while maintaining an abnormally high level of service for a new faculty member. He serves as thesis advisor to two graduate students, serves on the committees of five more, and has also had at least 10 undergraduate students working in his group for course credit. He has to his credit at least 14 poster presentations with student co-authors while at CSU-Pueblo.
Lehmpuhl said Steel's interest and passion in following a teacher-scholar model has resulted in an article published in the Journal of Microbiology and Biology Education which outlines a highly adaptable, team-based learning project called Microbial Murders that engages students in an in-depth study of microbial diseases and is a great example of how Dr. Steel approaches his teaching. The supplementary materials provide everything needed for wide implementation and dissemination at a variety of educational levels, and his assessment data provides convincing evidence that it is an effective technique for learning the microbiology of diseases.
"This meshing of high-quality research with student involvement is exactly the type of faculty we strive to hire at CSU-Pueblo for which Dr. Steel is an exemplar," Lehmpuhl said. "His demonstrated excellence in teaching and engaging students in virology research will have a positive impact on the future of biology and solving some of the world's most difficult diseases for generations to come."
Former biology department chair Brian Vandenheuvel concurred that Steel is responsive to students, and doesn't fear trying, and sometimes discarding, different teaching and support strategies.
Colorado State University - Pueblo is committed to excellence, setting the standard for regional comprehensive universities in teaching, research, and service by providing leadership and access for its region, while maintaining its commitment to diversity.
--CSU-Pueblo--