Royalty crowned at halftime of Homecoming game
Release Date: October 10, 2017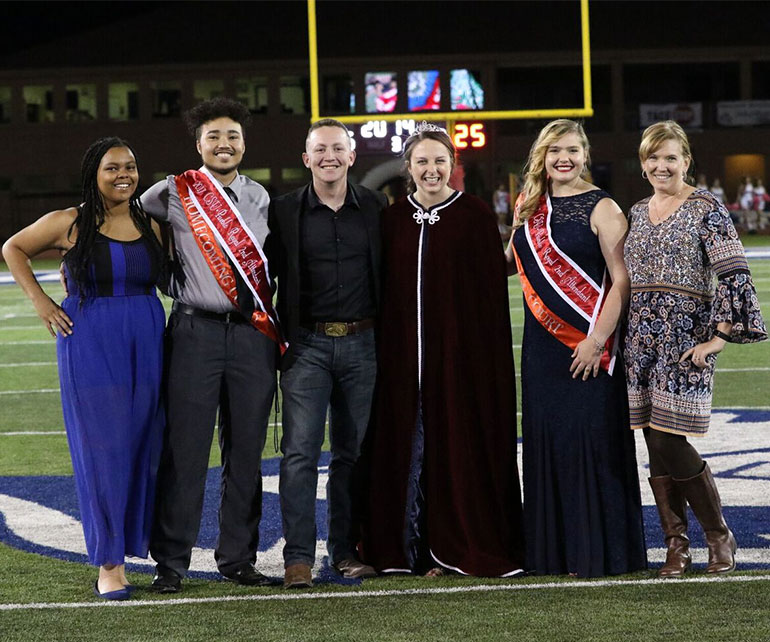 Colorado State University-Pueblo crowns royalty at halftime of Homecoming game
PUEBLO – Chianna Schoenthaler was crowned the 2017 Homecoming Royal during the 2017 Homecoming activities at Colorado State University-Pueblo, Oct. 5 to Oct. 8. Schoenthaler, Strasburg, Colo., a senior Mass Communications major, was presented with a crown and cape during halftime of the ThunderWolves 63-17 victory over Adams State in the Neta and Eddie DeRose ThunderBowl. 
The homecoming Royal is chosen based off of four factors; academics, interview, campus and community involvement, and student votes. 
Schoenthaler is a member of the President's Leadership Program, the assistant editor-in-chief and social media content manager for the CSU-Pueblo Today, a member of the National Society of Leadership and Success, and a member of the Alpha Lambda Delta-National Honors Society.
All candidates were required to attend Homecoming activities, including the Howlin' House Party and pep rally on Friday as well as the student tailgate and game on Saturday.  Tom and Vivian Hall, owners of Tom G. Hall Drywall, donated ceremonial robe to the CSU-Pueblo Athletic Department for use in the Homecoming coronation. 
Other royalty candidates included: 
Candidates
Ashley Jones, 1st Attendant, senior, nursing, Parker, CO
Demetrius Marrow, 1st Attendant, sophomore, mass communications, Colorado Springs, CO
Katie Cunningham, senior, exercise science, health promotion, and recreation, Aurora, CO
Irie Marquez, freshman, psychology, Denver, CO
Gabrielle Segura, sophomore, athletic training, Kingwood, TX
Colorado State University - Pueblo is committed to excellence, setting the standard for regional comprehensive universities in teaching, research, and service by providing leadership and access for its region, while maintaining its commitment to diversity.
--CSU-Pueblo—