Colorado State University–Pueblo debate competes in Missouri, Starkey Coach of Year
Release Date: September 19, 2017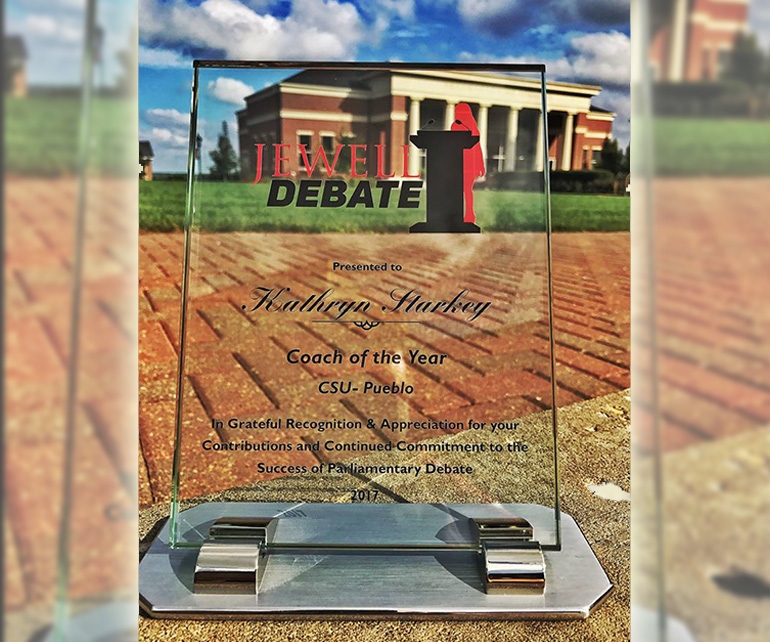 Colorado State University–Pueblo debate competes in Missouri, Starkey Coach of Year
PUEBLO –The Colorado State University-Pueblo forensics team traveled to its first invitational of the year, the Georgia B. Bowman Invitational at William Jewell College in Liberty, MO.
At the awards ceremony, CSU-Pueblo Director of Forensics Kathryn Starkey received the Coach of the Year honor from William Jewell College Director of Debate Kyle Dennis. The annual award pays tribute to coaches who focus on service to the Forensics Community.
"Georgia B. Bowman Coach of the Year Award. Kathryn is a wonderful teacher, a fierce advocate for her students, and is essential to the administration of competitive debate tournaments across the county," Dennis said. "We recognize the selfless contribution that Kathryn has made to the national community of colleges and universities involved in the NPDA/NPTE debating format."
Starkey was named National Parliamentary Tournament of Excellence (NPTE) President last March, which brought with it a significant role with tournament administration. She was asked to be the Tabulation Director at the Bowman this year, which entails managing entries, assigning rounds, and ensuring the tournament runs effectively.
The Brown Invitational tournament marked the first appearance for CSU-Pueblo team Kendall Mead (Aurora, English and secondary education major) and Brianna Heifner (Canon City, biology and secondary education major). They missed breaking to elimination rounds by one ballot, but are optimistic about the remainder of the season.
The team travels to Colorado College this weekend for the James "Al" Johnson Memorial Tournament for its second of four tournaments this semester.
 Colorado State University - Pueblo is committed to excellence, setting the standard for regional comprehensive universities in teaching, research, and service by providing leadership and access for its region, while maintaining its commitment to diversity.
--CSU-Pueblo--