CSU-Pueblo enters partnership with Smithsonian this summer
Release Date: May 12, 2016
Press Release
PUEBLO - Colorado State University-Pueblo will officially kick off a new partnership with the Smithsonian Institution this summer by sending five students to Washington, D.C. for month-long internships in June. The five students selected for the internships will work in a variety of museums and locations across the Smithsonian from June 1-July 1 as part of a partnership that began with the University's involvement with the Hispanic Association of Colleges and Universities (HACU).
According to Dr. Fawn Amber Montoya, associate professor and coordinator of the Chicano Studies program, the University has had interns in Washington D.C. in the past, funded through the HACU internship program, but this agreement regarding internships is the only one of its kind between the Smithsonian-at-large and a university in the state of Colorado.
Founded in 1846, the Smithsonian is the world's largest museum and research complex, consisting of 19 museums and galleries, the National Zoological Park, and nine research facilities. Education is at the core of its mission, providing everything from informal education opportunities to lesson plans for teachers and professional development.
Montoya said the potential for the addition of more students and extended internships exists for the future as well as tapping into support funds from HACU internships or internships paid for by the Smithsonian. This summer's interns will be funded through the Office of the President and the CSU-Pueblo Foundation. The internship program represents the start of a partnership which will expand the University's academic excellence through changes to the curriculum that incorporate pursuit of this type of professional development into coursework.
"This Smithsonian partnership addresses so many of the University's goals, first and foremost, to provide experiential education opportunities for our students so they can understand and apply the things they are learning in the classroom," said CSU-Pueblo President Lesley Di Mare. "Through interns made up of our diverse student population, we also hope to impact the writing of cultural history and to increase minority representation in museums and the archival workforce."
According to Montoya, students will be working in a variety of positions and museums. The internships include a placement at the National Museum of American History- Lemelson Center for the Study of Innovation and Invention where a student will be learning digital asset processing of digital images. One student will be mentored by the Archivist Specialist and the Registrar at the Archives of American Art, while another will help the Associate Director of Emergency Management (EM) develop Emergency Operations Procedures for the Smithsonian Museums. Two students will work together at the National Postal Museum with the School & Tour Coordinator.
"This group of students aptly represents the type of students that CSU-Pueblo produces. As I was helping to place these students in positions with the Smithsonian, I was confident that they would succeed in any area in which they were placed," Montoya said.
The following five CSU-Pueblo students/graduates will spend June in Washington, D.C. as Smithsonian interns: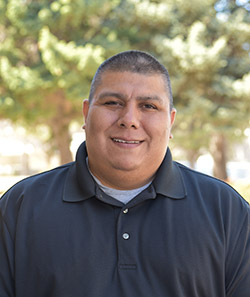 A non-traditional student from Pueblo, graduating senior and history major and Chicano Studies minor Jose Ortega has worked in the University Archives for three years and is employed part time as a digitization clerk at Rawlings Public Library. He received a Summer Undergraduate Research Project grant in the Summer of 2012. He is currently working on the La Cucaracha Oral History project, a Salt Creek memory project. Jose has recently been accepted to a graduate program I Library Science at the University of Wisconsin-Madison.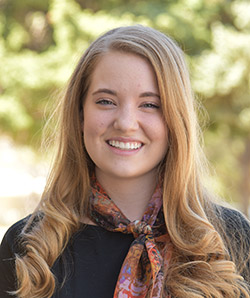 A 2012 Pueblo South graduate, Megan Petersen now keeps busy working at higher learning institutions around Pueblo. As Museum and Special Collections Coordinator at Rawlings Library, she develops educational programming, provides guest services, and helps bring special exhibits to Pueblo and its community. At El Pueblo History Museum, Megan facilitates school tours, develops outreach programs, and teaches a homesteading class to elementary school students every Friday. This schedule would be more than enough for most, but Megan still manages to maintain a 4.0 grade point average while attending CSU-Pueblo fulltime, majoring in history and minoring in mass communication. After graduation in May, Megan will pursue a graduate degree in library science. She recently was hired by History Colorado as the education coordinator at the Trinidad History Museum.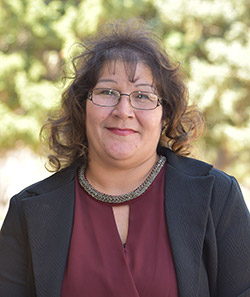 Another intern at El Pueblo History Museum, junior history major/Chicano Studies minor Dianne Archuleta is assisting the Hands-on-History Afterschool Program for school-aged children and is employed as a paralegal. She will begin volunteer service at the Pueblo Eastside Boys & Girls Club. She is a new member of the Pueblo Cinco de Mayo Committee which hosts an annual event celebrating all aspects of the Mexicoa, Indian, and Chicano history. Archuleta obtained her associate's degree in legal assisting from Pueblo College of Business and Technology in 1996. She is a paralegal at the Hassler Law Firm and worked at the Koncilja & Koncilja law firm for 12 years. The youngest of 11 children, she will be the first in her family to obtain a bachelor's degree. She is married with five children and nine grandchildren.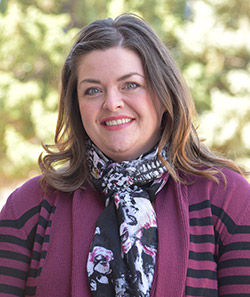 Terrin Hearst will graduate this May with a bachelor's degree in psychology and a minor in English. She is a news writer in CSU-Pueblo's Office of External Affairs. She completed her education while working a full-time job at King Soopers and serving as Union Steward for UFCW Local 7. In 2014, she completed a summer abroad program visiting Germany, Italy, Switzerland, Austria, and France.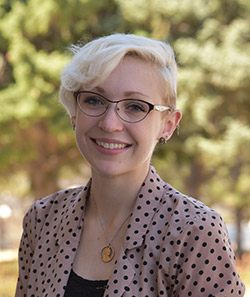 Cassidy Nemick is a third-year undergraduate student of history and Italian and a fifth-generation Puebloan, as two sets of her great-great grandparents first came from Czechoslovakia and Croatia to work in the local smelters in Pueblo. She was awarded the Kane Family Foundation Scholarship in 2013, which awarded her with a full-ride scholarship to CSU-Pueblo. She also interns at the El Pueblo History Museum, and works part-time at the Pueblo Mall GameStop. She aspires to work as a conservationist and archivist in order to preserve and maintain history for future generations.
"We feel that the best way to further this partnership is to implement resume preparation, museum exhibits, archival experience, current technologies, and a focus on the multi-cultural experience in the United States in upper division courses in the College of Humanities and Social Sciences," said Montoya. "While this type of curriculum and professional development already has been occurring at the university, it will find a permanent home in the fall of 2016 in the Chicano Labor History course and Hist 491 Special Topics."
The Smithsonian partnership also will provide a tremendous option for donors and potential donors to the CSU-Pueblo Foundation, who are seeking ways to directly impact students. Individuals interested in contributing to this fund should call the Foundation at 719.549.2380.
For more information on the interns or the Smithsonian partnership, contact Montoya at fawnamber.montoya@csupueblo.edu, or Dr. Jonathan Rees, professor of history, at jonathan.rees@csupueblo.edu
Colorado State University - Pueblo is a regional, comprehensive university emphasizing professional, career-oriented, and applied programs. Displaying excellence in teaching, celebrating diversity, and engaging in service and outreach, CSU-Pueblo is distinguished by access, opportunity, and the overall quality of services provided to its students.