Summer SEED program makes researchers out of students
Release Date: August 18, 2015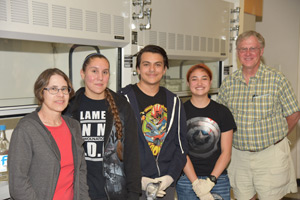 Press Release
PUEBLO – For the past few summers, faculty in the Chemistry Department at Colorado State University-Pueblo have helped to spark a passion for research among disadvantaged area high school students through Project SEED sponsored by the American Chemical Society (ACS). It is the only program of its kind being offered in Colorado this summer. 
The ACS Project SEED summer internship research program opens new doors for economically disadvantaged students to experience what it's like to be a chemist. Students entering their junior or senior year in high school are given a rare chance to work alongside scientist-mentors on research projects in industrial, academic, and federal laboratories, discovering new career paths as they approach critical turning points in their lives.
Project SEED was established nationally in 1968 to help economically disadvantaged high school students expand their education and career outlook. CSU-Pueblo Project Coordinator David Dillon said that although ACS provides no monetary compensation for the faculty who work with Project SEED students, they recognize that the program is worth their time and effort.
"The real impact of Project SEED is the experience gained by the students and the close interaction they are able to have with college faculty and more advanced students in the laboratory," he said.  "In most cases, this summer internship enables students to practice hands-on science at a level beyond what their high school peers are exposed to." 
Students enrolled in the Summer I program receive a $2,500 fellowship award, while Summer II students earn a $3,000 award and get a second opportunity to continue working on their Summer I project or begin a new one.  Additionally, students who have participated in a Project SEED research program earn a chance to receive a SEED college scholarship if they choose to major in a chemical science field such as chemistry, chemical engineering, biochemistry, or materials science. Several previous CSU-Pueblo SEED participants have earned the college scholarship and have gone on to attend CSU or other universities. 
Three Centennial High School students are studying under the guidance of Chemistry Professors Sandra Bonetti and David Dillon this summer as well as CSU-Pueblo undergraduate and graduate students. Mario Cruz is spending a second summer performing biochemical research with Bonetti, while Morgan Casarez began working in the Bonetti lab this year. Both students are evaluating the effects of iron and copper on the activity of enzymes derived from a fungus.  Likewise, Aileen Ojeda is working with Dillon to study the influence of monomode microwave irradiation on the course of several organic chemical reactions. In addition to developing laboratory, written and oral skills, they gain the knowledge and confidence that they are capable of conducting scientific research. Mentors also provide guidance, encouragement, and letters of recommendation for college.
Some SEED students later work side-by-side with professional chemists to present their research projects at ACS local, regional and national meetings, and at other scientific meetings. Dillon said presenting their summer research findings gives students exposure to chemists, engineers, and college students who review their research and motivates them to pursue science careers.​​​​
Colorado State University - Pueblo is a regional, comprehensive university emphasizing professional, career-oriented, and applied programs. Displaying excellence in teaching, celebrating diversity, and engaging in service and outreach, CSU-Pueblo is distinguished by access, opportunity, and the overall quality of services provided to its students.