White House Honors CSU-Pueblo Student as DACA Champion of Change
Release Date: June 17, 2014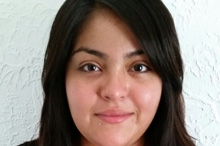 Press Release
PUEBLO – A Colorado State University-Pueblo student was one of 10 individuals honored today as a Champion of Change at a White House ceremony honoring exemplary leadership in their communities as Deferred Action for Childhood Arrival (DACA) recipients. Since applying for DACA,  they  have become "success stories and role models," the White House said in a statement about the upcoming ceremony.
Mexico City native Ana Zaragoza-Gomez, a sophomore psychology major and Spanish,  business administration, and Chicano Studies minor at CSU-Pueblo, was recognized in a White House ceremony today (Tuesday, June 17) as a DACA recipient who has served as a success story and role model in her academic and professional spheres.
According to a White House press release, these individuals "distinguished themselves through their community involvement and the hard work they put into helping other members of their academic and professional communities succeed.  This event will showcase these inspirational young leaders and highlight the importance of providing talented young people with the opportunity to realize their full potential."
The Champions of Change program was created as an opportunity for the White House to feature individuals doing extraordinary things to empower and inspire members of their communities. The event was closed to press, but was streamed live on the White House website. Zaragoza-Gomez's photograph and a brief biography appears on the White House website, https://www.whitehouse.gov/.
Zaragoza-Gomez came to America at age five along with a younger sibling. She works to promote civic participation in her community by canvassing and recruiting volunteers with Mi Familia Vota.
Other recipients at today's ceremony included: Hector Salamanca Arroyo, Des Moines, Ia; Steven Arteaga, Houston, Texas; Sarahi Espinoza, East Palo Alto, Calif.; Kamal Essaheb, Washington, D.C.; Pratishtha Khanna, Laurel, Md.; Esther Yu His Lee, Washington, D.C.; Anahi Mendoza, Santa Maria, Calif.; Dayana Elvira Torres, Arlington, Va.; and Rhustie Marcelo Valdizno, Clifton, N.J.
Colorado State University - Pueblo is a regional, comprehensive university emphasizing professional, career-oriented, and applied programs. Displaying excellence in teaching, celebrating diversity, and engaging in service and outreach, CSU-Pueblo is distinguished by access, opportunity, and the overall quality of services provided to its students.