CSU-Pueblo establishes Alpha Kappa Alpha Sorority
Release Date: January 17, 2014
Press Release
PUEBLO – The Tau Tau Chapter of Alpha Kappa Alpha at Colorado State University-Pueblo sorority became the third undergraduate chapter in the state with 13 women chartering the chapter at a ceremony last month. This brings to four the number of Greek organizations on campus, joining Latina sorority Lambda Theta Nu (chartered in 2011) as well as the  Delta Omega Zeta chapter of Lambda Chi Alpha, and the Zeta Pi Chapter of Alpha Sigma Alpha.
The Tau Tau chapter was five years in the making, according to Chapter President Jasmin Lewis, who was assisted by graduate advisor Danielle Summerville and campus advisors Angelina Perez and Jishirll Clifton. Iota Beta Omega Chapter, the graduate chapter in Colorado Springs, will oversee the CSU-Pueblo Tau Tau Chapter. Following a chartering ceremony led by Mid-Western Regional Director Maggieann W. Green on Nov. 17, the members of Tau Tau chapter participated in Probate, a coming out ceremony at which each girl performs a step and announces her name and personal name related to the sorority. The sorority already has conducted a clothing drive for Wayside Cross Gospel Rescue Mission in Pueblo as its first service project.
Alpha Kappa Alpha Sorority, Incorporated (AKA) is an international service organization that was founded on the campus of Howard University in Washington, D.C. in 1908. It is the oldest Greek-lettered organization established by African-American college-educated women. AKA is comprised of more than 260,000 members in graduate and undergraduate chapters in the United States, the U. S. Virgin Islands, the Caribbean, Canada, Japan, Germany, Korea and on the continent of Africa. Its membership is comprised of distinguished women who boast excellent academic records, proven leadership skills, and are involved in the global community through advocacy and service. More information on the sorority may be found at www.aka1908.com.
Attorney Carolyn House Stewart, the current International President of Alpha Kappa Alpha Sorority, will serve from 2010-2014. She is the first president to serve a full term in the Sorority's second century. A Tampa, Florida resident, Stewart made history becoming the first lawyer to head the organization. Her administration is driven by the theme: "Global Leadership Through Timeless Service" and will be devoted to continuing Alpha Kappa Alpha's legacy of providing "Service to All Mankind."
For more information on the new chapter, contact Chapter President Jasmin Lewis at jasminchantel@gmail.com.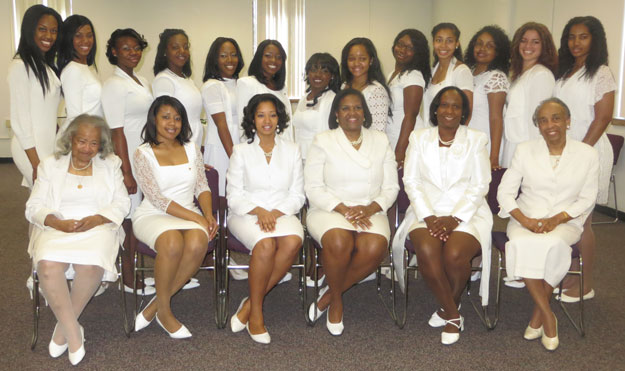 PHOTO CUTLINE (L to R): BACK ROW: Vanessa Emerson, (senior, Aurora); Jasmin Lewis, (sophomore, Aurora); Jassa Few, (freshman, Aurora); Antoinette Samuels, (freshman, Colorado Springs); Angel Smith, (senior, Colorado Springs); Samantha Cush, (freshman, Pueblo); Kacjae Barnett, (sophomore, Denver); Jibrail Dibble, (junior, Denver); Kaniesha Swain, (junior, Aurora); Candance Hawkins, (senior, Pueblo); Tantania Holloway, (senior, Phoenix, AZ); Angelica Harvey, (senior, Pueblo); Alaba Yusuf, (freshman, Aurora)
FRONT ROW: Lillian Mallory, Charter Member, Iota Beta Omega Chapter; Danielle Summerville, Graduate Advisor, Tau Tau Chapter; Shaliah Thierry, Second Vice President, Alpha Kappa Alpha Sorority, Inc.; Maggieann W. Green, Mid-Western Regional Director, Alpha Kappa Alpha Sorority, Inc.; Pandora Osler, President, Iota Beta Omega Chapter; W. Juanita Roberts, Charter Member, Iota Beta Omega Chapter
Colorado State University - Pueblo is a regional, comprehensive university emphasizing professional, career-oriented, and applied programs. Displaying excellence in teaching, celebrating diversity, and engaging in service and outreach, CSU-Pueblo is distinguished by access, opportunity, and the overall quality of services provided to its students.