Community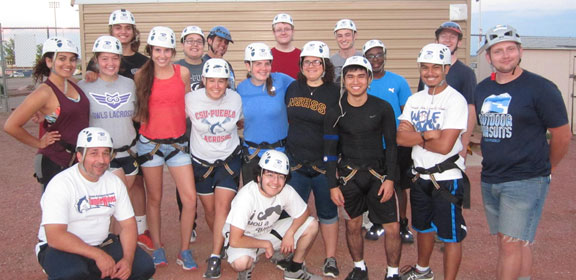 The Honors and PLP community engages students in activities beyond the classroom. Students build a community through various activities. The CSU Pueblo ropes course is a favorite of students that builds strength as a team and individual confidence. Students support each other at events that range from concerts to presentations. Joining the President's Leadership and Honors programs introduce students to a community of scholars that may not share their same discipline but share similar achievement goals.
The Honors Floor is another opportunity for students to be a part of a community. Students get the opportunity to make lasting connections with their classmates. It is a great place for a freshman to make friends since they live with others with who they share classes.
Learn more about Honors Floor
Honors Program students participate in the Red Panda "Behind the Scenes" Tour at the Pueblo Zoo as part of their Honors 101 Seminar course research. The Pueblo Zoo partners with the Red Panda Network, a field conservation group that works to save wild red pandas and preserve their habitat through the empowerment of local communities. Photo credits: Sami Labella.