Employment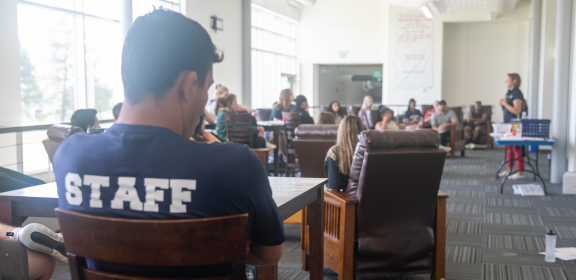 Join the RecPack
Campus jobs add value to your academic experience!
When you are hired to work at the Rec you become a member of the RecPack, our student staff training and development program. That means you get more from your time, effort, and experience than just a paycheck. Students from all walks of life make up the RecPack and it is those very students who make all the of ThunderWolf Recreation's programs, facilities, and services operate with excellence.
Each year, the RecPack recruits, hires, trains, evaluates, and recognizes Intramural officials; fitness instructors; Outdoor Pursuits facilitators; photographers; facilities maintenance; lifeguards; frontline staff; personal trainers and more! Experienced or not, you get your training and experience HERE and sometimes depending on the position, even certifications.
As a premier employment destination on campus, there is tough competition for most positions. ThunderWolf Recreation expects cover letters and resumes in addition to an application. If you are interested in applying begin preparing these materials soon to help give you that competitive and professional edge. It is recommended applicants in need of cover letter and resume assistance contact the Career Center to set-up an appointment for guidance.
Interested? Remember, applicants must attend a RecPack recruitment session for consideration as well as submit resume, cover letter and application form. General Recruitment sessions are held throughout the year; however, not all positions may be open during each hiring cycle. 
Spring 2023 Sessions*:
Monday, January 23 - 5:30PM - SRC Multipurpose Room
Tuesday, January 24 - 5:30PM - SRC Multipurpose Room
Monday, April 3 - 5:30PM & 6:30PM - SRC Multipurpose Room
Tuesday, April 4 - 5:30PM & 6:30PM - SRC Multipurpose Room
*Interested candidates only need to attend one session. Previous attendees (within the prior 12 months) do not need to re-attend but do need to email us at csup_student.recreation@csupueblo.edu for updated openings and application materials.