Sustainability at CSU-Pueblo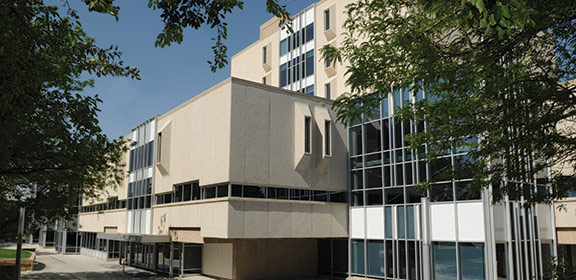 Are you interested in issues surrounding sustainability?
If so consider the
sustainability
minor
now offered at Colorado State University-Pueblo that is available to any enrolled student with a declared major.
Two of the required courses for the minor are being offered in the fall 2018 semester.  These courses are Environmental Science (CHEM 125) and Introduction to Sustainability (EN 109).
Environmental Science/Lab
(3 credits/1credit) is an overview of terrestrial and aquatic environments, the atmosphere, energy, climate change, and natural resources. Emphasis is placed on sustainability needs and challenges. This course is a guaranteed transfer (GT) course.
Course offered MTTh 9:30am to 10:50 am, Lab offered F, 12:20pm to 2:20pm.
Introduction to Sustainability
(2 credits) offers an interdisciplinary foundation for sustainability including systems theory, humans and the environments, and the social and economic dimensions of sustainability.  
Offered Wednesdays from 12:20pm to 2:10pm.
The sustainability minor will provide you with the unique opportunity to position yourself strategically in an ever-changing workforce. It will challenge you to think systemically, and globally, while shaping you to become a leader who will affect positive change. At CSU-Pueblo, three core areas in Sustainability have been identified to shape the definition of this minor and fit the teaching, research and diversity specific to this campus:
Science & Technology
Economics
Social/Cultural
All of the areas are interconnected and play an integral role in the minor while serving as guides for student selected curricular pathways.
Undergraduate Sustainability Opportunities
Please email us for more information or get start by applying today!
Apply for a Sustainability Ambassador or Community Ambassador Project
Paid Sustainability Ambassador Positions
The STEM Center for Education and Engagement  is accepting applications for student Sustainability Student Ambassador positions. The accepted students will be tasked to drive awareness for campus sustainability and campus efforts such as the "Reuse, Reduce, and Recycle" campaign. In this role, student sustainability ambassadors will reach out to and educate other students, and faculty, in classrooms as well as at campus events regarding important sustainability efforts.
Community Research Ambassador Positions
The STEM Center for Education and Engagement is accepting applications for undergraduate climate and sustainability research. Specifically, students will research climate solutions tailored for the Pueblo community with a focus on local issues such as increasing energy efficiency for low-income housing, indoor environmental air quality for Pueblo residents, and studying implementation of hybrid technologies to replace fossil fuel consumption. These outreach plans are significant because climate change solutions tend to overlook the underserved populations (nearly 20 percent of Pueblo residents live below the poverty line).
Potential Sustainability Projects for 2017 
If you are interested in any of these opportunities please fill out the application! Salaries for students are based on project deliverables.
Design Your Own
Submit your own sustainability project idea.
Supporting Successful School & Community Gardens
Work with LocalFood Pueblo to plan and implement educational gardens at local elementary schools. Cesar Chavez Academy, Ben Franklin Elementary and Minnequa Elementary are each being supported in their efforts to build meaningful curriculum around new garden spaces. This job would include research and reporting to the group on a monthly basis, as well as working hands-on as a volunteer with the schools. Your choice of qualitative, quantitative or mixed methods research or even action research is acceptable.
Community Activism – Renewable Energy with Sierra Club
The Sierra Club is leading a national movement for cities to commit to 100% renewable energy by 2030. Here in Pueblo we have recently become one of those communities on the march towards major changes. There is a rare opportunity to use education to make significant social impacts in a short amount of time. You will have a variety of ways to participate in the campaign and support this non-profit's work to raise environmental awareness and increase people's chances of making more ethical decisions. The research may include looking closely at market viability of renewable energy sources and comparing future options. It may also measure changes in public perspectives about sustainability and renewable energy technology. Policy development and writing proposals to community leaders will be likely outcomes of this study.
Promoting Recycling and Food Waste Reduction Efforts
Using last year's efforts of the ENACTUS Club and others to continue pushing policies that support recycling on campus. Giving presentations to promote recycling across the community. Analyzing options for reducing food waste streams at the college and possibly other schools, and presenting these to leaders. Planning for future educational events that will contribute to increased recycling, composting, and more.
Sustainable Construction – LEED-based Green Building Tours
Are you interested in Green Architecture and energy efficiency standards in the building industry? Construction Management students and others are invited to participate in developing and offering tours of Pueblo's LEED certified buildings as an effort to raise awareness about sustainability and climate change. Small teams of diverse students will be created to educate people about and promote best practices.
Designing Experiential STEM-based Home-school Curriculum
Help a group of mothers who are homeschooling their children by contributing to the development of a garden-related curriculum for their youngsters. Planning lessons and setting up experiments to conduct with the students will be part of the duties required of this work study position. Researching learning options and other community partnerships to develop is another part of the job. Qualitative or action research is logical. 
Eco-footprint Calculation – Raising Sustainability Awareness
Students will be collecting data from a survey developed and implemented over the past few years on campus, then analyzing for trends that can be publicly reported or used for strategic planning. Opportunity to create plan for future students to add to this research by proposing a sustainability awareness campaign.
All Pueblo Grows Seed Bank and Milagro Community Garden
There is a need for involvement at the local seed bank, All Pueblo Grows, which meets monthly at the Rawlings Library. This would include participation in the community group as well as applying clerical skills to the organization. The other opportunity here is to better understand the management of a community garden space that leases plots to individuals. Qualitative study or action research would be most logical. 
Indoor Food Production – Aquaponics and Vertical Farming
Experiential learning opportunity to study a backyard-sized unit demonstrating aquaponics – producing fish and edible leafy greens. Chance to collaborate with East High School students interested in STEM. Your choice of methodology, either quantitative (scientific approach) or action research (consulting perspective). Design and build an aquaponics demonstration unit, and document the process for the sake of evaluation. Once this project is operating sustainability, research will be done on creating a second and third demo. Budgets and proposals will be developed for the sake of grant writing to support indoor agriculture projects. Explore the innovative new technologies associated with indoor food production and vertical farming. This study offers students a chance to practice both their critical observation and reflective writing skills.
Makers' Community Event Specialist – (leading up to the weekend of May 20th)

Engineers, inventors or crafters alike will be present at the Colorado State Fairgrounds for an event meant to bring "makers" of all kinds together to share their talents and demonstrate their wares. Some pay to be vendors and make sales while others will be invited guests given space to show what they do for a living. If you are interested in helping plan and attend this event, it will be a special opportunity to help Pueblo shine.  LENSES – Project Management with a focus on sustainability
LENSES – Project Management with a Focus on Sustainability
An opportunity to learn about LENSES, a powerful facilitation tool that adds sustainability to any project.