Outdoor Pursuits
The CSU-Pueblo Outdoor Pursuits program is dedicated to providing exceptional opportunities for students, faculty, staff and members of the wider community to be inspired, equipped and prepared to embark upon life-changing adventures.
Inspire.
Whether we are facilitating team-building exercises on our challenge course, or embarking on a snowshoe trip in Leadville, Colorado, we want to help our clients connect with themselves, with those around them, and with the beauty of the great outdoors. To this end, we offer programs and opportunities that help people step beyond their normal, every-day-life activities. We educate, encourage, and engage our clients to help them move outside their 'comfort zones' into a whole new world of possibilities.
Equip.
For those who desire to get out there, but aren't sure what to do or what to take, we've got you covered; head to the Outdoor Pursuits Equipment Room in the Student Rec Center. Our student employees will happily inform clients on the best practices and procedures for safe and enjoyable outings. Our staff can also help clients decide where to go based upon their skills, interests, and needs. Once our clients have the know-how and 'know-where,' we equip them with the necessary gear. We have an excellent selection of high-quality outdoor equipment that is available for rent through co-op membership with the Equipment Room.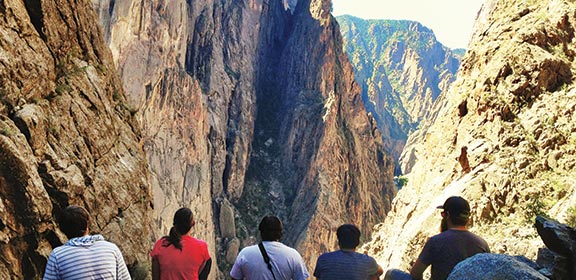 Embark.
Since 1991, we have facilitated incredible, life-changing adventures. We've introduced incoming freshmen students to whitewater rafting on the Arkansas River, enjoyed epic powder days at Wolf Creek Mountain, helped international students plan their first trip to the Grand Canyon, and taken students backpacking into the Chihuahuan desert. Every day, we strive to play a key part in getting people out enjoying the great outdoors.