Equipment Rentals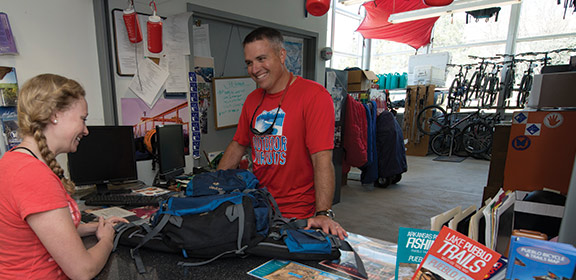 Outdoor Pursuits Equipment Room (ER) is open daily during the fall and spring semesters.
Hours: Monday through Friday - 12:30pm- 5:30pm
During Summer or University Breaks the ER is by appointment - Call 719.549.2091
We offer individual equipment rental for those interested in taking their own personal outdoor trips. There is a one-time fee to become a CO-OP member for the entire semester. Being a CO-OP member will allow the individual access to unlimited equipment rental as many times as desired.
CO-OP Memberships can be paid by cash, check, credit/debit card or via Student Charge.
Student = $40 per semester
Staff, Faculty, Alumni = $60 per semester
Community = $80 per semester
One item one time is the following
Student = $15
Staff, Faculty, Alumni = $25
Community = $35
Equipment rental is on a first come, first serve basis. Stop by the Outdoor Pursuits Equipment Room at the CSU-Pueblo Student Recreation Center to check out equipment. Gear checked out Monday-Thursday must be returned within 24 hours. Gear checked out on Friday may be kept over the weekend and must be returned by Monday at 5pm (closing time).
Late Fee Policy:
Late fees will start accumulating the day after the equipment due date. The late fees are $10 per day. After 5 days, the renter will be billed for the replacement cost of the equipment. Gear that is checked out during the week is due back by Friday at 5pm. Weekend checkouts are due back by Monday at 5pm.
RENTERS AGREE TO:
Pay CO-OP fee at the Student Rec Center (or online) prior to first equipment check out of the semester.
Be charged for the cost of repair and/or replacement of any of the listed equipment that is damaged while checked out.
Be responsible for the cost of replacing any of the listed equipment that is lost or otherwise not returned while checked out.
Fee of $10 per hour for incoming equipment in need of cleaning.
The renter is responsible for the equipment after it leaves the Outdoor Pursuits office. Equipment is checked in and cleaned after every rental.
Backcountry Oven
Backpack
Backpacker Stove
Camp Chairs
Camp Cot
Camp Stove
Compass
Cook Kit (pots/pans/utensils)
Cooler
Crampons
Daypacks
Desert Gaiters
Fishing Poles (Fly/closes and open reels) Fishing Tackle
Fuel Bottle w/ Fuel
Headlamp
Lantern
Poncho
Rain Jacket
Rain Pants
Shovels
Sleeping Bags and Pad
Snowshoes w/Poles
Tarp
Tents (1, 2, 3, 4, 5 man)
Trekking Poles
Water Jug
Crampons
Desert Gaiters
Poles and Boots
Rain Jackets
Rain Pants
Shovels
Ski Boots
Snow Shoes w/Poles
Telemark Skis, Poles, Boots
Winter Gaiters
Bike Locks
Child Carrier Trailer
Helmets
Mountain Bikes