Aquatics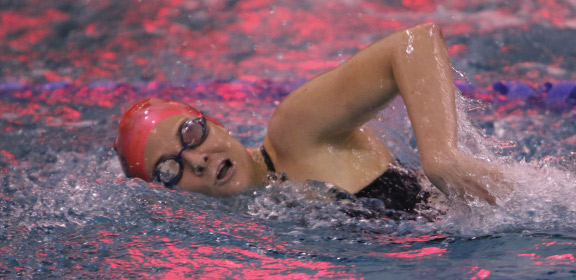 CSU-Pueblo Aquatic Center
***Must check in at FRONT DESK of Rec Center for 'token' to enter pool upon each visit.***
Swimming Pool: (Open/Lap Swim hours)
Monday (3 sessions): 6:15am-8am; 11am-2pm; 5pm-8pm
Tuesday (2 sessions):: 6:15am-8am; 5pm-8pm (no mid-day swim)
Wednesday (3 sessions): 6:15am-8am; 11am-2pm; 5pm-7pm
Thursday (2 sessions):: 6:15am-8am; 5pm-8pm (no mid-day swim)
Friday (2 sessions):: 6:15am-8am; 11am-2pm (no evening swim)
CLOSED on Weekends
Parking
Community members must obtain a campus parking pass.
(Parking pass and ID are included with paid membership.)
Parking passes may be obtained at the Sheriff's Office, Admin Bldg. Rm 118. Phone 719.549.2373
Lockers
Day–use lockers are free (please provide your own lock).
Lockers may be rented by the semester for $25.00.
The new CSU-Pueblo Aquatic Center opened to the community in October 2007! The facility is available for use by current CSU-Pueblo students, faculty, staff, and Student Recreation Center members. Four lanes will be regularly available for recreational lap swimming.
Pool Facts
Length: 25 Yards
Width: 50 Feet
Depth: 13 feet     (3'-6" on shallow end)
Lanes: 6 lengthwise
Kickboards and pull buoys available on the pool deck for lap swimming.