Aquatics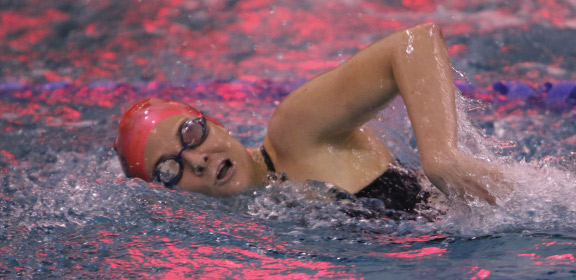 COVID19 Closure
The POOL and Student Recreation Center are CLOSED.
Although many aspects of state and local operations & businesses have begun reopening, the Student Recreation Center and Pool at Colorado State University Pueblo will remain closed at this time following guidance set forth specifically for institutes of higher education within Colorado. This guidance for higher education institutions, issued on April 27, replaces updated guidance that the Colorado Department of Higher Education issued on April 22, 2020. This guidance is valid for 30 days or until modified or extended.​
We are keeping members informed of changes via our weekly ThunderWolf Recreation email newsletter, if you are not receiving these emails but would like to, please notify us via email at student.recreation@csupueblo.edu to be added to the list.
CSU-Pueblo Aquatic Center
***Must check in at FRONT DESK of Rec Center for 'token' to enter pool upon each visit.***
Rec Center Hours (Spring 2020):
January 12, 2020  through May 1, 2020
Monday thru Thursday: 6am-10pm
Friday: 6am-7pm
Saturday: 10am-2pm (pool closed)
Sunday: 1pm-8pm (pool closed)
Swimming Pool: (Open/Lap Swim hours Spring 2020)
MONDAY

6:15-8:00AM

Lap Swim

11:00AM-2:00PM

Lap Swim

5:30-6:30PM

H2O (Fitness) Class

TUESDAY

5:00-7:00PM

Lap Swim

7:00-9:00PM

Active Aquatics by OP

WEDNESDAY

6:15-8:00AM

Lap Swim

11:00AM-2:00PM

Lap Swim

5:30-6:30PM

H2O (Fitness) Class

THURSDAY

5:00-7:00PM

Lap Swim

FRIDAY

6:15-8:00AM

Lap Swim

11:00AM-2:00PM

Lap Swim

CLOSED on Weekends
Notice:
Rec Center & Pool adhere to all Campus Closures & Delays.
Example: Campus "delay" for 2 hours mean campus opens at 8am rather than 6am as posted on weekdays.
Parking
Community members must obtain a campus parking pass.
(Parking pass and ID are included with paid membership.)
Parking passes may be obtained at the Sheriff's Office, Admin Bldg. Rm 118. Phone 719.549.2373
Lockers
Day–use lockers are free (please provide your own lock).
Lockers may be rented by the semester for $25.00.
The new CSU-Pueblo Aquatic Center opened to the community in October 2007! The facility is available for use by current CSU-Pueblo students, faculty, staff, and Student Recreation Center members. Four lanes will be regularly available for recreational lap swimming.
Pool Facts
Length: 25 Yards
Width: 50 Feet
Depth: 13 feet     (3'-6" on shallow end)
Lanes: 6 lengthwise
Kickboards and pull buoys available on the pool deck for lap swimming.