David Volk, DMA
Professor of Music, Music Theory and Composition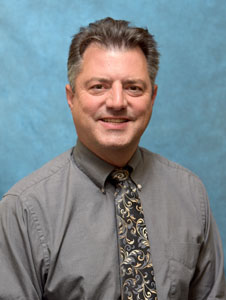 Bio
David Volk joined Colorado State University Pueblo in August 2013 as Associate Professor of Music and served as Department Chair until May 2019. Dr. Volk is currently Professor of Music teaching theory, orchestration/arranging and composition courses in addition to Technology for Music Educators. He also serves as the Director of the CSU Pueblo Center for Honors and Leadership and oversees the University's Honors program. Dr. Volk previously taught at the University of Virginia's College at Wise and Piedmont College in Demorest, Georgia.  At The University of Virginia's College at Wise, David was the 2010 recipient of the college's Outstanding Teacher award and a 2010 nominee for the Commonwealth of Virginia's Outstanding Faculty Award. 
Other Activities
David is an active composer.  Recent endeavors include two full-length operas: Strange Fruit, based on the 1944 best-selling novel by Lillian Smith, which premiered in Pueblo in 2017, and King Arthur, premiered in Pueblo in January 2019.  David has also written extensively for choir, including Magnificat premiered in December 2014 with the Pueblo Symphony and Colorado State University Pueblo Concert Choir, and the multi-movement Gloria and Credo premiered with orchestra and guest soloists in 2016 in celebration of the 30th anniversary of the Pueblo Chorale Society. 
David holds the Doctor of Musical Arts degree in Composition from the University of Georgia and Master of Music and Bachelor of Music degrees in Music Theory from Florida State University. He, his wife Heather, and sons Reese and Julian were the 2007 Commonwealth of Virginia Ambassador Family for the March of Dimes and represented Pueblo as Ambassador Family in 2016.
Read more about Dr. Volk's new opera Strange Fruit in CSU Pueblo Today.