Festival of Winds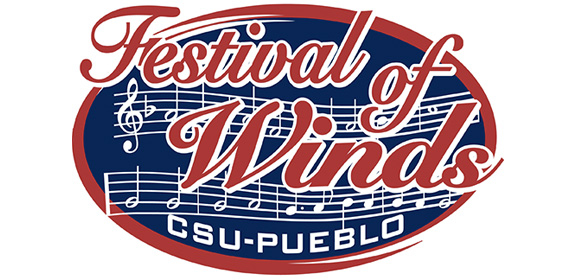 The 14th Annual FoW | February 10 - 12, 2022
High School Students and Band Directors from across the state and region come to campus to participate in the largest high school honor band event in the state of Colorado! High School students will participate in one of 4 honor bands, and selected piano students will participate in the Key Band. In addition to the honor band rehearsals, students will engage in sectional rehearsals and master classes for each instrument with our CSU Pueblo Applied Music Faculty, enjoy several concerts, hear new premier performances by the CSU Pueblo Wind Ensemble, and perform a concert at the historic Memorial Hall in downtown Pueblo. Music teachers can also earn graduate credit.
The Priority deadline for recommendations is the Friday before Thanksgiving week each year.
Contact the Director of Bands for more information: alan.mills@csupueblo.edu 
February 2022 Honor Band Conductors
February 2022 Composers-In-Residence
 

General Information

The CSU Pueblo Festival of Winds has continued to grow in size and participation from the very beginning. Starting with just one honor band in 2009, the Festival has expanded to include four directors recommended honor bands by its sixth year, with more than 360 high school students representing high schools across Colorado and neighboring states.

The philosophy of the festival is based on the idea that band directors from all high schools know who their deserving students are. Therefore, we leave it up to the high school band directors to recommend up to 15 students for participation. All directors who submit names are ensured to have at least two students selected for participation, with a small caveat that if only one or two students are recommended, they might not be selected depending on instrumentation needs and age of students.

Selected students are then given performance materials to prepare for their audition, which takes place at the start of the festival. Those students who rate highest in the audition process are placed in one of two Wind Orchestra. Students who are not selected for the Wind Orchestra are placed in one of two Symphonic Bands, which are equally weighted in ability based on audition results.

However, this is not just a University Honor Band weekend. This Festival of Winds enriches the experience for all students through small group rehearsals and masterclasses with our CSU Pueblo applied faculty and all participants enjoy a weekend concert series. Past performances have included the Fountain Creek Brass Band, The United States Air Force Academy Band, a CSU Pueblo Faculty Recital, and performances by the University Wind Ensemble.

Each year, the Festival of Winds also brings in notable national and international guest clinicians to conduct each of the honor bands. Additionally, participating music teachers can register for graduate credit (1 or 2 credit options are available) and participate in the conducting master class where they will conduct the University Wind Ensemble.

 

How can band directors increase the likeliness of more students to be selected for participation?

There are some general guidelines that are used when selecting students for participation. Factors (in no particular order) that increase the likeliness that a student will be selected include:

High School age/class. Upperclassmen (juniors and seniors) stand a better chance to be selected over underclassmen (freshman and sophomores).
Students who have participated in previous Festivals may be given some preference to return again in the future
Instrumentation is always a key factor in developing balanced bands. Therefore, we encourage Band Directors to always submit students who represent diverse instrumentation. Generally speaking, we tend to receive a lot of recommendations for the following instruments: Flute/Piccolo, Clarinet, Saxophone, Trumpet, & Percussion. However, students stand a greater chance to be selected if they play an instrument from one of the following areas: Oboe, Bassoon, Horn, Trombone, Euphonium, Tuba, & String Bass

 

Deadlines

Each fall there are deadlines set to ensure a timely execution of the festival. Band Director Recommendations can be submitted at any time after the start of each fall school year. A priority deadline for Director recommendations takes place on the Friday BEFORE the week of Thanksgiving each November. High School Band Directors who submit at least five names of diverse instrumentation that are submitted by this date are ensured to have at least two students selected for participation in the honor bands.

However, Directors are encouraged to continue to submit recommendations up until the start of the festival based on space availability. For a complete list of deadlines, please see the Greeting Letter under the Festival Documents tab at the left side of your screen.

Each year's participation roster will be posted above by Mid-January or sooner each year.

 

Additional Dates

Generally speaking, All Band Directors who submit names for participation will be notified of those who have been selected for participation prior to the January 1st each year. When possible, rosters will be sent out sooner. Similarly, notification will be sent out when audition materials are ready to be downloaded from this web site so that students can begin preparations for their auditions. Rest assured that ALL directors will be notified at the same time (via the email address used when registering students online) when both the participation Rosters and Audition Materials are available.

If you have difficulty using the online submission forms or have any questions at all regarding the Festival, please contact the Festival Director, Dr. Alan Mills, at alan.mills@csupueblo.edu

Sincerely,

Alan W. Mills
Director, Festival of Winds

Ryan van Gilder
Assistant Director, Festival of Winds

New to campus? Here is a campus map and driving directions to CSU-Pueblo.