Foundation News - December 2019
#LoveCSUPueblo Give Day 2019
Another record-breaking day of support for Colorado State University-Pueblo wrapped-up at 11:59 p.m. on Nov. 15. The Fourth Annual Love CSU-Pueblo Give Day exceeded expectations raising a record number of dollars for 26 cross-campus campaigns, making it the most successful one-day event to-date.
The Fourth Annual Love CSU-Pueblo Give Day was a tremendous success. As of the morning of Saturday, Nov. 16, the 24-hour give-a-thon to support CSU-Pueblo causes large and small had raised $74,335 from 1,470 gifts. Gifts came from across the country, with gifts received from 28 states, District of Columbia, Mexico and China. Gifts ranged in size from $1 to $5,000.
"We are overwhelmed by the success of the Fourth Annual Give Day. Once again, our loyal donors and fans showed us their love for CSU-Pueblo," said Todd Kelly, President/CEO for the CSU-Pueblo Foundation. "Each gift we received, from the one dollar investment to the $5,000 donation is meaningful and makes a tremendous impact on our campus. We cannot thank our students, alumni, friends, faculty and staff enough for showing their love and tipping the scales on our goals set for this day."
Donor numbers are the focus on Give Day and donors turned out in droves to show their love. Of the 1,470 gifts received 38.8 percent came from students, 29.5 percent from University faculty/staff, and 13.7 percent from alumni of the University. 
The CSU-Pueblo Foundation provided five fundraising incentives for campaigns to work for: most overall, most faculty/staff, most student, most out-of-town and most alumni donors. These incentives allowed donors to achieve an additional $1,000 or $500 to their cause, and were able to be paired with the Foundation's dollar-for-dollar match up to $1,000 for each eligible campaign.
The winners of each incentive were:
Most overall donors – "The Wolfies" Pack Athletics
Most student donors – "The Wolfies" Pack Athletics
Most faculty/staff donors – Undocumented Student Scholarship
Most out-of-town donors – Southern Colorado Association of Nursing Students
Most alumni donors – Undocumented Student Scholarship
A big thanks to the day's sponsors: Legacy Bank, TR Toppers, US Bank, ThunderZone Pizza & TapHouse, Vestas, Big Bear Wine & Liquor and Mr. Marvin Stein.
Gifts are still being accepted at giveday.csupueblo.edu. Love CSU-Pueblo Give Day is held the third Friday of November each year. For more information, please call Amber Shipley at (719) 549-2380.
---
Distinguished Young Alumni Award Presented to Four Outstanding Alumni
Four outstanding CSU-Pueblo Alumni were presented with the 2019 Distinguished Young Alumni Award in conjunction with 2019 #LoveCSUPueblo Give Day. The award recognizes alumni who have enhanced the reputation of the college through their outstanding professional achievements, personal accomplishments, and/or their loyal service to their alma mater and community.
The Hasan School of Business' nominee and 2019 Distinguished Young Alumni recipient is Steven Trujillo, A12. A native of Pueblo, Steven is a 2007 graduate of Dolores Huerta Preparatory High School. He holds an Associate of Applied Science Degree in general studies from Pueblo Community College, a Bachelor's of Science Degree in business administration from Colorado State University-Pueblo with a minor in leadership studies, and a Master's Degree in business administration, also from Colorado State University-Pueblo.
As president and chief executive officer for the Pueblo Latino Chamber of Commerce, Steven is responsible for the organization's day-to-day operations, public relations and community representation. During his tenure at CSU-Pueblo, Steven was a member of the President's Leadership Program and served on the Scholars Board for the Denver Metro Chamber Leadership Foundation, advocating and representing students from CSU-Pueblo since 2010. In 2009 Steven received the 2009 CSU-Pueblo Campus Leader of the Year Award, presented by the Boettcher Foundation; and was the 2009 Nominee Colorado Student Leader, presented by the Boettcher Foundation.
Steven currently serves on the Governor's Commission on Community Service, the President's Leadership Program Advisory Board, Pueblo Community College CETD Advisory Board and is a member of the Chavez-Huerta Board of Directors, a member of the El Pueblo Interdevelopment Corporation (EPIC) Board of Directors, Sangre de Cristo Arts & Conference Center Board of Trustees, and the Pueblo Economic Development Board of Directors.
 "What I admire most about Steven is that he pushes the envelope on everything that he does," said Dr. Bruce Raymond, Dean of the Malik and Seeme Hasan School of Business. "Steven was just named by Governor Jared Polis as a Governor of the Colorado Commission on Higher Education and Department of Higher Education. In this role he will have broad exposure to higher education excellence across the state and will be in a position to advocate for CSU-Pueblo at the state level."
Under his leadership, the Latino Chamber continues to grow and advance, while staying focused on the small business community of southern Colorado.
Steven enjoys volunteering his time with groups that work toward the enhancement of the Pueblo Community, and spending time with his family and friends in the beautiful Colorado outdoors.
The College of Education Engineering and Professional Studies' nominee and 2019 Distinguished Young Alumni recipient is Shylo Dennison, A06. Shylo graduated summa cum laude with a Bachelor of Science degree in exercise science, health promotions and recreation at CSU-Pueblo and went on to receive her Master's in public health administration in 2012.
As the public health planner at Pueblo Department of Public Health and Environment (PDPHE), she is committed to improving the lives of Pueblo residents. She actively writes grants and works on accreditation for PDPHE. Shylo organized and facilitated a comprehensive community health assessment and created a community health improvement plan based upon those results. As the grant writer, Shylo has raised nearly $3 million to support the programs and services offered by PDPHE.
"Shylo has enhanced the reputation of the University through her outstanding professional and personal achievements," said Dr. Carol Foust, Professor and Director of Health Sciences. "She has given so much to Pueblo in her emerging career and personal volunteerism. We certainly believe she is an outstanding role model for current and future CSU-Pueblo students and alumni."
In her free time, Shylo loves to spend time with her daughter Kinsley, son Cole and husband Matt. She actively volunteers on many committees and boards at her church. They enjoy traveling, baking, hunting and time together with friends and family. Shylo is proud to be the fifth generation of her family to reside in Rye, CO.  
The College of Humanities and Social Sciences' nominee and 2019 Distinguished Young Alumni recipient is Anna Neal, A16. Anna graduated magna cum laude with a Bachelor of Science degree in social work from CSU-Pueblo and went on to receive her Master's in social work from the University of Southern California in 2017.
Anna is a veteran of the U.S. Army and currently practices in the field of strengthening families, communities, systems and policy to improve outcomes for children and families. Ann serves the community by coordinating multi-disciplinary teams for court supported child welfare cases involving children zero to three years. These Safe Baby Court Teams strive to buffer the impacts of child maltreatment and systematic stressors on the developing brains of infants and toddlers. She is now implementing her first site in Pueblo, CO.
Anna is a board member and volunteer coach for Addict to Athlete, volunteers and supports numerous organizations in the Pueblo community, including, United Way and Child Advocacy Center. Anna also volunteers at CSU-Pueblo speaking and working with current social work students and interns. She is working with CSU-Pueblo's Biology Department supporting research of neurosciences as it relates to interventions in her field. Anna lives in Pueblo with her husband, Kevin.
The College of Science and Mathematics' nominee and 2019 Distinguished Young Alumni recipient is Christi Sperber, A14. Christi was a Biology-Chemistry double major and a 3+2 student graduating cum laude with both her Bachelor of Science and Master of Science in Chemistry.
Christi experienced the first of many seizures during a chemistry lab. Endless doctor's exams accompanied her college coursework, but she persevered. Fast forward several years, and Christi moved to Utah and became a new mother. She found herself at home with newborn baby, Emma, and began reading science books to her and thinking of ways the books could be improved. After sketching out some ideas and working through draft after draft, Christi established Nanoscale Scientists Publishing, LLC and developed a series of chemistry books for children. Christi's goal was to expose children to science and encourage them to explore different aspects of the learning process.
"Christi's story reflects her ability to persist and remain agile even as her career goals changed," said Dr. Matthew Cranswick, associate professor in chemistry. "She has used her problem-solving skills to spread the joy of scientific learning."
---
CSU-Pueblo Foundation Recognizes Marvin Stein and Ralph Williams for Service on Board of Trustees
The Colorado State University-Pueblo Foundation recently recognized longtime Foundation Trustees, Marvin Stein and Ralph Williams for their many years of service to CSU-Pueblo Foundation and the University with endowed scholarships in their names.
"Marvin Stein, his late wife Sandy, and Ralph and Jan Williams have contributed greatly to the Pueblo community in so many capacities — as business leaders, civic leaders and philanthropists," said Barbara Vidmar, CSU-Pueblo Foundation Chair. "The CSU-Pueblo Foundation board of trustees is pleased to establish scholarships in their honor."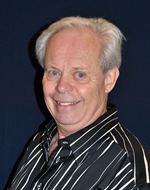 Stein owned Stein Food Company, Pueblo's oldest food service company. He retired from the wholesale food business in 2000. He has been involved in numerous causes including the Regional Planning Commission, St. Mary Corwin Lay Advisory Board, Pueblo Chamber of Commerce Chairman and the Pueblo City/County Foundation. Mr. Stein has served as a trustee of the CSU-Pueblo Foundation since 1986.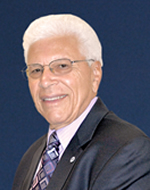 Williams has lived in Pueblo his entire life, except for two years while attending college in Fort Collins, and is a longtime insurance executive and civic booster. He began his career 55 years ago with the former Steel City Agencies, serving as president and CEO for 29 years, until the agency's acquisition in 2007 by HUB International Services where he serves as vice president. He has served on numerous boards including CSU-Pueblo Hasan School of Business advisory board, the Pueblo Urban Renewal Authority and the Catholic Diocese of Pueblo. Mr. Williams has served as a trustee of the CSU-Pueblo foundation since 2002.
"The Sandy and Marvin Stein Scholarship and The Ralph Williams Scholarship will assist future generations of CSU-Pueblo students," said CSU-Pueblo Foundation CEO/President Todd Kelly. "Their years of service to CSU-Pueblo Foundation is appreciated."
A celebration honoring Stein and Williams' service was held on Friday, October 18 at CSU-Pueblo with the staff and trustees of the CSU-Pueblo Foundation in attendance.
---
Friends & Scholars Luncheon
Colorado State University-Pueblo Foundation was pleased to bring together nearly 550 scholarship students and their generous scholarship benefactors at the annual Friends & Scholars Luncheon on Tuesday, November 5, 2019 at the CSU-Pueblo Occhiato Student Center Ballroom.
Jessica Gottlieb, A93, was the keynote speaker and is a longtime entrepreneur and writer. After graduating from CSU-Pueblo she worked in sales positions within the automotive industry. After marriage and the birth of her firstborn, Jessica decided to work from home and launched a series of web-based businesses culminating with her eponymously named website which examines the mundane through the lens of motherhood.
A big thanks to the day's sponsors: Legacy Bank, STIFEL – Mark Kennedy, SunWest Educational Credit Union and TR Toppers.
---
Day of Gratitude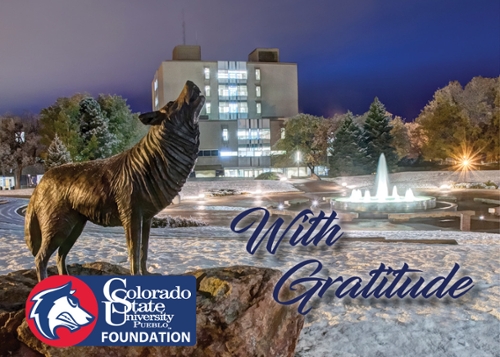 On Tuesday, Dec. 3, the CSU-Pueblo Foundation will host a Day of Gratitude for the many individuals and businesses who make dreams a reality for more than 900 students at CSU-Pueblo each year through scholarships. At CSU-Pueblo, our goal is to ensure our students get a top-notch education and graduate with a college degree. Thanks to contributions like yours, we are able to help students achieve their dreams of attaining a college degree.
Thank you!
---
Save-the-Date for These Upcoming Events
The President's Club Soiree is our chance to thank our most loyal and generous donors. The Colorado State University-Pueblo President's Club was established to recognize donors who contribute $1,000 or more annually to CSU-Pueblo. The Leadership Circle was created to recognize lifetime contributions to the University. The 2019 New and Advancing members of the President's Club and Leadership Circle will be honored at the Tuesday, March 10, 2019 President's Club Soiree Soirée.
This year's reception will be held at CSU-Pueblo Occhiato Student Center Ballroom featuring cocktails, hors d'oeuvres and entertainment. For more information, call Amber Shipley at 719.549.2307 or email amber.shipley@csupueblo.edu.
2020 CSU-Pueblo President's Gala
Colorado State University-Pueblo President Dr. Timothy Mottet is pleased to present the 2020 President's Gala. Attendees will enjoy delicious food and drink, entertainment and and a chance to present Distinguished President's Medallions to some of our most deserving donors, partners and
The CSU-Pueblo President's Gala will be held Saturday, May 16, 2020 in the Occhiato Student Center Ballroom. Sponsorship opportunities are available for Pueblo's premier gala event! Call Amber at 719-549-2307 for more information.
Sponsorship opportunities for the Soiree and Gala.
Click here
 to visit the CSU-Pueblo Foundation Home Page.